Jones eyes VIP in DC for round of R.B.I. Baseball 14
Orioles slugger reveals Dodgers as top choice in revamped video game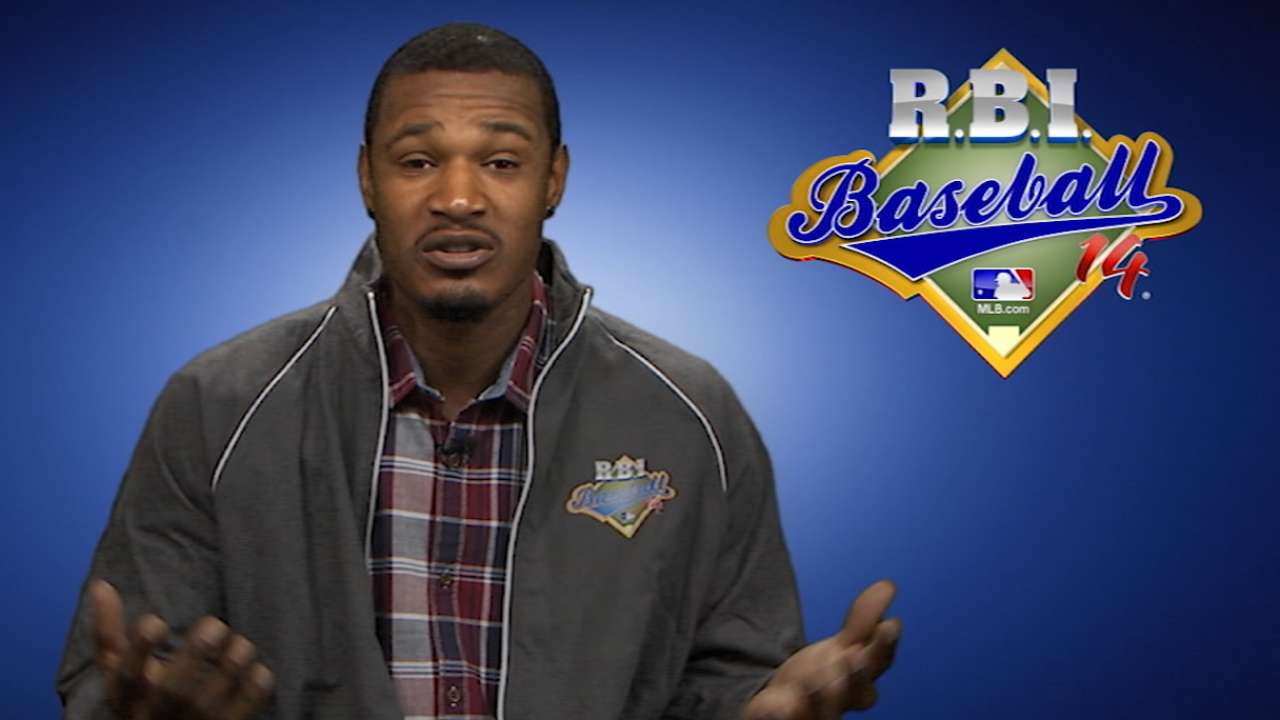 NEW YORK -- Adam Jones visited the MLB.com studios while the Orioles were in town to play the Yankees this past week, and he was asked who he would challenge to a game of R.B.I. Baseball 14 if he could challenge anyone in the world.
Quintin Berry, his lifelong best friend and current Orioles teammate, was sitting in the studio control room outside the glass and said before Jones could answer: "He'll say Barack Obama."
"I'm gonna try the president," Jones replied, right on cue. "Why not? You said anybody in the world, and I think [with] the masses that MLB can reach, I think we can reach the president. So let's see if we can get this video going viral, and Mr. President, I'm calling you out, for a game of [R.B.I. Baseball 14]."
"What if he skunked me?" Jones said with a laugh. But then he brashly reconsidered: "I'd beat him as bad as I could beat him if I could. I wouldn't hold nothing back. It's a competition. Being competitive, you aim to win. So I'm going to beat him."
If the White House gets back to us on that one, you'll be the first to know. Meanwhile, these two outfielders for Baltimore's 2014 American League East champions are just having fun the way they have always known it. They grew up together in San Diego, and they were at MLB.com to have some fun this time with the popular R.B.I. Baseball 14 game, which was revived this season and is available now at the low price of $19.99 for consoles and $4.99 for mobile phones.
In a lengthy studio taping session, Jones talked R.B.I. Baseball 14, why he always goes with Clayton Kershaw and the Dodgers, what it was like playing hide-and-go-seek on the elementary school roof at night and having licorice fights as a kid with Berry and, of course, the Orioles' postseason hopes and his own accountability as a run-producer and leader. Then Jones broke out the pie.
"I'll pie anybody," he said, when an MLB.com social media staffer asked if he would mind pie-ing his (baggie-wrapped) iPhone.
Jones pied just about everyone at Camden Yards after they clinched the East. But until the visit to MLB.com, he never had pied anyone after a game of R.B.I. 14.
"I've never pied anybody after a game of R.B.I. 14 due to the fact that I haven't had any walk-off wins," Jones said. "They were convincing. So a celebration ... you don't get a pie in the seventh.
"I invented pies after the game. It's like a welcoming thing. You're going to get a velv-ilicious pie. I can't see anything wrong with that. Any celebration, it's good to have fun. At the end of the day, it's a game, obviously it's a job to us, but it's a game, and you take it seriously. But we're going to laugh and smile and enjoy ourselves because we're big kids just doing what we wanna do."
Jones said his only secret in dominating R.B.I. Baseball 14 is the Kershaw factor.
"During the game, I'm coming with heaters," Jones said of his video game strategy. "I'm using Kershaw, he's throwing 95 in the game, right inside, outside, he can make the ball cut across the whole screen. Kershaw, you can't hit him.
"You'll see him huffing and puffing, but he's the horse of baseball right now. His huffing and puffing doesn't start till like the fifth and sixth inning, where most of them are in the fourth. So if I can get a lot of strikeouts and early outs, I'll probably ride him into the sixth, and then follow with [Zack] Greinke and [Kenley] Jansen. The Dodgers are very, very good in this game -- they're stacked.
"I should play with my own team, the Orioles, but the Dodgers are nasty."
Jones likes his own team in real life, make no mistake.
"Our expectation [for the postseason], obviously, is to win, that's first and foremost," he said. "But I think our expectation is to play our style of baseball. If we play our style of pitching, play defense, force the issue when we're getting on bases, we control our own destiny. Obviously we're going to be going up against a team that can do the same thing. So it's going to be execution. Whoever executes the best is going to put themselves in a situation to win the game. We have to take advantage of situations. Not necessarily feel like we have to do it, but it's OK to pass the baton.
"We just come out every day ready to go. It's no riff-raff. We have fun, but once that national anthem is sung, everybody straps it on, and is ready for [business]."
The four-time All-Star has had another big year, hitting .281/.312/.467 with 28 homers and 95 RBIs after his 9th-inning longball helped set up the dramatic finish in Derek Jeter's big Yankee Stadium finale on Thursday. What is Jones' approach at-bat without the controller?
"When I'm hitting, there's really no special technique," Jones said. "My mindset is to get a fastball that's out over the plate and try to line-drive it right back through the box. Wherever it goes after that is really none of my concern. As long as it goes somewhere where I don't really feel it off the bat, that means I hit a line drive."
So now that we know who Jones would challenge of anyone in the world, who would he challenge if it could be anyone in history?
"If I could beat anyone in history at R.B.I. Baseball 14, probably Jackie Robinson," Jones said. "He's one of the reasons R.B.I. is R.B.I. So why not get the guy it's all for and beat him, too. But I think if he was able to play, you'd have to give Jackie all-time teams, like the all-time Dodgers, or the all-time Yankees back then. Get the really good teams. So that he could be familiar with the players. You can't just have modern-day players. He has no idea who the modern-day players are."
That's old-school. So was what passed for fun and games as boy in San Diego.
"Yeah, it was the old-school era where it was safe to play outside in those days," Jones said of his boyhood with Berry. "We played hide-and-seek. Webster on the roof, our elementary school at night. People calling the cops on us. Having a licorice fight.
"A lot of stuff," Berry said, "that made no sense."
Mark Newman is enterprise editor of MLB.com. Read and join other baseball fans on his MLB.com community blog. This story was not subject to the approval of Major League Baseball or its clubs.