MLB.com Columnist
Tracy Ringolsby
Winds of change not easy on Schuerholz
Personnel changes an uncommon thing for longtime Braves executive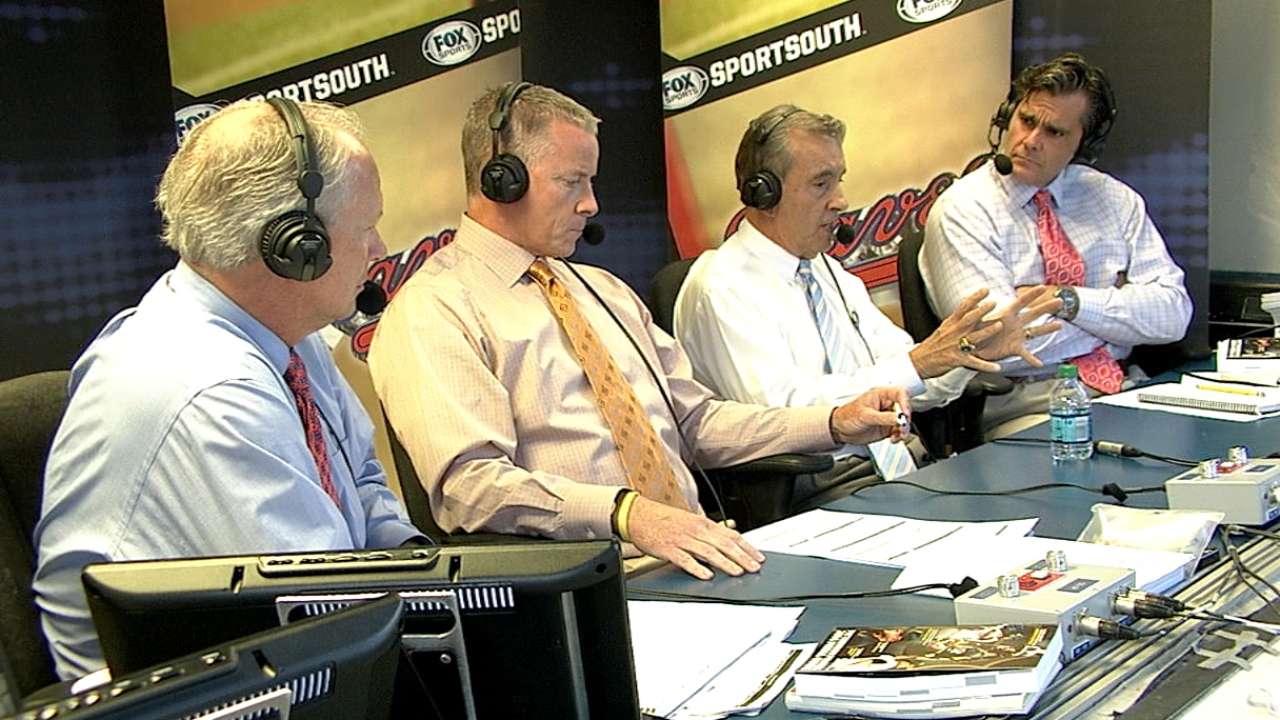 In 37 years as a Major League general manager and/or team president with the Royals and the Braves, only twice has John Schuerholz felt it necessary to make a change in a key leadership position.
In 1987, 126 games into the Royals' season, he dismissed manager Billy Gardner, whom Schuerholz first worked with in the early '70s when Gardner managed in the Minors for K.C. and Schuerholz was the assistant farm director.
And on Monday, in his current position as president of the Braves, he relieved Frank Wren of his duties as the general manager. It ended a 15-year working relationship that saw Wren spend eight years as the assistant general manager to Schuerholz before assuming the general manager role when Schuerholz became the club president.
Schuerholz has had executives move on to better positions. They include Dick Balderson, his assistant GM in Kansas City, who became the general manager of the Mariners in 1986. Current Royals general manager Dayton Moore previously was the farm director for the Braves. Schuerholz also had to deal with Dick Howser's death from brain cancer in 1987.
Schuerholz has never dismissed a farm director, nor a scouting director.
Now, for the first time,, he has dismissed a general manager.
"It wasn't pleasant," Schuerholz said, "but I thought it was the right thing to do for the organization."
It wasn't about wins or losses. The decision has been building for nearly three years, one Schuerholz had struggled with, because it's not his style. Those who have known him since the early days of his professional baseball career -- which dates back to him giving up a job as a junior high teacher in Baltimore to become an administrative assistant in the Orioles' Minor League department at the age of 26 -- have remarked about his cohesive management ways.
Schuerholz likes to work through challenges. He likes to help people he works with grow and adapt, rather than make changes. He does not micromanage.
"I empower people and delegate [responsibility]," Schuerholz said. "You want to treat everyone in an organization with respect and honor. It's why I have been able to hire good people."
As the late Jim Fregosi once said of his role as a big league scout with the Braves, "John listens to everything I have to say. He doesn't always do what I want him to do, but I always know he has given careful consideration to my opinion."
It's why Schuerholz has been able to enjoy so much success with the teams he has overseen on the field, and with the teams he has put together in the front office.
It's why Schuerholz thought and rethought Monday's decision for so long.
"It took time for me to get to the point of doing what I did," he said.
The fact the Braves were officially eliminated from postseason contention on Sunday led to the announcement on Monday. Had the Braves advanced to the postseason, it would still have come, just a little later on.
"It's not just about success of the club at the Major League level," Schuerholz said. "You have to be cognizant that the strengths of your organization are as strong as they need to be. It is why I used the words 'cumulative effect' [during the announcement Monday]."
He could have called it the iceberg effect. So little is visible. So much is involved.
"You can have a measure of success at the Major League level, but you have to stay strong in your life blood, your scouting and player development," Schuerholz said. "There are so many people in the press and in the public who see how the Major League team performs, but they don't see what's beneath the surface."
In Schuerholz's first year with the Braves, he made a free-agent splurge, signing shortstop Rafael Belliard, third baseman Terry Pendleton and first baseman Sid Bream. He inherited a team with talented young pitchers, and he wanted to ensure they had strong support in the field.
The rest of his management career, Schuerholz has not been a major factor in the free-agent market, though he has made occasional moves that had impact, such as the signing of Greg Maddux.
Schuerholz's focus with the Royals and the Braves was always player development. Atlanta set a professional sports record by finishing in first place 14 consecutive times. The key was a farm system that every year produced two or more key contributors.
Lately, there has been something missing. Schuerholz kept looking, but he couldn't find it.
So he took a deep breath, and he made the move.
"When you work 15 years with a person in a business like ours, you have strong ties," Schuerholz said. "It's not easy."
But Schuerholz knew it had to be done.
Tracy Ringolsby is a columnist for MLB.com. This story was not subject to the approval of Major League Baseball or its clubs.