Carrasco apologizes for criticizing Tribe's defense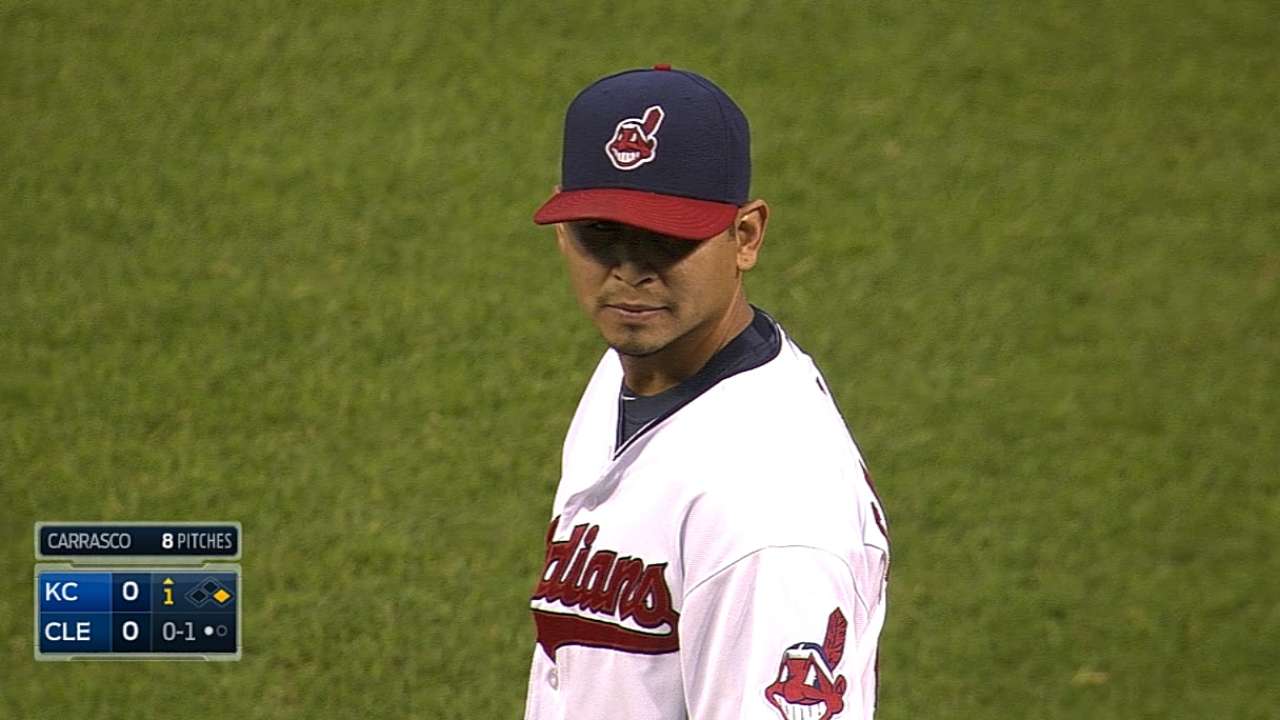 CLEVELAND -- Indians pitcher Carlos Carrasco criticized his defense in the immediate aftermath of Monday's tough 2-0 loss to the Royals. One day later, the right-hander regretted his postgame comments and issued an apology through the team.
"It was a terribly immature and foolish thing to say," Carrasco said. "I know better and I apologize for saying it. I have made some terrible pitches in my career and position players could have questioned what I was doing. No one wants to be criticized when making their best effort. I will apologize to everyone and it won't happen again."
Manager Terry Francona received a text message from Carrasco on Tuesday morning and then briefly met with the pitcher in the afternoon. Francona was happy that Carrasco took the initiative to apologize not only to the manager, but to his teammates.
"I got a text from Carlos. He was kind of rattled and upset," Francona said. "I didn't even know what he was talking about. So then he kind of explained it. ... The fact that he was upset that he said it, and he caught it -- he didn't try to backtrack and he apologized -- I thought his apology was really sincere."
Carrasco worked 7 1/3 innings, allowing two runs on seven hits. Both runs came on hard-hit balls that skipped off the glove of a Cleveland defender.
First baseman Chris Gimenez was unable to catch a line drive in the first inning, resulting in an RBI single for Kansas City's Eric Hosmer. In the fifth, Tribe shortstop Jose Ramirez missed on a backhanded swipe at a grounder by Alcides Escobar, allowing the Royals' second run to score.
Neither play was an error, but that did not stop Carrasco from being critical in the wake of a defeat that hurt the Indians' chances of claiming an American League Wild Card spot.
"We should've made those plays right there. That cost me two runs," Carrasco said on Monday night. "I thought they had a pretty good chance of making them, but sometimes we don't make those plays. That can cost us."
Heading into Tuesday's game with Kansas City, Cleveland's defense led the Major Leagues with 113 errors. The defensive miscues have played a large role in hindering the club's attempt to rise in the AL Central and the AL Wild Card standings.
Gimenez was impressed by the step Carrasco took on Tuesday, but the veteran utility man said he also apologized to the pitcher for not making the catch in the first inning.
"I went up to him and said, 'Listen, it hit my glove. I should've caught it,'" Gimenez said. "It's my fault I didn't catch it. [His comments] didn't bug me at all. ... I understand. I'd be more upset if he was more like, 'Oh, whatever.' I think it shows a lot that he did apologize for it, but it didn't affect me any, because I apologized to him before he said anything. But it definitely shows a lot out of him, his maturity level."
Jordan Bastian is a reporter for MLB.com. Read his blog, Major League Bastian, and follow him on Twitter @MLBastian. This story was not subject to the approval of Major League Baseball or its clubs.