MLB.com Columnist
Terence Moore
Behind capable trio, Braves will return to glory
Schuerholz, Cox and Hart can be trusted to install GM to help club thrive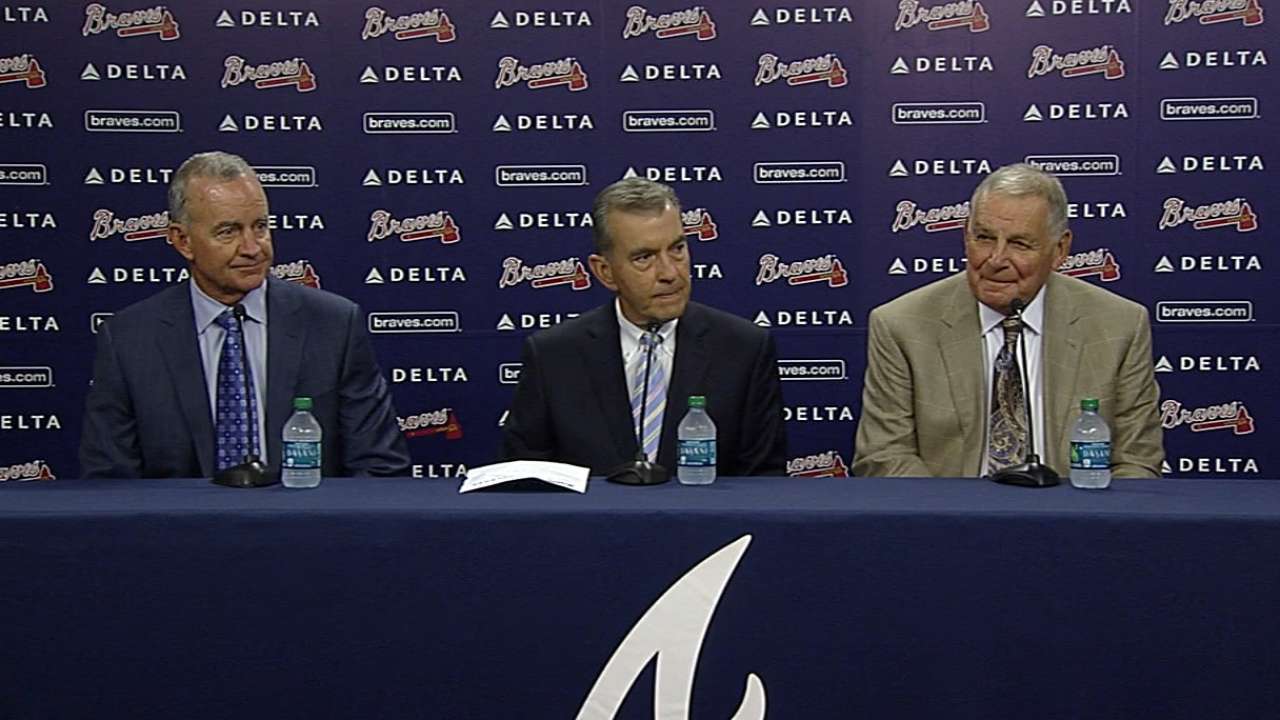 This was just a blip on the tomahawk screen. The Braves will continue as one of baseball's premier franchises despite a gloomy September that led to the ushering of general manager Frank Wren through the doors of Turner Field after seven seasons.
You just know the Braves will rebound, because their trio in charge of doing such a thing is the definitive one.
There is Braves general manager-turned-team president John Schuerholz, who spent his old baseball life helping the franchise to a Major League record 14 consecutive division titles, five National League pennants and a World Series championship. There is Bobby Cox, the Hall of Fame manager, who reached Cooperstown this year after running Atlanta's clubhouse and dugout to perfection during that unprecedented run for the team. There also is John Hart, the longtime baseball executive, who once made the Indians significant out of nowhere with several ingenious moves.
That trio will huddle over the next few weeks, and then it will hire a splendid replacement for Wren.
The Braves' new GM could be Hart. Despite what he keeps saying, he easily could make the transition from current interim general manager for the team. Schuerholz wants that to happen, but his old pal keeps insisting he prefers working with Atlanta on a limited basis while operating as an analyst for MLB Network. Royals general manager Dayton Moore has deep connections with Schuerholz and the Braves. In fact, Moore nearly was picked to succeed Schuerholz as Atlanta's general manager after the 2007 season instead of Wren. Even though Moore has two years left on his contract in Kansas City, well, you know about contracts.
Other candidates include John Coppolella, who already is in the Braves' organization as Wren's former assistant general manager, and a slew of others who were mentored during the Schuerholz-Cox regime before going elsewhere in baseball to achieve goodness or better.
Still, you have to wonder about something. In addition to those accomplished decision makers among that Braves trio, you had Schuerholz declaring Monday after Wren's dismissal that he saw earlier signs that the franchise needed to return to "the Braves way" of doing things. So what took Schuerholz in particular so long to get to this point of telling and convincing Braves CEO Terry McGuirk that a swift change in GM leadership was necessary?
The Braves were drifting toward where they are now -- an offensively-challenged, leaderless bunch at 76-80 and out of the playoffs with baseball's worst record and batting average this month -- for a while.
What kept Atlanta's steady slide hidden for many was its combination of overwhelming pitching and manager Fredi Gonzalez's ability to manipulate flawed rosters well enough to make the playoffs during the past two years with 94 and then 96 regular-season victories.
About the Braves' flawed rosters: While several of Wren's lower-level moves through the years were solid (Aaron Harang and Gerald Laird come to mind), most of his higher-level moves were shaky, and that's being kind. Atlanta is paying Dan Uggla $19 million not to wear its uniform anymore after Wren signed the second baseman to a $62 million contract and the team watched his batting average free fall. The same thing happened to B.J. Upton after Wren gave the outfielder a franchise-record $75 million deal. Now Upton likely is headed for Uggla territory with the Braves after the season.
Wren also gave a $60 million contract to Derek Lowe, and after the veteran starting pitcher became less than spiffy, the Braves dropped him, which meant they had to eat $10 million of his deal. Kenshin Kawakami was another one of Wren's free agents: After he received a three-year deal worth $23 million from Atlanta, he promptly went 8-22 with a 4.32 ERA and spent the last year of his contract at Double-A Mississippi.
In addition to Wren's personnel moves, he had squabbles with folks throughout the franchise, including prominent ones.
Let's just say Wren and Cox don't exchange Christmas cards.
We can give Hart a break along these lines, because he only joined the Braves last November as a senior adviser to Schuerholz. But Cox has remained close to the franchise since retiring as manager after the 2010 season. He is a frequent visitor to Atlanta's clubhouse before home games, mostly to huddle with Gonzalez, his protégé and former member of his coaching staff. When Cox isn't at the ballpark, he regularly is exchanging phone calls or texts with Gonzalez.
As for Schuerholz, he has been a constant in the Braves' front office since he went from Kansas City to Atlanta as general manager before the 1991 season. Who was the Braves' general manager before Schuerholz? Well, Cox. This is the same Cox who set the foundation for the Braves' historic streak by overseeing a farm system that produced David Justice, Tom Glavine, Steve Avery, Mark Lemke and others. Cox also worked the deal that brought a young John Smoltz from the Tigers to the Braves to start the pitcher's Hall of Fame run.
The point is, Schuerholz, Cox and Hart know quality work from a general manager when they see it. They weren't seeing it from Wren, so they reacted.
Finally.
Terence Moore is a columnist for MLB.com. This story was not subject to the approval of Major League Baseball or its clubs.