Players with minor injuries rotating into DH spot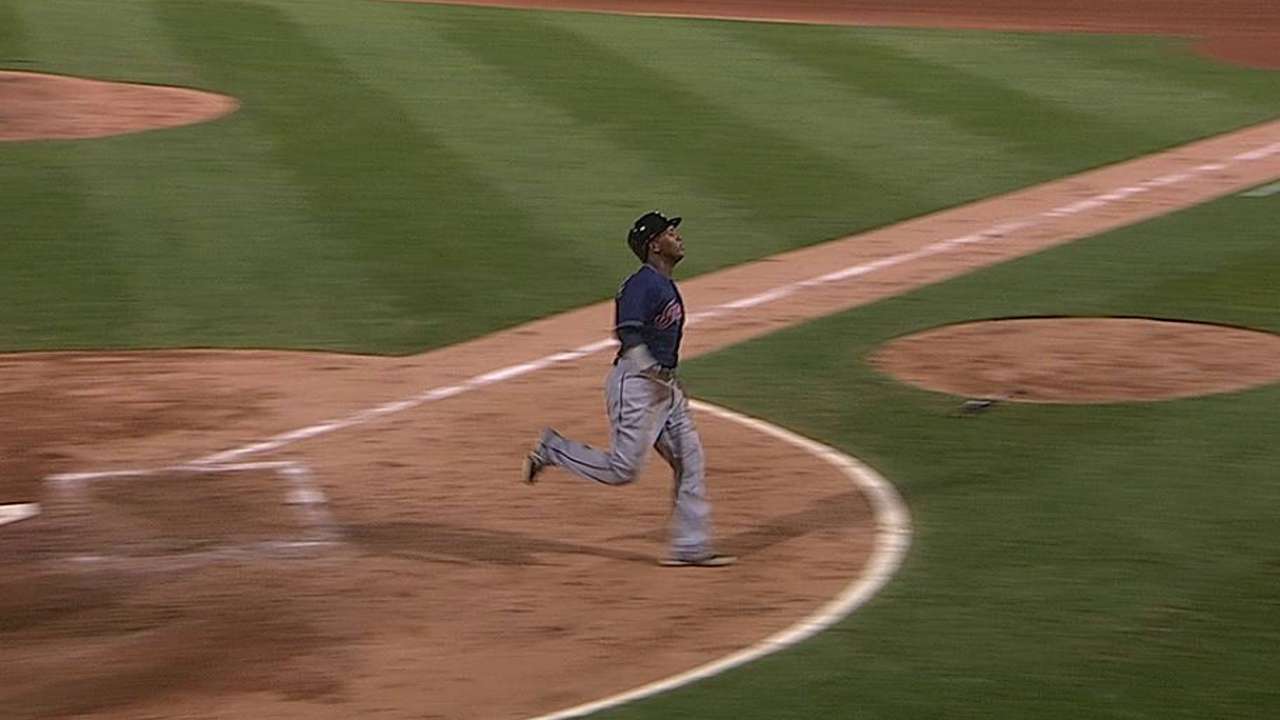 CLEVELAND -- An assortment of health woes down the stretch has forced manager Terry Francona to think hard about how to assemble his daily lineup. That has made the designated-hitter role an important element of the Tribe's batting order lately.
Francona has been trying to work around minor injury issues for players such as Jason Kipnis (hamstring), Carlos Santana (quad), David Murphy (oblique), Michael Brantley (legs) and Zach Walters (intercostal strain) throughout this past month. Each of those players has rotated in and out of the DH slot in recent weeks.
"That's what we've been doing," Francona said, "is just using it either to keep [Yan] Gomes' bat in the lineup or to kind of let somebody else's bat stay in the lineup. It's probably cost [Jason Giambi] some at-bats, or some other guys, but it's really been the way we can keep some of our guys in the lineup."
For Tuesday's game against Kansas City, Francona inserted Kipnis back in the order as the DH after the second baseman was out of the starting lineup for Monday's 2-0 loss to the Royals. Dating back to Aug. 30, when Walters played the last of 14 straight games as Cleveland's DH, Francona has used nine players as the DH in a 24-game span.
Santana (five games), Gomes (four), Brantley (three), Kipnis (three), Giambi (three), Murphy (two), Walters (two), Jesus Aguilar (one) and Ryan Raburn (one) have all seen action as the DH in that time period. Raburn's season ended on Friday after he underwent arthroscopic surgery on his left knee.
Murphy returned to right field for Tuesday's game after sitting out on Monday night. The veteran missed most of August with a right oblique strain, but he was activated from the disabled list earlier this month. Since Murphy's return, Francona has been careful with the veteran's work load.
"We're trying to be respectful of him," Francona said. "We certainly want him to face as many righties as we can, recognizing that when they bring a lefty in, maybe we can get him out of there and get somebody else in there. [That can] kind of cut his playing time a little bit, so he can feel about as good as he [can] physically."
Quote to note
"There's times that your patience gets paid off and there's also times when the answer is probably, 'No.' I think you have to find out. To not find out would be a bad mistake. [Bullpen coach Kevin Cash and pitching coach Mickey Callaway] were huge advocates of this and we're very fortunate, because getting pitching is hard to do."
-- Francona, on Carlos Carrasco blossoming late in the season after returning to the rotation
Smoke signals
• Santana entered Tuesday hitting .233 with 27 home runs, 82 RBIs and 108 walks. In the past 100 seasons, Adam Dunn (2006 and '12), Carlos Pena ('11) and Mark McGwire (1990) are the only Major League players to end a season with at least 25 homers, 80 RBIs and 100 walks with a batting average of .235 or lower.
• Cleveland's pitchers stuck out 11 batters on Monday, ending a Major League-record streak of six consecutive games with at least 12 punchouts. Entering Tuesday, the Indians' 1,403 strikeouts on the season led the Majors and represented a franchise record. The all-time single-season record for strikeouts by a pitching staff is 1,428 by the Tigers last year.
• The Indians have yet to announce their rotation plans for the three-game series against the Rays that begins on Friday. Francona said the team's staff wants to see how the current Kansas City series plays out before lining up the starting staff for after Thursday's off-day.
Jordan Bastian is a reporter for MLB.com. Read his blog, Major League Bastian, and follow him on Twitter @MLBastian. This story was not subject to the approval of Major League Baseball or its clubs.