Ventura gets win No. 14 with dominating performance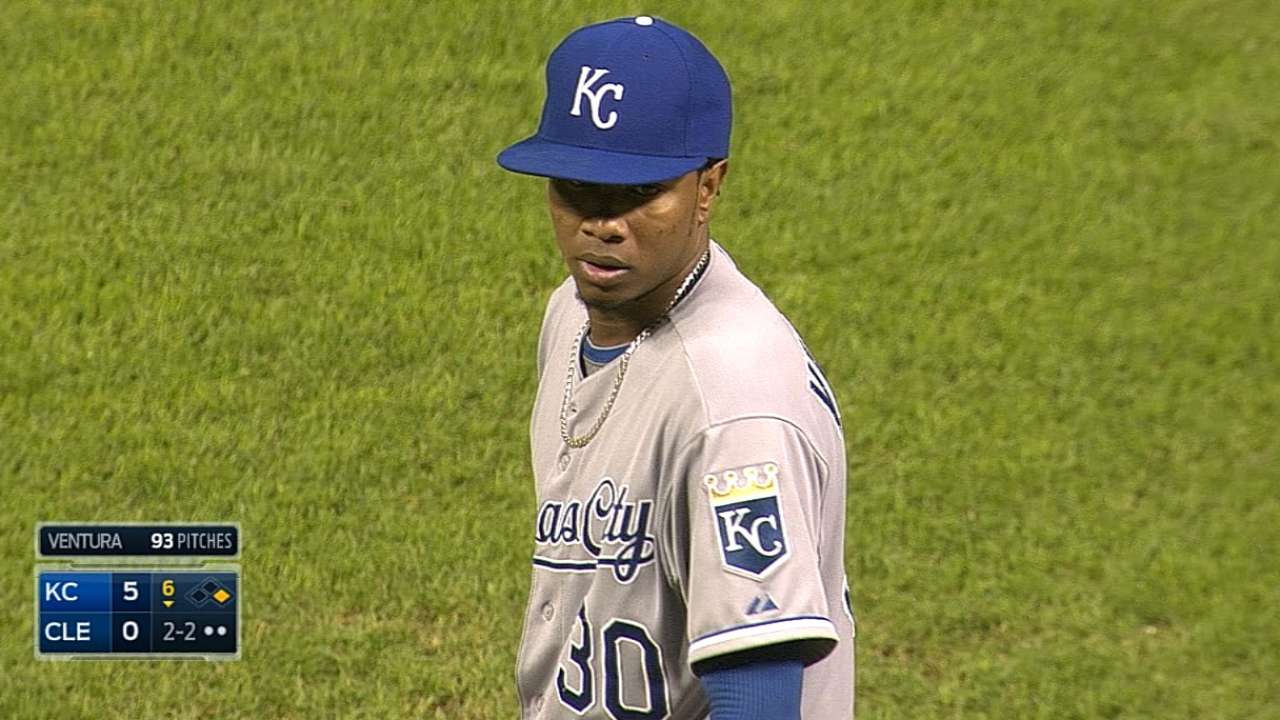 CLEVELAND -- Don't underestimate Yordano Ventura. He's a pitching force to be reckoned with.
"He's a special guy," said manager Ned Yost. "He has all the makings of being a high-level, upper-tier pitcher in the American League."
Actually, the rookie right-hander is pretty special already. His seven shutout innings in Tuesday night's 7-1 win over the Indians gave him 14 victories -- matching staff leader James Shields' team-high total. Ventura's 3.07 ERA is a shade under Shields' 3.18.
Pressure down the postseason stretch? Ventura shrugs it off.
"No nerves," Ventura said. "My approach is I have to treat this game like any other game, and that allows me to be relaxed and pitch well."
Ventura has done that. This win marked his 11th straight quality start, something no Royals pitcher has done since Runelvys Hernandez in the 2002-03 seasons.
"He's a competitor," said teammate Eric Hosmer. "It's fun to watch, too. We needed a big outing from him, and the way these starters are throwing, they're feeding off of each other. That's makes the rotation better when the guys are competing with each other. He followed up a great outing by [Danny] Duffy."
Ventura had six of his 153 strikeouts in the win over the Indians. He felt strong despite throwing a career-high 117 pitches.
"I was so focused on getting the hitters out that I never felt that it was 117 pitches or whatever," Ventura said.
Against the Tribe, he's 3-0 with a 1.57 ERA.
"He's very electric," Indians manager Terry Francona said. "He's got some of the best arm speed you'll ever see. We made him work, we just didn't have anything to show for it. It's frustrating."
Dick Kaegel is a reporter for MLB.com. This story was not subject to the approval of Major League Baseball or its clubs.