White Sox rally in ninth, fall to Tigers on walk-off
Carroll allows two runs over six-plus; Petricka gives up game-winner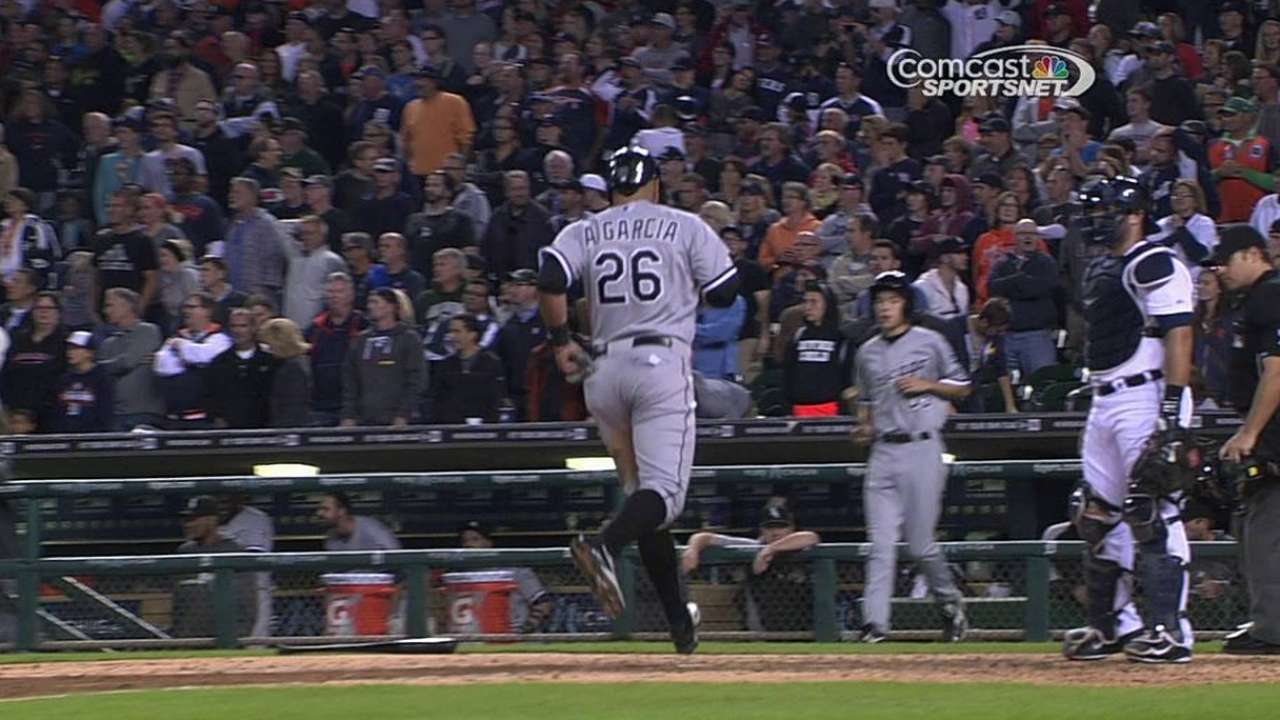 DETROIT -- Playoff baseball.
It's a coveted location inched closer to by the Tigers with a 4-3 walk-off victory over the White Sox on Tuesday night at Comerica Park. It's a locale the young South Siders hope to arrive at as early as next season.
Even with the White Sox (72-85) playing for nothing more than pride, future roster positioning and to avoid a second straight 90-loss campaign, they performed with grit and determination in this postseason atmosphere. Look at their approach against David Price, who pitched three-hit, scoreless baseball over eight innings, only to have the White Sox rally for three runs on five hits to tie the game in the ninth.
"You could feel that this game mattered and there was some energy there and definitely you could sense it wasn't just your average regular-season game," White Sox captain Paul Konerko said. "They need to win."
"This was kind of a cool atmosphere. It felt like a playoff game for me. That's the closest I've been," said White Sox starter Scott Carroll, who finished with a no-decision thanks to the White Sox rally. "To see the focus and intensity for each pitch and each at-bat, it was cool. And I thrived off of that, and I used that to keep me going, to try to match [Price]."
Price entered the ninth at just 95 pitches, and with the Tigers' shaky bullpen in mind, Detroit manager Brad Ausmus sent the southpaw with 241 innings pitched this season back to the mound. Adam Eaton opened with a single to center, followed by Alexei Ramirez's double, Jose Abreu's strikeout and Avisail Garcia's two-run single. Ausmus visited Price at that point but left him in, and Dayan Viciedo flew out to right on the next pitch for the second out.
That left the game in the hands of Konerko, who was honored by the Tigers before the contest. Konerko fell behind, 1-2, but shot a single to left to put runners on the corners. Marcus Semien followed with a single to center to score Garcia with the game-tying run, and bring in Joe Nathan (5-4) to replace Price.
"Semien, you just know he's going to get a hit when it matters. The guy is unbelievable," Konerko said. "He's real clutch and a great kid."
"Well, they are playing for the future, too. Guys aren't laying down," said White Sox manager Robin Ventura. "They are continuing to grind out at-bats. That's what you like to see."
Miguel Cabrera's single off of Jake Petricka (1-6) scored Ian Kinsler with the game-winning run, after Carlos Sanchez flew out with the bases loaded to end the threat against Nathan in the top of the frame. Price finished with eight strikeouts and no walks, while Carroll allowed two runs on five hits over six-plus innings, striking out four and walking two. His sinker seemed to work better as the game progressed, with Carroll retiring nine with ground balls in his final start of the season.
The Tigers (87-70) dropped their magic number to clinch a playoff spot to two and maintained their one-game lead over the Royals, who defeated the Indians, in the American League Central. The White Sox hope these same type of games will have meaning for them by the time next September rolls around.
"Walk-off wins, they're always special," Price said. "We all knew that Kansas City had won, so if we lost this game, we'd be even with them. It was a good bottom of the ninth inning from our guys and it was a big win."
"We were playing loose and it's never the same unless it's you that's in it, don't get me wrong," Konerko said. "But hopefully a year from now when they're coming down the stretch in September, it's the White Sox that have meaningful games. They kind of have a picture in their mind of what it looks like and feels like."
Scott Merkin is a reporter for MLB.com. Read his blog, Merk's Works, and follow him on Twitter @scottmerkin. This story was not subject to the approval of Major League Baseball or its clubs.