Young love on display during 'Bucks' at AT&T Park
Giants game the backdrop for couple to show off knowledge in trivia challenge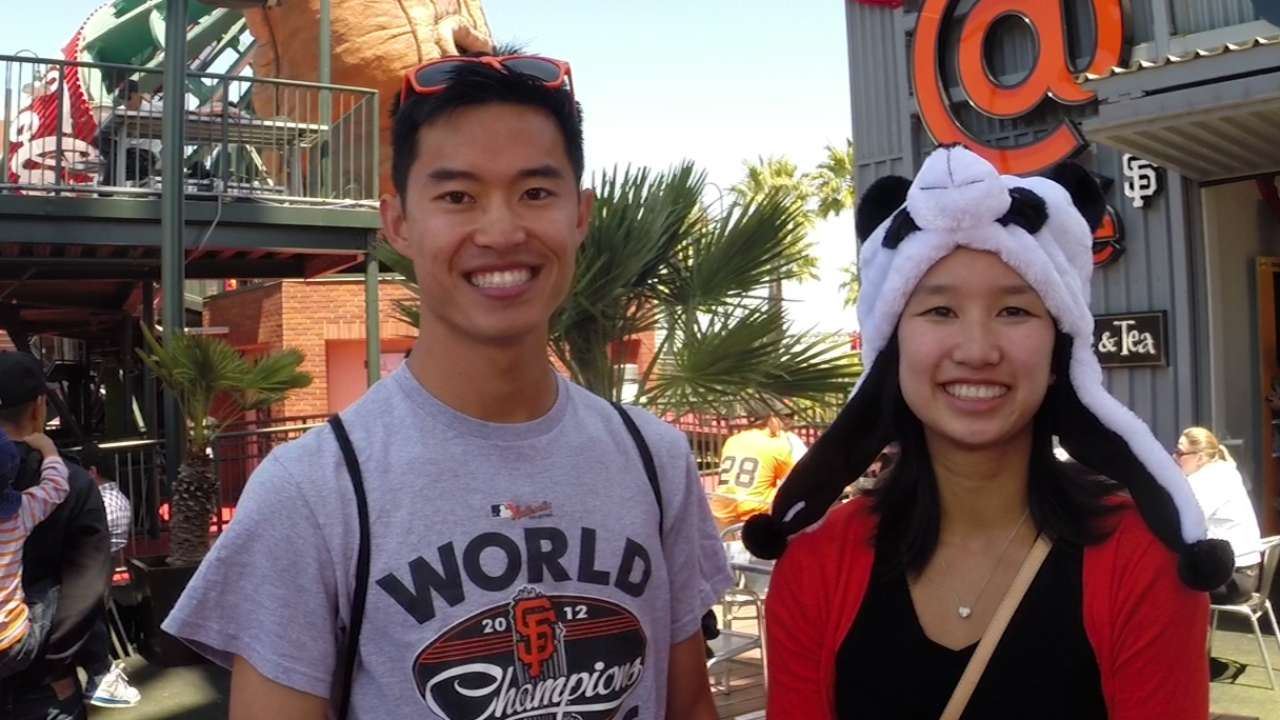 Stephanie Doan met Jonathan Chao at a language conversation table while in college, and they "hit it off pretty quickly." When he took her to her first Giants game at AT&T Park, it was like a dream.
"A couple weeks before the game, Stephanie had mentioned that she thought the Panda hats were adorable," Chao said. "So a couple days before the game, I bought one as a surprise for her so that she can wear it around the ballpark and she loved it. She was getting high fives. She had this huge smile that never seemed to go away, and it made me really happy."
Gameday arrived, and they took BART in from the East Bay and rode Muni to the ballpark. When the Giants won that day, it was icing on the cake.
"Before the game started, the scoreboard allowed you to text a message to a certain number and it'll show up on the big screen," he said. "She tapped me on the shoulder and pointed to the scoreboard and there was: 'I love you Jon -Steph.' Even though it may seem corny/cheesy/mushy or whatever, to me, I knew it was going to be a perfect day no matter what."
Oh, did we mention that they are starring in the latest episode of the hit MLB.com game show "Bucks on the Pond" powered by Ford? Yeah, that happened on the same day. Watch the video and see for yourself if they add to the more than $25,000 doled out so far.
"Bucks" is hosted by Jeremy Brisiel and you might be a part of this season when you least expect it. Fans at the ballpark interact with MLB.com's studio through the magic of technology in conjunction with game action inside, and new episodes are posted each Tuesday and Friday.
Contestants are asked a trivia question -- general knowledge and baseball -- on each pitch during a half-inning of baseball. Get the question correct and win money. Get the question wrong and it's a strike. Three strikes and you're out.
The questions' difficulty and value increase with the number of outs in the on-field action: $5 easy questions to start, $10 medium-difficulty questions after one out, $20 hard questions after two outs. If the contestant lasts longer than the team's at-bat, they win the bucks in their bank -- and Ford matches those winnings with a donation to Wounded Warrior Project.
Cross the $100 mark during the show, and it's time for "Say the Word" powered by Ford SYNC. You can wager any part of your bank on that next question, which is asked each episode by Hall of Famer Frank Thomas. Answer correctly and you win, answer incorrectly and you lose that amount … and it's another strike.
"It was such a gorgeous day and seeing AT&T Park in person was such a treat," Doan said. "Jon was explaining the game to me throughout the day, as baseball is one of the few sports I don't follow. I do love sports, so I always enjoy going to sporting events. To top that, I am pretty competitive, so playing 'Bucks on the Pond' was the perfect way to start the ballgame. It was just a wonderful day overall."
Doan, 19, is from Los Gatos, Calif., and is a sophomore at Scripps College double majoring in Human Biology and Chinese. Chao, 23, from Oakland, graduated last spring from Pitzer College in Claremont, Calif., and works for the Asia Society of Northern California in San Francisco.
Topics in this episode include Giants all-time leaders, calendar, chemistry, World Series history, 1980s music charts, movie titles, perfect games, box score lingo and Bugs Bunny. At one point, she asked him: "How did you know that?"
His parents used to have Giants season tickets, so he once attended games regularly. This was his first game back in a while.
"It was a 12:45 game, so we got to the ballpark around 12:15 and walked around the field level looking at all the stands and figuring out what we wanted to eat," Chao said of the big "Bucks" day. "Garlic fries were a must because we both love them. Our seats were in the Club level, section 211, between home and first base. We decided that since it was her first baseball game, she wanted to eat baseball food, so we got hotdogs, a coke and garlic fries.
"I wanted to show her the slide and all there is to do at AT&T Park, which is when we saw the 'Bucks' station. We thought, 'Why not? Let's try it and see how good we are.' We both love participating in competitions/fun games, and we work really well together.
"I was a little nervous knowing that the questions were about the history of the Giants as well as random facts. Stephanie knew that she would leave all the baseball questions up to me, and I know I can rely on her for almost everything else. It was a lot of fun playing the game, the suspense, the excitement, the bouncing ideas back and forth, and playing a great game with someone who you really love."
Maybe they'll be back at AT&T Park soon.
"I would love to go to another Giants game with him in the future," she said, "and I really hope the Giants make the playoffs this year."
In addition to the Giants, teams visited by the "Bucks" crew include the Angels, Astros, Athletics, Brewers, Cardinals, Cubs, D-backs, Dodgers, Indians, Mariners, Marlins, Mets, Orioles, Padres, Phillies, Pirates, Red Sox, Reds, Rockies, Royals, Tigers, Twins, White Sox and Yankees. Bookmark MLB.com/bucks and be on the lookout for the "Bucks" crew at your ballpark.
Mark Newman is enterprise editor of MLB.com. Read and join other baseball fans on his MLB.com community blog. This story was not subject to the approval of Major League Baseball or its clubs.