MLB.com Columnist
Jim Callis
Plenty of eyes will be on Appel next season
Astros' No. 1 pick in 2013 needs to build on late-season success after terrible start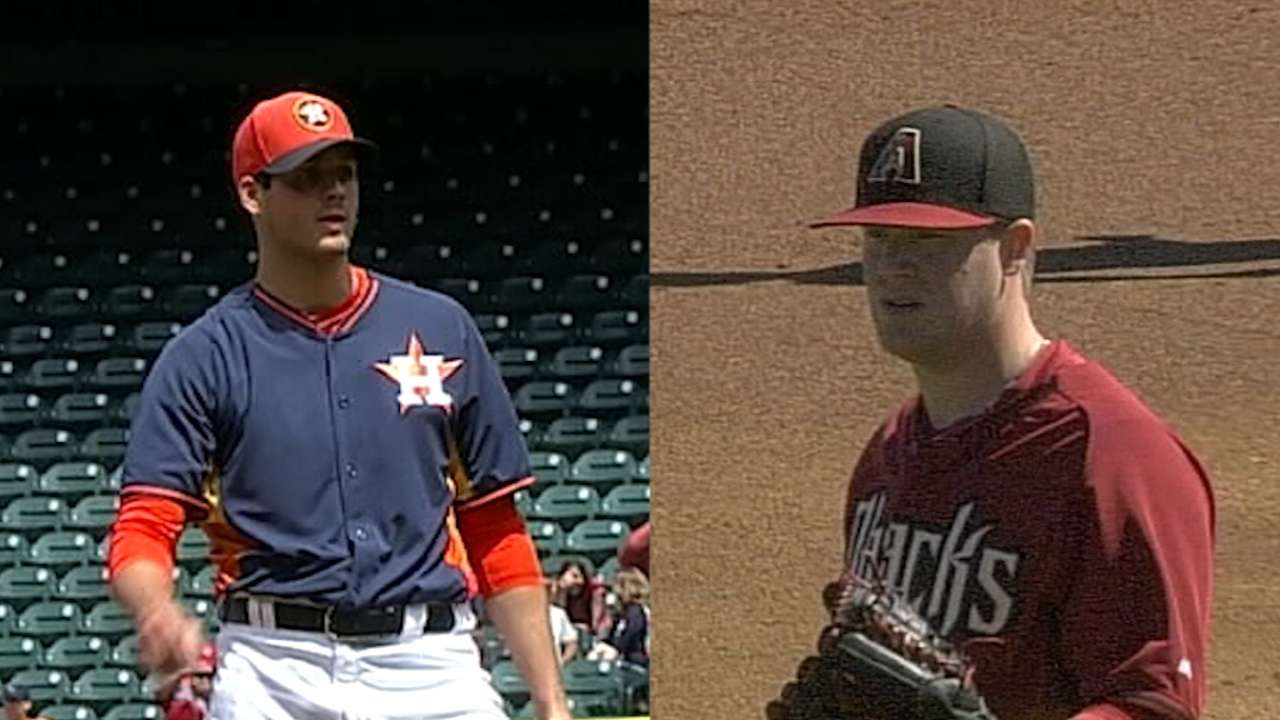 There's a good amount of subjectivity regarding baseball prospects. With the evaluation of talent being in the eye of the beholder, finding consensus is often difficult. Even Jim Callis and Jonathan Mayo of MLBPipeline.com don't always see eye to eye. They discuss their viewpoints regularly in a feature called Pipeline Perspectives. Submit a topic for them to debate.
Given the choice, a team would much rather pick at the bottom of the First-Year Player Draft than the top. When a club earns the No. 1 overall selection because it posted the worst record in the Major Leagues, it's imperative that it make a sound decision. Otherwise, it will be doomed to repeat the cycle.
From 1965 through 2006, the leagues alternated picks in each round, so a team could get the No. 1 overall choice only every other year. The expansion Padres became the first club to do so three times in five years but wasted those opportunities on Mike Ivie (1970), Dave Roberts ('72) and Bill Almon ('74). Failing to land more than serviceable big leaguers contributed heavily to San Diego posting just one winning record in its first 15 seasons.
The Draft rules changed in 2007, ignoring league affiliations and making it possible for teams to land consecutive No. 1 overall selections. The Rays immediately did, scoring with David Price ('07) and whiffing on Tim Beckham ('08), with Price playing a major role in four postseason appearances in six years. The Nationals immediately followed by grabbing Stephen Strasburg ('09) and Bryce Harper ('10) at the top of the next two Drafts, and not coincidentally have won two of the past three National League East titles.
The Astros topped the Rays and Nats by posting baseball's worst record in each of the previous three seasons -- the first club to do so since the laughingstock 1962-65 Mets -- and receiving an unprecedented three consecutive No. 1 overall choices in the 2012-14 Drafts. Thus far, the returns have been mixed.
Shortstop Carlos Correa (2012) has emerged as one of the game's elite prospects despite missing the second half of this season when he broke the fibula in his right leg on an errant slide. On the other hand, Houston was unable to sign left-hander Brady Aiken this year following a dispute over his post-Draft physical that also prevented the team from completing deals with two other talented high school pitchers, Jacob Nix and Mac Marshall.
In between those two extremes, the Astros selected right-hander Mark Appel (2013), whose development hasn't gone according to plan. His first full year as a pro featured much more adversity than anyone could have expected, leaving him as the prospect with the most to prove in 2015. (Jonathan Mayo takes a dissenting view in this week's Pipeline Perspective, putting that onus on Diamondbacks righty Archie Bradley.)
Houston strongly considered drafting Appel in 2012, but couldn't get a handle on the financial parameters needed to sign him and opted for Correa. The Pirates took Appel with the No. 8 pick, but he didn't sign. He improved his already impressive stuff and refined his control and command after returning to Stanford for his senior season, which helped him become the 17th player taken in the first round of two separate June Drafts and earned him a franchise-record $6.35 million bonus -- the largest in Draft history for a college senior -- in 2013.
After a solid pro debut in low Class A, Appel figured to progress rapidly and smoothly through the Astros' Minor League system in 2014. Instead, he did anything but.
Appel had an emergency appendectomy at the end of January, which compromised his Spring Training routine and ability to build up his arm strength. He had trouble adjusting to pitching in a tandem-starter system and the conditions at high Class A Lancaster, where the wind constantly blows out and makes The Hangar arguably the toughest place to pitch in the Minors. After Appel gave up 10 runs over 13 innings in his first four outings, Houston sent him to extended spring camp in Florida to regroup.
When Appel returned to Lancaster five weeks later, he surrendered 10 runs on 10 hits (including three home runs) and a walk while recording just four outs in his first game back. According to research done by Baseball America's J.J. Cooper, it was the worst Minor League start in this century by a former collegian, pitching in one of his first two seasons, and who was top-three Draft pick. None of the other pitchers who appeared on Cooper's list of the 20 worst starts developed into a successful big league starter.
It wasn't until July 24 when Appel recorded his first quality start of 2014. At that point, he owned a 2-5 record with a 9.74 ERA in 12 starts for the JetHawks, with a 40/11 strikeout-to-walk ratio offset by a .372 opponents' batting average and nine homers in 44 1/3 innings. Deciding that the best thing for Appel's development would be to get him out of Lancaster, Houston promoted him to Double-A Corpus Christi.
That move created some unintended controversy when the Astros had Appel stop by Minute Maid Park on the way to Corpus Christi so he could throw a bullpen session for big league pitching coach Brent Strom. Multiple players complained to reporters about Appel's presence and promotion, believing neither was earned, and then-manager Bo Porter acknowledged that it was a distraction.
Fortunately for Appel and the Astros, the move to Double-A got him back on track. He cleaned up his delivery and picked up more velocity on his fastball, sitting in the mid-90s and touching 97 and 98 mph more regularly. Appel's slider was sharper, his changeup was more deceptive and he did a better job of locating his pitches down in the strike zone.
In seven outings (six starts), Appel went 1-2 with a 3.69 ERA and a 38/13 K/BB ratio, .236 opponents' average and just two homers in 39 innings. On Aug. 26, he turned in one of the best Minor League performances of the season, allowing just two hits and a walk while striking out 10 in eight shutout innings.
The Astros are sending Appel to the Arizona Fall League in hopes he can build on his late-season progress. They need him to become the potential front-line starter they thought they were getting at the top of the 2013 Draft and whom he resembled at the end of this season. If Appel doesn't succeed, Houston's already lengthy rebuilding process will require even more time.
Jim Callis is a reporter for MLB.com and writes a blog, Callis' Corner. Follow @jimcallisMLB on Twitter. This story was not subject to the approval of Major League Baseball or its clubs.