MLB.com Columnist
Mike Bauman
Determined Giants keeping West hopes alive
In fight for playoff spot, San Francisco wins tight battle with Dodgers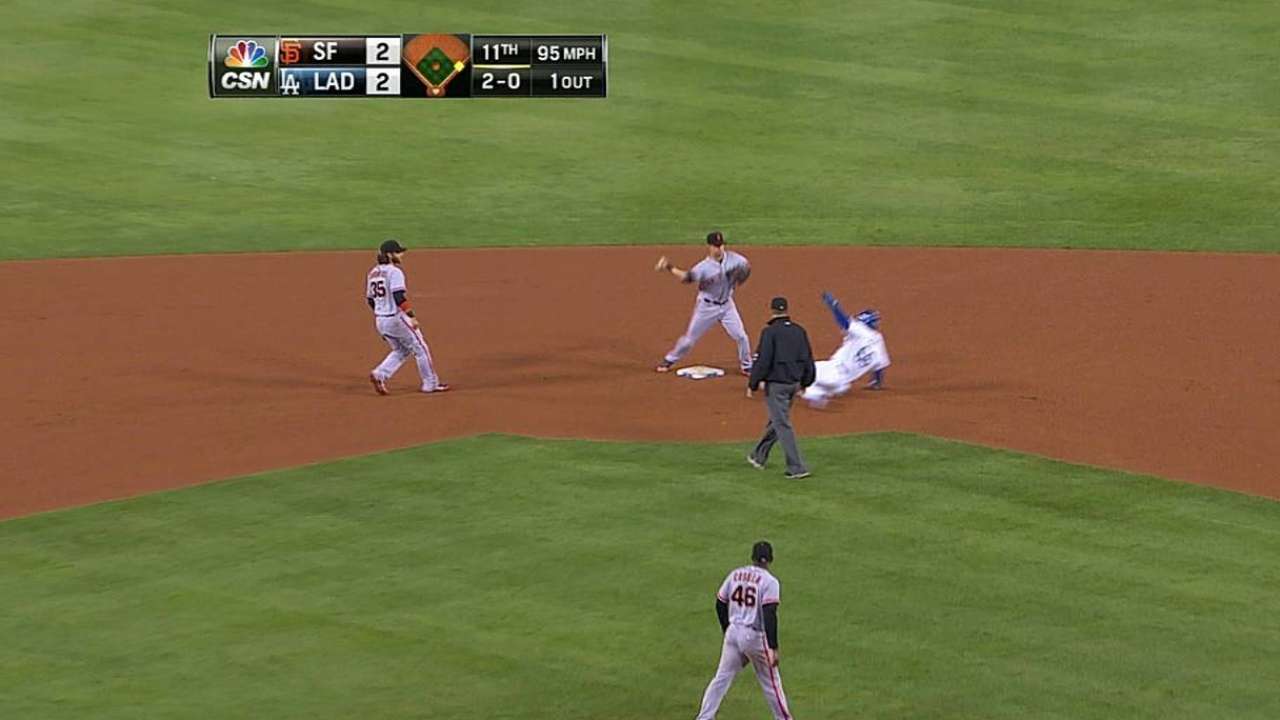 LOS ANGELES -- The recent past had been discouraging for the San Francisco Giants. And the outlook in the National League West wasn't any rosier. But this is, barring catastrophe, still a postseason team. As such, it has plenty still at stake. So the Giants produced a truly determined effort Monday night against the archrival Dodgers.
The determined effort became a successful effort when the Giants pushed across three runs in the 13th inning for a 5-2 victory. That outcome kept alive San Francisco's flickering hopes for the division title, and perhaps more to the point, it kept the Giants tied with the Pirates for the NL Wild Card lead.
"I'll tell you what, what a game," Giants manager Bruce Bochy said. "Gutty effort by the guys. But the bullpen, I can't say enough about what they did. And [starting pitcher] Jake [Peavy], another great job.
"We fought hard. Both sides did. It was a great ballgame."
Yes, it was a game fully suitable for the final week of the regular season between two teams, not only rivals, but competitors for 2014 postseason positions. This contest drew 53,500 fans to Dodger Stadium. It was the largest crowd in the Major Leagues this year.
The Giants are now 3 1/2 games back in the NL West, with six games to play for them and five for the Dodgers. It's not a hopeful situation overall, but Madison Bumgarner goes Tuesday night against the Dodgers, and that fact brings a daily dose of optimism with it.
In this one, San Francisco received another in a series of fine starts from Peavy, who allowed no hits through four innings. Peavy, who has given up just eight earned runs in his last eight starts, left after seven innings with a 2-2 tie.
"That's a huge team win for us, one we had to have," Peavy said. "It showed a lot about the type of guys we have in this room."
It is often said that runs are at a particular premium in this portion of the season. That would be an understatement in the case of Monday's contest. Runs were nonexistent for hours.
There were no runs scored from the sixth through the 12th innings. It could be said that the Giants had the better opportunities over this period. For the game, they stranded 11 runners to the Dodgers' five. And they had a chance to win snuffed out in the 11th when Brandon Belt, attempting to score from second on a single to center, was thrown out at the plate on a throw that was both a rocket and a strike from Yasiel Puig.
"That can be disheartening," Bochy said. "You can't have that attitude. You give them credit. With a game on the line, they made a great play. The only thing you can do is go out there and play some defense and keep fighting. And the guys did a great job of it."
At this late date, with defeat not an alternative, Bochy had to use his relievers in extended ways. Setup man Jean Machi and closer Santiago Casilla both worked two innings, Casilla getting credit for the victory.
"We had to win a ballgame," Bochy said. "At this stage in the season, you're going to do things a little bit differently."
Finally, with two outs and one on in the 13th, San Francisco's persistence paid dividends. A rally against Kevin Correia produced three runs, a tidal wave of scoring in a contest of this sort. Rookie backup catcher Andrew Susac, in as a pinch-hitter, singled in the winning run.
"I think all of us were ready to go home," Susac said, appearing to be the coolest customer in Dodger Stadium. "I had a pretty positive mindset: 'Just get it done.' It was nice to pull one out, especially with the way we played at San Diego."
Right. The three-game sweep by the Padres seemed to point to the end for the Giants. But they weren't really done. They demonstrated that over 13 innings Monday night, not to mention four hours, 16 minutes worth of late-September drama.
It is still obviously uphill for San Francisco in its pursuit of the division title. But the Giants are on the doorstep of clinching a Wild Card berth. Once in the postseason, all together now, anything can happen. Monday night, with their season seemingly headed toward tilt, the Giants' dogged performance gave them and their fans a dose of genuine hope.
Mike Bauman is a national columnist for MLB.com. This story was not subject to the approval of Major League Baseball or its clubs.