MLB.com Columnist
Phil Rogers
Waino delivering right stuff for October
Cardinals ace notches second 20-win season in dominating fashion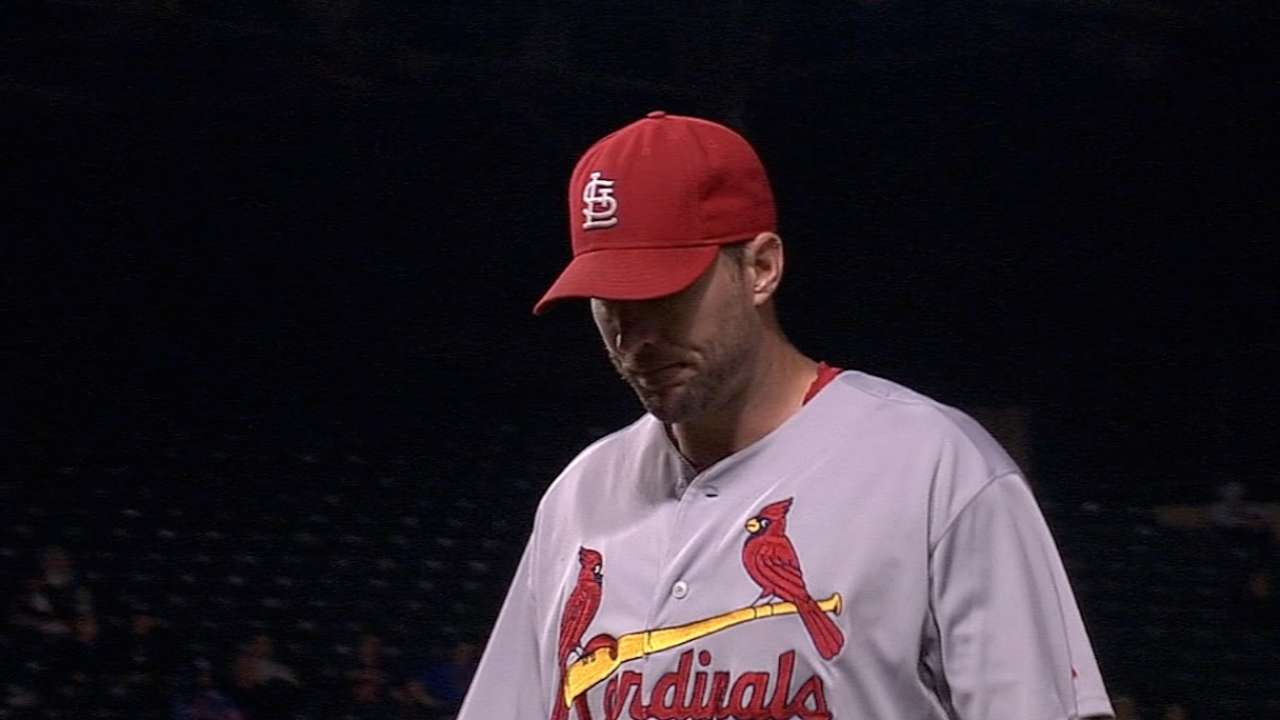 CHICAGO -- Eight little words.
Mike Matheny said them after Adam Wainwright picked up his 20th victory on Monday night, beating the Cubs, 8-0, and they tell you all you really need to know about why the Cardinals are as dangerous as any team in the National League.
"He's right where we need him to be," Matheny said.
If Wainwright is where the Cardinals need him to be, they're going to be a handful for whoever winds up playing them in October. They're on track to face the Dodgers in the NL Division Series, assuming the Cards can finish off the Pirates, and that would mean Wainwright vs. baseball's other 20-game winner, Clayton Kershaw, in Game 1 -- and maybe 4 or 5.
How much fun would that be?
How good is Wainwright? Forget for a moment that pitcher's wins aren't supposed to mean anything, and appreciate the win totals he has put up in his last five seasons: 19, 20, 14, 19 and 20. That's how you build a 119-66 record.
"Wow," Matheny said. "I hope he realizes how special that is. He's in a very elite group."
Wainwright is so good that he can go into a major funk -- he was 3-5 with a 4.68 ERA in his first eight starts after the All-Star break -- and come out of it by stamping his name alongside that of Bob Gibson and Joaquin Andujar.
With Wainwright winning 20 for the second time, he has joined Gibson and the always entertaining Andujar on the short list of Cardinals who have reached the mark in multiple seasons over the last 65 years.
That's impressive. But there's one other experience that Wainwright wouldn't mind sharing with Gibson and Andujar -- being a difference-maker on a championship team.
To complete his St. Louis pedigree, Wainwright needs some World Series victories as a starter, a la Gibson and Andujar. They not only earned rings but were difference-makers, winning Games 7. Andujar broke Commissioner Bud Selig's heart by vanquishing the Brewers in 1982; Gibson beat Mel Stottlemyre in '64 and Jim Lonborg in '67.
Wainwright has two World Series rings. He earned one when Tony La Russa trusted him as a rookie closer in 2006 and was given another when the Cardinals won in 2011, even though Wainwright missed the season because of Tommy John surgery. But the Red Sox's Jon Lester beat him in Games 1 and 5 last year, when he had his chance to become the parade's grand marshal.
It's getting ahead of ourselves to talk about a return engagement for Wainwright this fall. While the Cardinals have clinched a playoff spot, there remain about a million ways that tantalizing storyline could get blown to bits. But it's easy to picture Wainwright back on the stage, given how he and the Cards are rolling.
On Monday night, exactly one month from the start of the 110th World Series, Wainwright was on the mound at Wrigley Field, burying the Cubs in the opener of a three-game series. It was a fitting place to win his 20th, as he has won eight times here, the most of any ballpark other than Busch Stadium, including his 20th win in 2010.
While the Cardinals have won 17 of their last 22, turning up their level of play at the perfect time, they haven't celebrated clinching their spot in the postseason field, as they won't pop the champagne until they lock up the NL Central title. That could come at Wrigley, as their magic number is only four, but more than likely, it will happen when they get to Arizona for the final series of the regular season.
The Bucs have delayed that celebration by winning 14 of their last 17, including a 1-0 win Monday in Atlanta, and still could steal the division or maybe force a one-game tiebreaker for the NL Central title. They trail by 2 1/2 games but are a threat to keep winning against the Braves and Reds.
"We knew it was going to come down to the end," said Wainwright, who is 20-9 with a 2.38 ERA. "It always does. You play 162 games, but somehow it always comes down to the last week of the season. The urgency all around baseball is so high."
Before the Wild Card Game was added in 2013, a team like the Cardinals could have coasted through the final week, as there was little distinction between division champs and Wild Card winners. But now teams play for the chance to advance straight to the Division Series. That's why the Cards barely noticed when Milwaukee's loss on Sunday meant the worst they could do was one of the NL's two Wild Card spots.
"It's something we don't take for granted," Matheny said of having locked up a Wild Card spot. "We completely respect how hard it is to get into postseason, period. But one of our goals was to win this division. We are in a position where we can do that. We just have to stay with it. ... We should just keep our head down and keep playing."
Wainwright is a poster boy for that concept.
Even though about 15 St. Louis players and coaches were struck by a stomach virus over the weekend, Wainwright was none the worse for wear. He was in vintage form from the time he ran out of the dugout -- yes, he did run -- to the mound for the bottom of the first.
As always, Wainwright took his place on the first-base side of the rubber, glanced in for Yadier Molina's signs and threw strikes. He worked fast and -- to use an old-school term -- stayed right on top of hitters. Wainwright's fastball wasn't what it has been, but he had more than enough weapons to compensate.
"You find different ways to win, depending on the day, depending on who you're facing," Wainwright said.
Anthony Rizzo delivered an opposite-field double off Wainwright in the first inning, and the Cardinals' ace retired the next 10 in a row. He wouldn't give up another hit until the seventh, and Matheny pinch-hit for him in the top of the eighth, knowing 106 pitches were enough.
Unless the Pirates can stay alive until Sunday, this was probably Wainwright's final regular-season start of the season. Matheny was vague about whether his ace would pitch again, and Wainwright sounded like he'd rather have a little extra rest than one more tuneup start for the postseason.
Like his manager, Wainwright figures he's right where his team needs him to be.
Phil Rogers is a columnist for MLB.com. This story was not subject to the approval of Major League Baseball or its clubs.