Dodgers' magic number still three after 13-inning loss
Haren stellar over seven frames before Giants rally in extras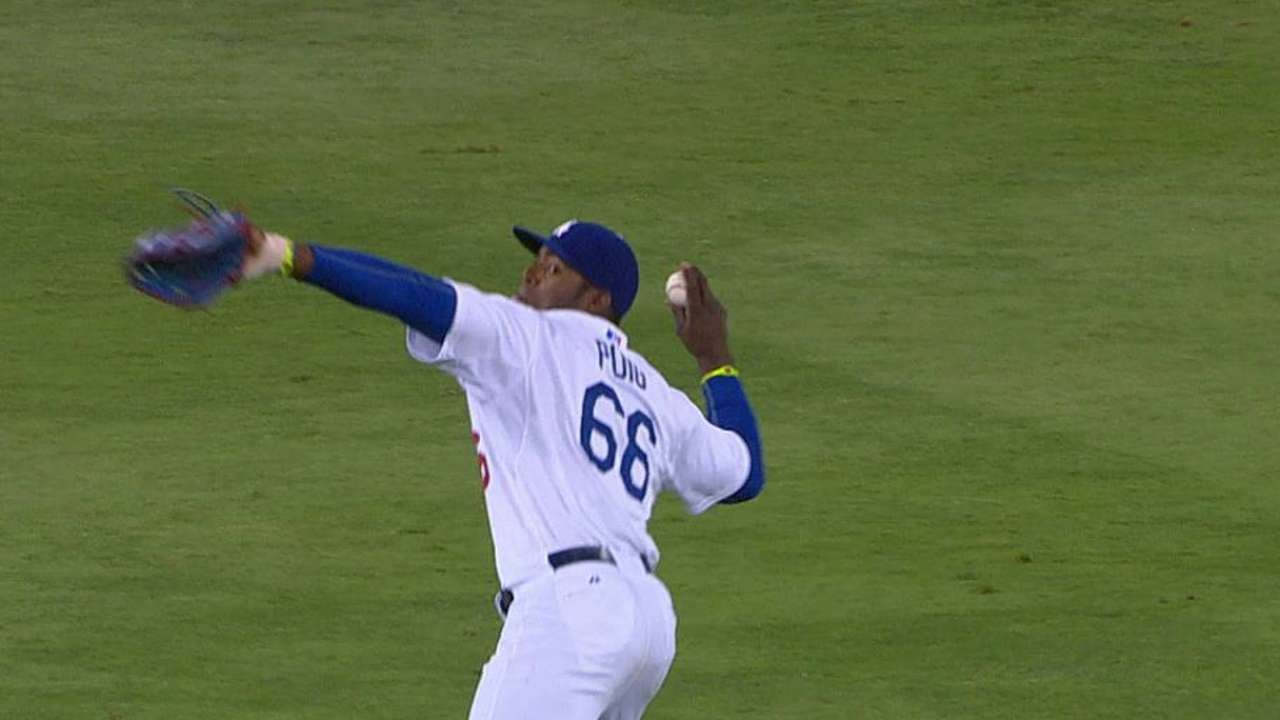 LOS ANGELES -- There was a Frank Sinatra Jr. serenade, a cake with candles and 53,500 guests in attendance. The only thing Tommy Lasorda was missing on his 87th birthday was a Dodgers win.
While the Los Angeles legend celebrated his special day at Dodger Stadium on Monday, the Dodgers pushed back any celebration of their own to another day, falling to the rival Giants, 5-2, in 13 innings. The Dodgers' magic number still sits at three and their lead in the National League West shrunk to 3 1/2 games with the loss.
In a playoff-like atmosphere, Dan Haren allowed just one hit in seven innings, a depleted bullpen rallied to get the team through extra frames, and Yasiel Puig delivered one of the team's defensive plays of the year, unleashing what was at the time a game-saving throw to catch Brandon Belt at home with one out in the 11th.
But none of those moments -- and no birthday cake -- could outweigh the final result. The Dodgers went hitless from the sixth inning on before long reliever Kevin Correia surrendered three runs in the decisive 13th.
"The story for me is we just didn't do enough to win," manager Don Mattingly said. "We give ourselves chances, our pitchers got us out of jams. [The Giants] kept getting guys out there, and our guys did a nice job of getting outs, and you're just hoping at some point you get a run up."
But the Dodgers never could. They tallied all four of their hits in the fifth and sixth innings. Carl Crawford broke up Jake Peavy's modest no-hit bid with a home run to lead off the fifth. Then Juan Uribe and A.J. Ellis singled, and after a Haren bunt, Dee Gordon hit a sacrifice fly to tie the score at 2. But a Hanley Ramirez single with two outs in the sixth was the Dodgers' only other hit for the remainder of the contest.
The Giants, meanwhile, peppered the Dodgers' bullpen for 11 hits, a bullpen that was shorthanded due to Sunday's pitcher-by-committee win against the Cubs. Still, J.P. Howell, Brian Wilson, Kenley Jansen, Scott Elbert, Brandon League and Daniel Coulombe managed to hold the Giants scoreless until Correia took over in the 13th.
With two outs and Belt on second base, the Dodgers opted to intentionally walk Brandon Crawford, bringing up the pitcher's spot in the batting order. The move backfired, however, as pinch-hitter Andrew Susac singled to drive in the go-ahead run. Center fielder Gregor Blanco followed up with a double to right, scoring Crawford, then scoring Susac as Blanco got caught in a rundown between second and third.
The Dodgers proceeded to go down in order in the bottom of the 13th against right-hander Hunter Strickland.
"It's a tough loss," catcher A.J. Ellis said. "You're getting closer, and you kind of want to put the nail in the coffin. ... Danny pitched well enough to win, and we weren't able to close the deal for him, and we weren't able to generate anything offensively."
Haren's lone mistake came against the first batter he faced, Blanco, who drilled a 3-2 fastball to center for a homer.
The right-hander struck out seven and walked none -- the lone baserunners he dealt with came via three Dodgers errors. In the third inning, Blanco reached third base with one out after right fielder Matt Kemp and Puig miscommunicated on a fly ball. The ball ricocheted off Kemp's glove, and Blanco came around to score one batter later on a bunt by Joe Panik.
Despite coming away with a no-decision, Haren was pleased with his outing. He said he was eager for the opportunity to test himself against a playoff-caliber team like the Giants, and he excelled in front of what was the largest crowd in the Major Leagues this season.
"I felt really good," Haren said. "I've been throwing the ball good for the last few weeks, taking out a start or two. When the team needs me, I've been able to step up. I've done my best when guys are down this year. I don't know if I'm going to be one-hit-in-seven-innings good, but I feel like I'm going to give us a good chance every time I go out there."
Haren gave his team a chance Monday, but ultimately, the Dodgers weren't able to carry the celebratory mood from the start of the game all the way to the end.
"I mean, we played hard," Haren said. "The bullpen did amazing considering we threw so many innings yesterday. We feel it. We feel the end is near. We know we have to win a few more games, and we're going to get there.
"Today we don't feel good, but tomorrow we could be feeling the complete opposite."
Michael Lananna is an associate reporter for MLB.com. This story was not subject to the approval of Major League Baseball or its clubs.