Wainwright carves up Cubs for win No. 20
Ace fires seven dominant innings; Cards trim magic number to 4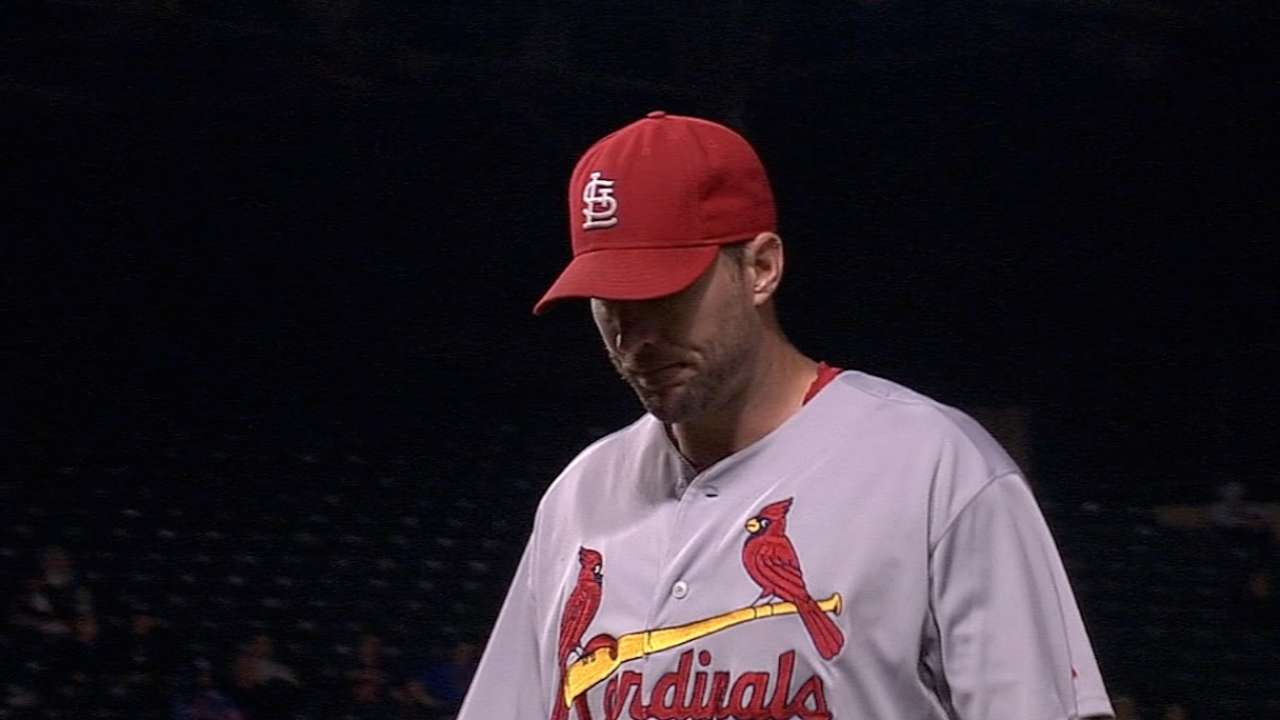 ST. LOUIS -- The Cardinals opened a series at Wrigley Field on Monday night with a pair of figures in sight. One Adam Wainwright sought to hit. The other, the club intends to dissolve.
Buoyed by an awakening offense against the Cubs, Wainwright captured win No. 20 with an 8-0 victory that has the Cardinals staring at the No. 4 -- that is, the combined number of Cardinals wins and Pirates losses needed this week in order to wrap up a second straight division crown. Pittsburgh, after shutting out the Braves on Monday, sits 2 1/2 games back in the National League Central.
The Cardinals transported their cases of champagne with them for this final week, hopeful of popping corks in celebration of a division title. There was, however, one bottle set aside for Monday.
A.J. Pierzynski bought it, and Yadier Molina popped it, after which Matt Holliday gave the toast. It was all to recognize Wainwright, who later slid the Dom Perignon (vintage 2003) into his locker, along with a game-thrown ball.
"It's a notch in the belt for sure," Wainwright said of becoming baseball's second 20-game winner of 2014. "Tremendous honor obviously, but more importantly, it's a big win for our team. Pittsburgh is playing such good baseball right now that we've just got to take every game so serious."
While the Cardinals knocked Cubs starter Travis Wood for seven runs in a 14-batter span, Wainwright secured his second 20-win season -- the 40th in franchise history (since 1901) -- with seven dominant innings. Three hits and a walk were the only blemishes on Wainwright's eight-strikeout, 106-pitch night.
Along with the 20-win season he notched in 2010 (also reached at Wrigley Field), this one makes Wainwright one of three active pitchers to win 20 games in a year twice. That company includes Clayton Kershaw (2011, '14) and Bartolo Colon ('02, '05). Only six others -- Bob Gibson (five), Dizzy Dean (four), Mort Cooper (three), Jesse Haines (three), Howie Pollet (two) and Joaquin Andujar (two) -- had achieved the feat at least twice as a Cardinal.
"You look at the rich tradition of this organization, and how many pitchers have come through here and had long careers and not been able to do that," manager Mike Matheny said. "That's a great company to be in. To us, what makes it probably even more special is that I think every guy in there understands the kind of teammate he is, the kind of example he gives -- not just on the field but how he's always figuring out a way to make everybody else better. You see someone like that have success, you can't help but really celebrate accomplishments like this."
Wainwright didn't back into win No. 20 either, as he extended his scoreless-innings streak to 21. He improves to 5-0 this month after enduring an August that left him searching for command, strength and a consistent delivery.
Now he could have a chance to add one final victory to his regular-season tally, if the Cardinals keep him on turn and send him to the mound in Arizona on Sunday. Matheny said the club will have Wainwright prepare for the start. Wainwright noted that there would only be one thing that would prevent him from making it.
"I like Game 1 of the NLDS better," he said.
The schedule would allow him to make both. The NL Division Series are set to begin Oct. 3.
Wainwright had plenty of support from an offense that scored more runs off Wood in the fourth and fifth than it had in 12 of the team's previous 13 games. After going quietly for three innings, the Cardinals erupted with four straight hits to open the fourth. After singles by Randal Grichuk and Holliday, Jhonny Peralta doubled in the game's first run. Molina singled home the second.
Jon Jay capped the four-run inning with a two-run double, his first of two RBI hits on the night.
"Waino did a good job of setting the tone at the top," Jay said. "It all starts with the starting pitching, and we got some big hits when we needed them."
Run-scoring hits by Holliday and Matt Adams in the fifth pushed the Cardinals ahead, 7-0, and ended Wood's night. Adams and Matt Carpenter, both of whom had sat out the two weekend games because of a stomach virus, combined to reach base four times and score twice in their return.
"There is still some aftermath going on [from the illness], but it's getting a lot better," Adams said. "As the game went on, my strength felt good. The energy level stayed where it should have, so that was a good sign."
Sam Freeman and Randy Choate preserved the shutout for the Cardinals, who now lead the Majors with 22. Half of those shutouts have come in games started by Wainwright.
For the Cubs, they were on the wrong side of the 20th win for both Kershaw and Wainwright in a four-day span.
"Both of them command the zone," Cubs manager Rick Renteria said. "You're talking about two premier pitchers ... they're two of the best."
Jenifer Langosch is a reporter for MLB.com. Read her blog, By Gosh, It's Langosch, and follow her on Twitter @LangoschMLB. This story was not subject to the approval of Major League Baseball or its clubs.