Braves unable to back Harang's strong effort vs. Bucs
Righty allows one run in seven innings, but offensive woes continue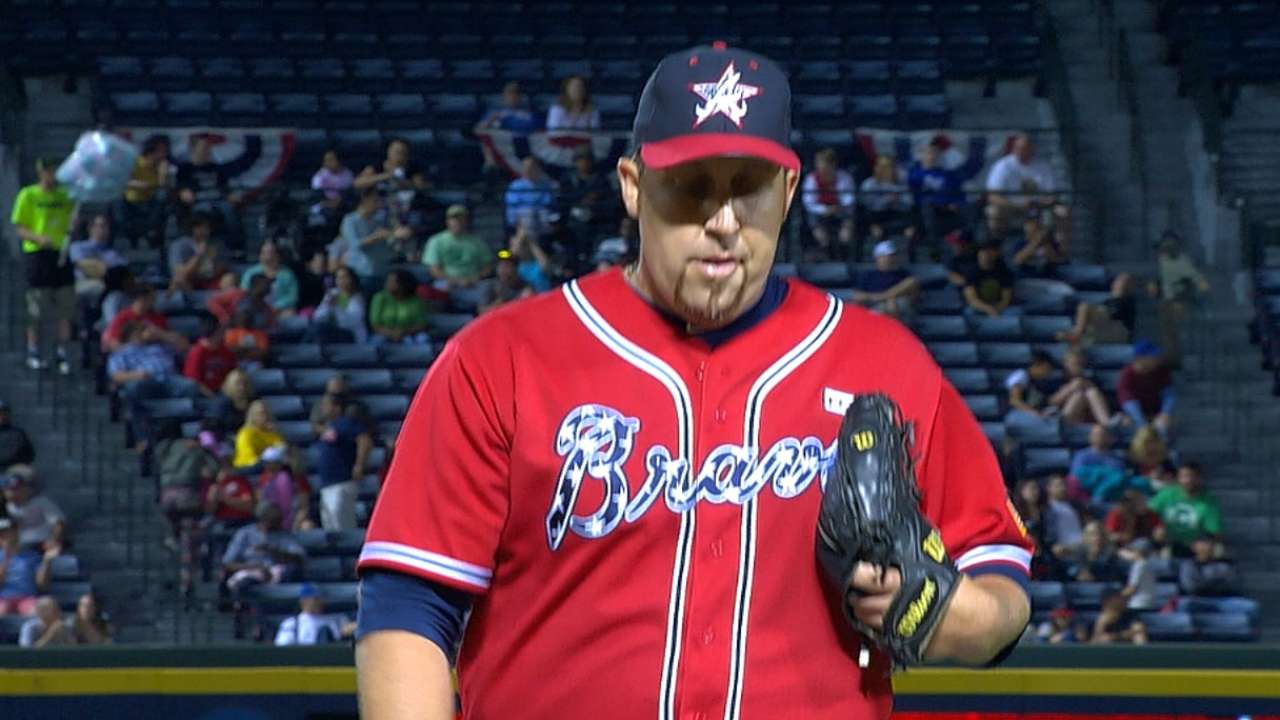 ATLANTA -- One day after being officially eliminated from the playoff picture, the Braves dismissed general manager Frank Wren and entered a seven-game stretch that will give them a chance to show how much pride they have at the end of what has been a frustration-filled season.
But instead of finding new life on Monday night at Turner Field, the Braves were reintroduced to an all-too-familiar experience in a 1-0 loss to the Pirates, who could clinch a second consecutive playoff berth as early as Tuesday. National League MVP candidate Andrew McCutchen's sixth-inning home run off Aaron Harang proved to be enough on a night when Atlanta's offense was once again anemic.
"Harang, you can't ask for anything more than that," Braves manager Fredi Gonzalez said in reference to the seven strong innings completed by his veteran hurler, who has started three of the seven shutout losses the Braves have suffered within their past 21 games.
With the Braves' playoff hopes dashed by the miseries experienced while winning just four of 19 games this month, they now find themselves in danger of experiencing just their third losing season since 1990. They will need to win five of their final six games to finish with .500 record.
In their attempt to finish this season in a positive manner, the Braves will also be protecting the integrity of the game by showing the kind of effort they would expect if they were currently in the position of the Brewers, who entered Monday 4 1/2 games behind both the Pirates and Giants -- currently positioned as the two NL Wild Card entrants.
"I think everybody in this room wants to look at themselves after Game 162 and say, 'I gave it my all for every single game,'" Braves first baseman Freddie Freeman said. "That's what you have to play for. You have to play for the guys in here because our starting pitchers and bullpen have gone out and given it their all. As an offense, we've got to do the same. We've got six games left to try to make something happen."
The Braves were in the thick of this Wild Card race just a month ago. In fact, after taking two of three games in Pittsburgh, they were a game ahead of the Pirates and 1 1/2 games behind the Giants, who at the time were positioned to gain the NL's second Wild Card spot. But Atlanta has dropped 19 of the 29 games that have followed while enduring protracted offensive issues that seemingly get worse on a daily basis.
Once again given no room for error, Harang was forced to shoulder the loss despite the fact that the only damage he suffered came courtesy of the 2-0 fastball McCutchen sent deep into the left-center-field seats to begin the sixth inning.
Harang said the fatal pitch was a backdoor sinker that did not sink. McCutchen said he was motivated by some fans who had heckled him earlier in the game.
"It had a little bit to do with all the hecklers," McCutchen said. "They're back there, pretty close here … they like to talk to you as if you're an animal in a zoo. And you can't say anything back, so I had a little bit of that going into that at-bat, hit the big home run, couldn't hear a thing, quiet as a church. So was good to get back."
The Braves have batted .208, compiled a .266 on-base percentage and slugged .274 while totaling 41 runs over their past 21 games. Their latest effort was influenced by Pirates starter Francisco Liriano, who surrendered just three hits over six scoreless innings. Unlike when he allowed the Braves nine runs (seven earned) in just four innings on Aug. 19, Liriano primarily threw sliders during the first couple of innings and then started featuring his fastball more consistently.
Liriano walked two of the first three batters he faced and then escaped unscathed by striking out Justin Upton and getting Chris Johnson to hit a harmless grounder to first baseman Ike Davis. Upton, who popped out behind the plate to end the eighth, has hit .125 (8-for-64) in September.
"We always seem to have a couple guys on," Freeman said. "We just never can seem to get the big hit. Same story, different day."
Mark Bowman is a reporter for MLB.com. This story was not subject to the approval of Major League Baseball or its clubs.