Liriano's gem puts Bucs on cusp of playoff berth
McCutchen's homer enough to reduce magic number to two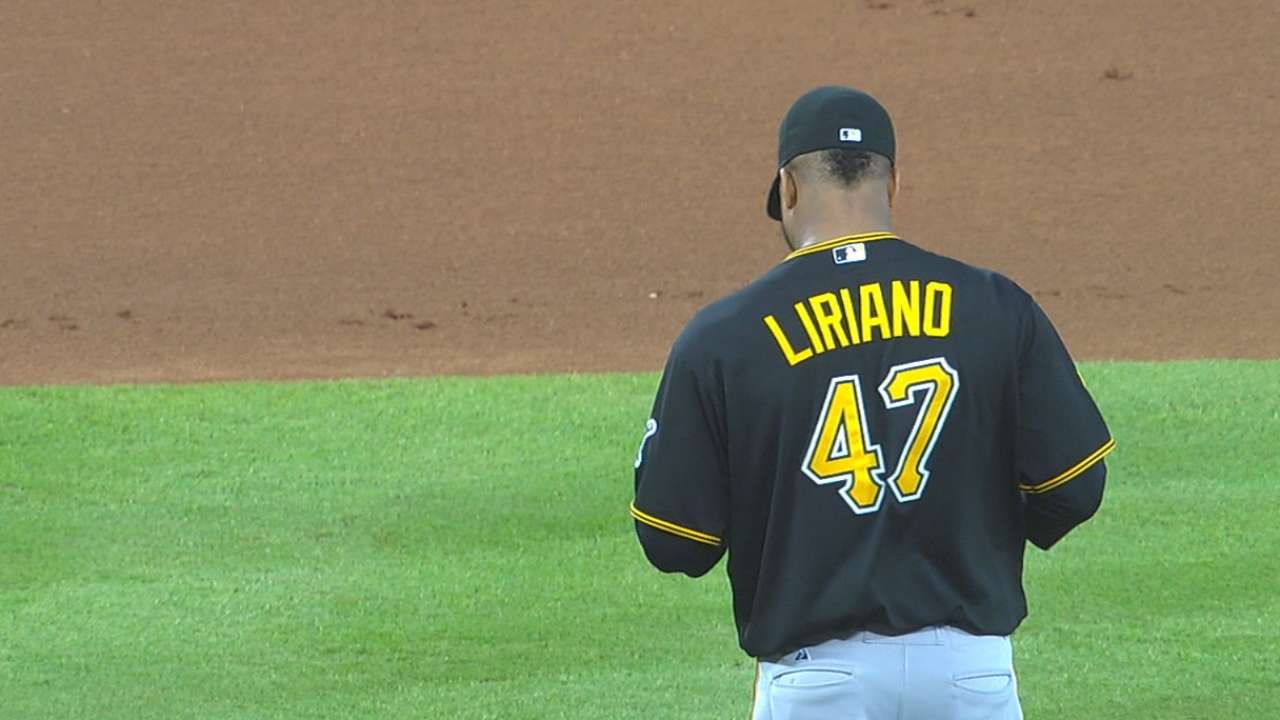 ATLANTA -- What if, in the middle of a lively pennant race, a dead-ball era broke out? Well, you'd have the Pittsburgh Pirates, who, in harkening back to their glory eras, are also harkening back to minimalist baseball.
The ball may be dead, but the Pirates are very much alive. With Francisco Liriano dealing another scoreless start on Monday, the Bucs cut down the Braves, 1-0, at Turner Field to reduce their playoff-clinching magic number to two. They could lock up a postseason spot as soon as Tuesday.
Asked whether he felt his sixth-inning home run would be enough, Andrew McCutchen said matter-of-factly, "Yep."
"Pitching's been pretty good around here," McCutchen said. "One run, and the way Liriano is throwing, and the bullpen's been lights-out."
And it is becoming a habit. This was the Bucs' third consecutive 1-0 game, the last two of which they have won. The last time Pittsburgh was involved in three consecutive 1-0 games, they lost all of them to the Cardinals ... in 1917.
For that matter, no team has participated in three consecutive 1-0 games since 1960, when the Phillies also dropped all three.
"We always talk about scoring one more run than the other team," reminded manager Clint Hurdle -- who never talks about scoring only one run. "This is a tribute to our pitching staff -- starters through relievers."
McCutchen's leadoff homer in the sixth temporarily broke right-hander Aaron Harang's spell.
But that was not why McCutchen showed uncommon emotion as he toured the bases, slapped third-base coach Nick Leyva's hand and emphatically stomped atop the plate.
"It had a little bit to do with the hecklers," McCutchen said of fans sitting behind the plate. "They're pretty close here. They like to talk to you as if you're an animal in a zoo. And you can't say anything back.
"So I had a little bit of that going into that at-bat. I hit the big home run, and you couldn't hear a thing. It was quiet as a church."
Liriano went six innings in his first career appearance at Turner Field, blanking the Braves on three hits while striking out seven of them. The victory was the fourth in a row for the left-hander who had coped with a 1-7 record in the season's first half.
Liriano was hardly in total command. This pitching line was misleading to the better. Liriano walked four and had multiple other three-ball counts.
"He was underneath a lot of counts," Hurdle said. "He also was involved in the biggest play of the night."
That came in the fifth of the still-scoreless game. Phil Gosselin drew a one-out walk to bring up Freddie Freeman, who had two hits and made just one out in four at-bats.
This was the out. Liriano whiffed him on a 2-2 fastball with Gosselin running. He couldn't outrun catcher Russell Martin's throw, however. Double play, inning is over, the next batter goes yard.
Otherwise, Harang dismissed the Pirates on three other hits through seven innings that gave Liriano a good battle.
Harang had done this to the Pirates before. He pitched into the ninth inning in beating them, 11-3, on Aug. 19 in Pittsburgh. Furthermore, the pitcher beat up by the Braves that night was Liriano -- in his only off game of the second half.
Deduct that four-inning, seven-run hiccup, in fact, and Liriano's post-All-Star ERA shrinks to 1.28 for the 12 other starts.
Coming in the sixth, McCutchen's homer represented the Pirates' earliest score since Thursday. Winning despite such latent offense has been made possible by starting pitchers who in the last three weeks have gone from dependable to untouchable.
"We've had a scoring inning in three of the last 34 we've played," said Hurdle, reviewing his team's last four games. "And we won three of them. Our pitching has been fantastic."
Liriano's outing was the rotation's third straight scoreless effort. With the last two innings of Jeff Locke's Friday start, Pittsburgh starters have a scoreless streak of 23 innings. Since Sept. 3, covering 18 games, six Pittsburgh starters have combined for an ERA of 1.91.
"I'm proud of them," pitching coach Ray Searage said. "They go out there, they know what's at stake and, coupled with Russell Martin back there, they make up a formidable foe. They're really doing a great job."
Tom Singer is a reporter for MLB.com and writes an MLBlog Change for a Nickel. He can also be found on Twitter @Tom_Singer. This story was not subject to the approval of Major League Baseball or its clubs.