Motte, Siegrist on bubble for postseason spots
Relievers seeking consistency as Cardinals begin to map out 'pen plan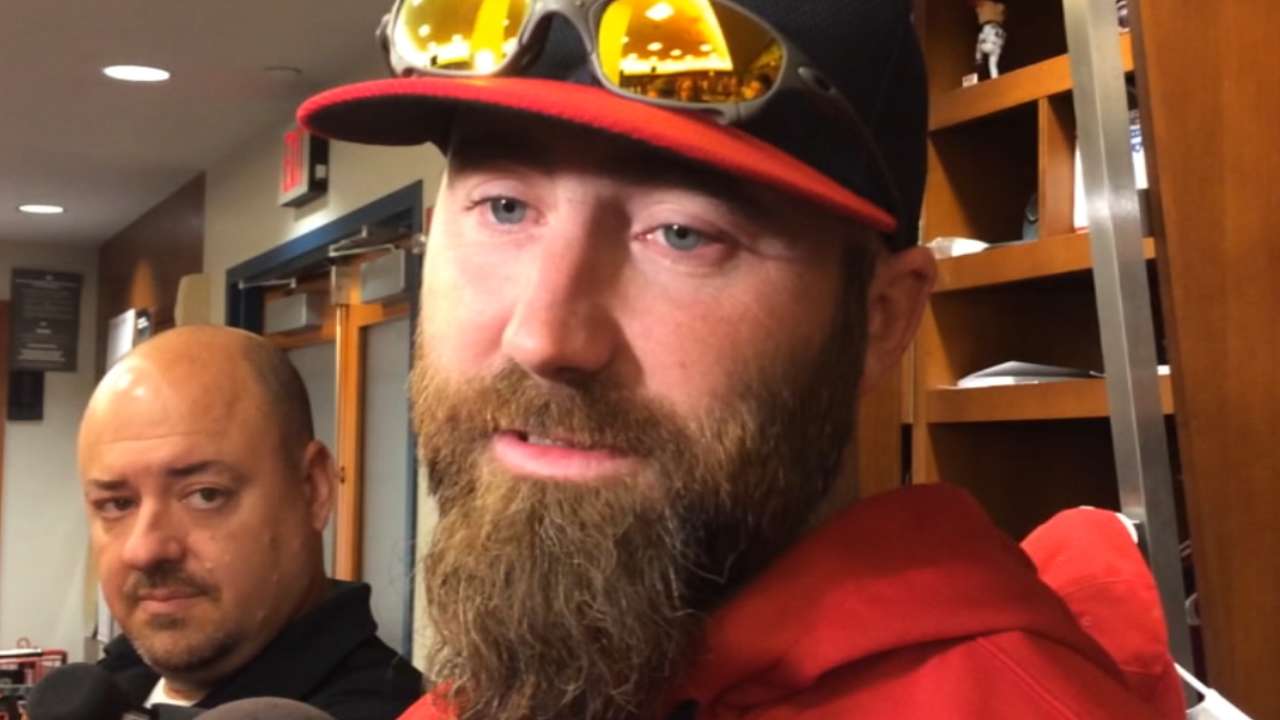 CHICAGO -- As the Cardinals prepare to build a roster for their first postseason matchup, they'll have to consider the readiness of a pair of relievers who have contributed to playoff runs before but are not currently at their best.
There are various ways the Cardinals can build their 'pen, some that include both Kevin Siegrist and Jason Motte, some without one or the other, or even a scenario in which both are left off. For the Cardinals, there will be consideration to what both have done before to help this club, but a heavier weight will be placed on where they are now.
And with that, come continued questions.
Motte has endured a rocky first season back from Tommy John surgery. Since making his season debut on May 21, Motte has spent time searching for command and learning to pitch without the velocity that had helped propel him into the closer's role in 2011-12. Home runs, specifically, have been a nuisance.
But there have been signs of improvement since he returned from a lower back strain at the start of September. Three of his four appearances this month have been scoreless outings, including a 1-2-3, 10-pitch seventh inning on Sunday.
As a pending free agent, an exclusion from the postseason roster would mean that Motte has likely already made his final appearance at Busch Stadium as a Cardinal. That's something he said that he has refrained from dwelling on until the season ends.
"I don't really think about yesterday. I don't really think about tomorrow," Motte said. "It's one of those: 'OK, what happened today? Move forward.' I think this is the fourth time [I've thought about it] because you're the fourth person that has asked me about it in about a month. Other than that, I don't think about it too much. I have to worry about now. I have to worry about today and what I'm doing; that's going out there and trying to get guys out."
While the Cardinals knew that Motte's return to full strength would require patience, they had planned on having Siegrist settle into a setup role after the left-hander's tremendous rookie season. This one, however, has been more challenging. So much so that Siegrist was back in Triple-A for the second half of August to try and straighten out his mechanics.
Since returning, the results have been mixed. He showed flashes of his old self during a Sept. 9 appearance in which he struck out both Reds batters he faced. On Sunday, he faced two hitters and walked both. The game-to-game consistency has been lacking.
"Yeah, you know, a couple steps forward and maybe another step back," manager Mike Matheny said. "[He's] just trying to figure it out right now. He's working, trying to get back because was getting close. He had a couple good days there."
Jenifer Langosch is a reporter for MLB.com. Read her blog, By Gosh, It's Langosch, and follow her on Twitter @LangoschMLB. This story was not subject to the approval of Major League Baseball or its clubs.