Blanked by Sox, Tigers' Central lead down to one
Bats can't back Lobstein's solid start; KC blanks Tribe, inches closer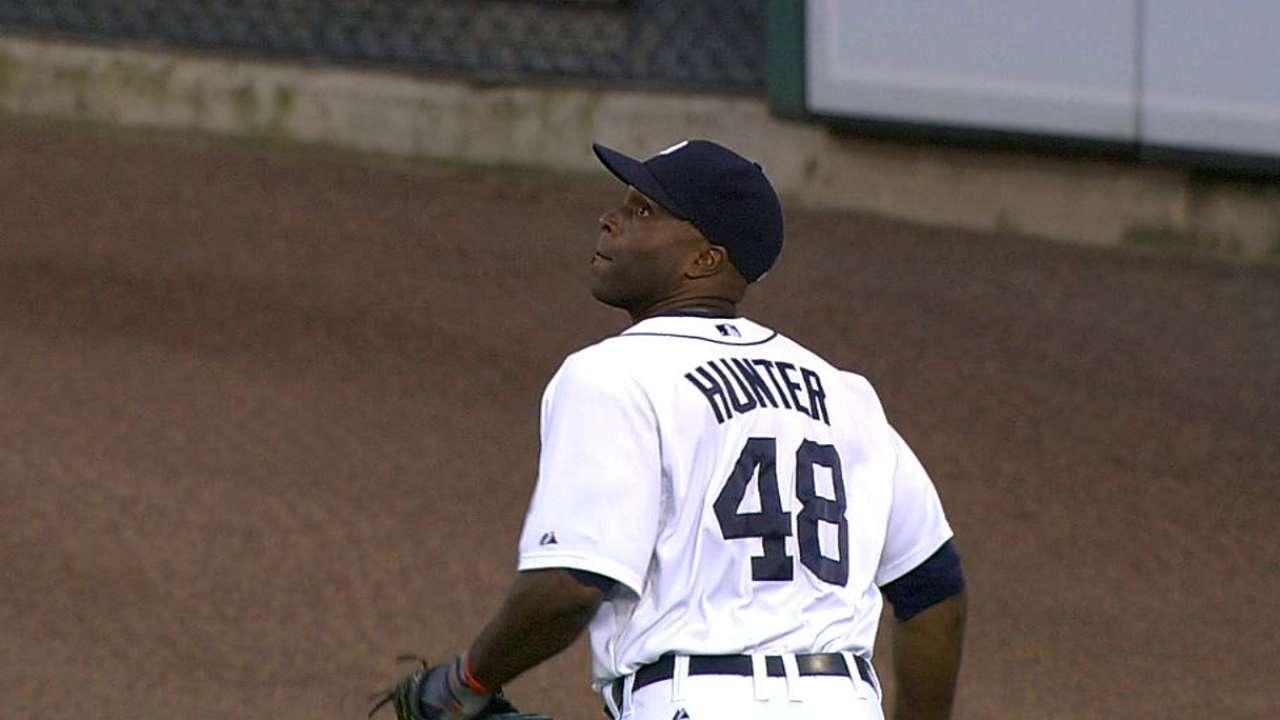 DETROIT -- The last time the Tigers had a chance to finish out a division title at home in the final week, the White Sox tripped them up, starting with a shutout. That's about as much of a comparison to 2009 as Tigers fans want to hear at this point.
In fairness, Monday's 2-0 Detroit loss comes at an earlier stage than the three-game series in the final weekend five years ago that forced the infamous Game 163 in Minnesota. Still, as letdowns following division showdowns go, this rekindled some bad memories and stoked some fears.
Just a handful of Tigers remain from that '09 team. Alex Avila and Rick Porcello were rookies. Justin Verlander pitched in that series. Don Kelly had just started his tenure as a utility player. Simply by roster attrition, there aren't many memories in the clubhouse to rekindle.
"We're fine," shortstop Andrew Romine said. "Just keep doing what we know how to do."
With or without memories, though, the loss rekindled the math game, erasing more of the space the Tigers spent the weekend building between themselves and the Royals. Detroit's magic number dropped to six thanks to a Royals loss in their suspended game against the Indians, but the Tigers' American League Central lead dropped to a single game once the Royals won the regularly scheduled game that followed.
As much as players might not want to watch the scoreboard, it's hard to avoid.
"Miguel [Cabrera] is looking over there every other pitch," said second baseman Ian Kinsler, "so he might get me to turn around and check it out. We control what we can do in here, and if we win the rest of the games, we're in. So that's all we're worried about right now."
With six games left, however, Detroit would have to win out to make Kansas City's finish meaningless. One of those six games is a Wednesday afternoon meeting with White Sox ace Chris Sale. The last four come against a Twins squad that took two of three from the Tigers last week in Minnesota.
"That's why I said it's not going to be an easy last week," J.D. Martinez said. "It's going to be a grind, it's going to be a nail-biter because both those teams play us extremely well."
It's going to be tougher, Torii Hunter said, if they dwell on the disappointment that began the week.
"We're mad," he said, "but you have to learn how to turn the page, especially at this time right now. You can't let that carry over. Maybe the loss [Sunday at Kansas City] carried over to today, I don't know. But today, we've got to get rid of that."
Monday's matchup of rookie hurlers was one of the better matchups of the week. While Jake Peavy was a veteran near his dominant peak when he shut down the Tigers five years ago, Monday was Chris Bassitt's fifth Major League appearance. It was his second against the Tigers, who put up five runs in 6 1/3 innings against him in his big league debut Aug. 30 in Chicago.
Bassitt (1-1) threw Detroit a changeup. Actually, the Toledo area product threw a lot of them, and a Detroit lineup that had produced runs lately struggled to adjust, whether they saw it coming or not.
"Throwing the same pitches," Kinsler said, "just locating the ball better, getting ahead of hitters and did a good job."
Kinsler had two of Detroit's seven hits against Bassitt last time. Ezequiel Carrera had three, which is why he made his first start Monday since Sept. 1. He had a third-inning single, but was erased on a Kinsler double play.
Just three Tigers reached scoring position against Bassitt, and the 25-year-old right-hander held the Tigers hitless after each of them. He retired Detroit in order after Victor Martinez's leadoff double in the sixth, one of just two balls he allowed out of the infield after the fifth.
"I knew their approaches against me the first time," Bassitt said. "At the same time, they are an outstanding hitting team. I knew I couldn't walk people because if you walk them, they are going to kill you. They are way too good of hitters to give them free passes."
Bassitt walked four Tigers last time, and four Royals in his last start. His only walk Monday was his last batter of the night, a two-out pass to Victor Martinez in the eighth. All three of his strikeouts came at the expense of Avila, who returned to the Tigers' lineup after missing a week with concussion symptoms.
Bassitt's first Major League win sent Kyle Lobstein (1-1) to his first big league defeat despite arguably his strongest performance over a career-high seven innings. Tyler Flower's two-run homer in the second was all the damage he allowed.
"You never want to waste a good pitching performance," Detroit manager Brad Ausmus said, "so yeah, you feel like you might have wasted a chance, an opportunity. But there's nothing we can do about it now."
Jason Beck is a reporter for MLB.com. Read Beck's Blog and follow him on Twitter @beckjason. This story was not subject to the approval of Major League Baseball or its clubs.