Padres shut down Ross for season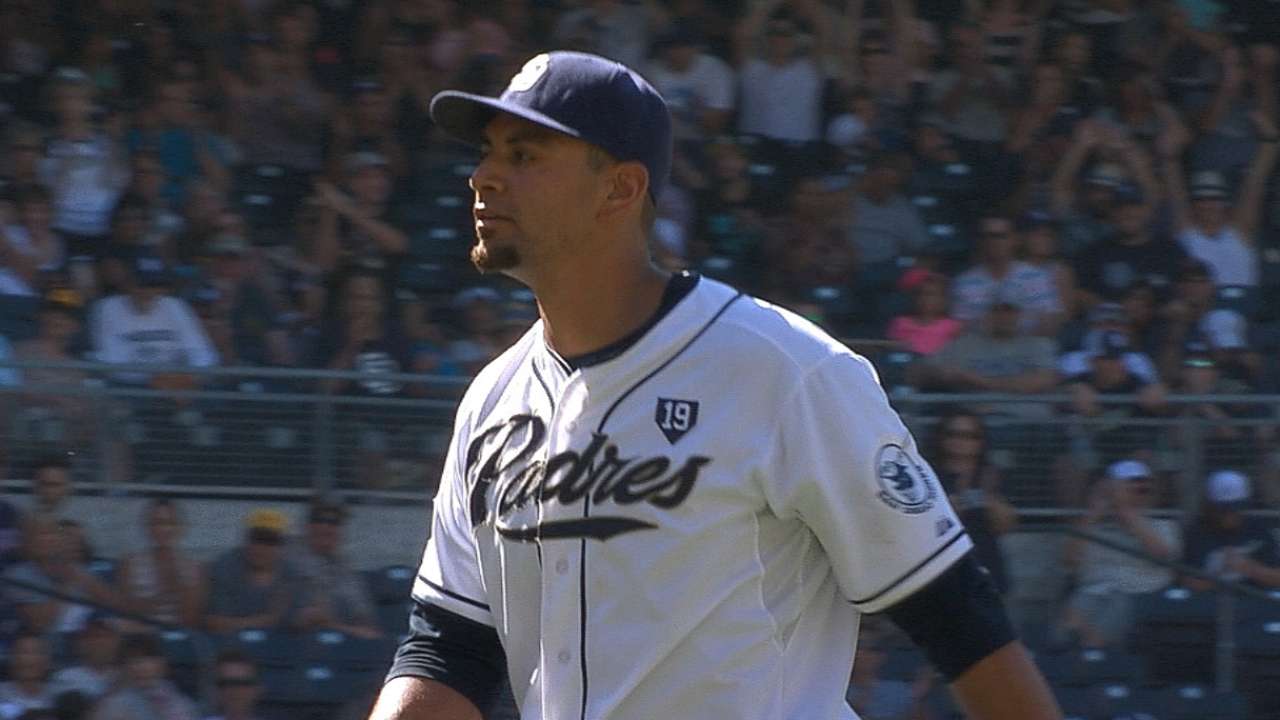 SAN DIEGO -- The Padres officially put a finish to Tyson Ross' 2014 season on Monday, saying that he will not make another appearance during the team's final seven regular season games.
San Diego manager Bud Black said that Ross has a slight strain of the flexor muscles in his right forearm and that while the team physician is not concerned, there was no need to get him back into a game at this point of the regular season.
Ross hasn't appeared in a game since Sept. 13, which was his last start. He experienced soreness as well as fatigue in his right arm shortly thereafter and the team announced he would miss his next start while he received treatment.
"He's going to require just a little bit more healing and treatment than this week," said Padres manager Bud Black. "I think it was more medical-related than risk-reward. But he feels confident, and our doctors and our training staff know that this soreness will go away over the next couple weeks."
On Sunday, Ross said that he was "running out of time" to start again. On Monday, it finally happened. He finishes the season with a 13-14 record and 2.81 ERA in 31 starts.
"It's been a great year for me, a lot of career-highs for me, pretty much across the board it's been a big step in the right direction for me," Ross said. "I'm looking forward to coming back next year and being an even better pitcher."
Ross said he wasn't concerned in the least about the integrity of his elbow.
"More time is going to heal it and I've been getting great treatment," he said. "And I've been feeling better every day. It's a matter of there being eight games left or whatever we have and I wasn't going to be ready in that amount of time."
Ross finishes his season with a career-high 195 2/3 innings, 44 beyond his career high from 2012 (73 1/3 innings with Oakland, 78 1/3 innings for Triple-A Sacramento). He also finished the season with 195 strikeouts, which currently ranks seventh in the National League.
Ross didn't need to wait until the season was over to turn introspective on what a fun ride this was, he said.
"It was finding ways to get a little better every time out," Ross said. "There were some big games for me.
"I had a good one in Chicago where I set a career-high in strikeouts [July 24 at Cubs, 11 strikeouts] and the home game against the Reds, my first career complete game [July 2, three-hit shutout]. … Just the process of getting better every time out and evolving a little bit. I'm excited for the future."
Corey Brock is a reporter for MLB.com. Keep track of @FollowThePadres on Twitter. This story was not subject to the approval of Major League Baseball or its clubs.