Bassitt twirls gem, blanks Tigers for 7 2/3 in first win
Family, friends from nearby Curtice, Ohio, watch righty's stellar effort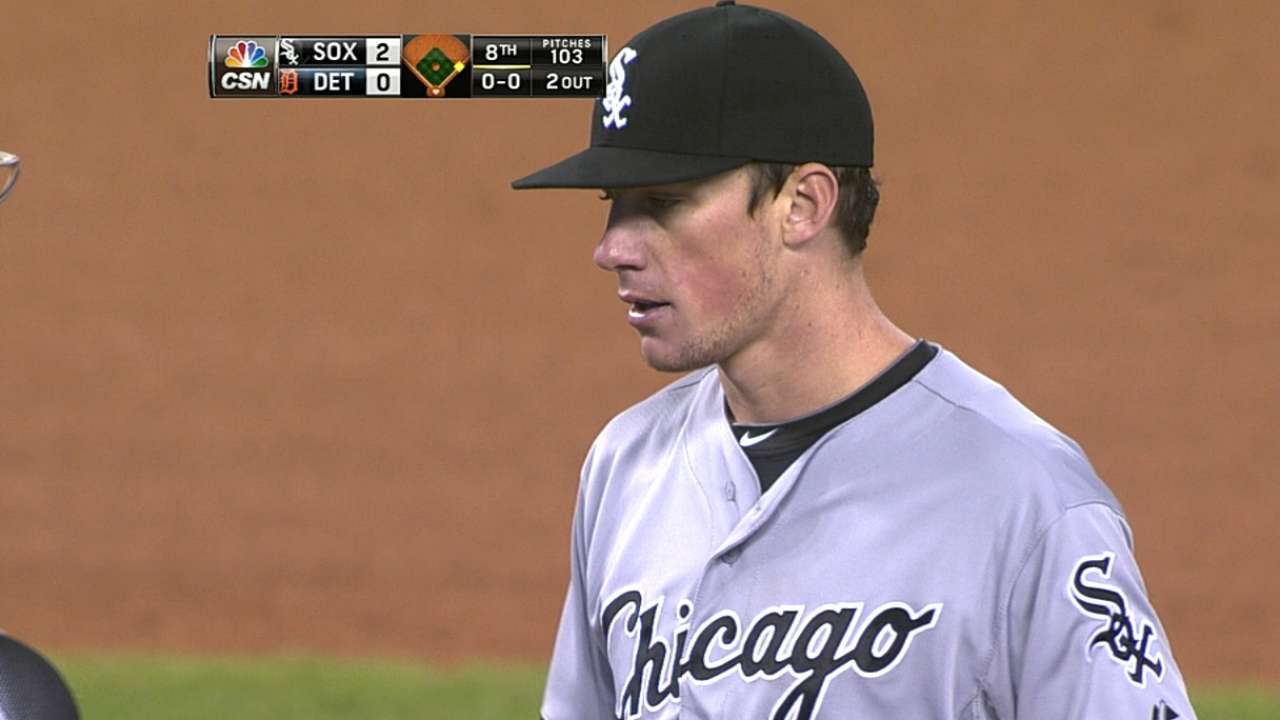 DETROIT -- A decent number of Tigers fans exist among Chris Bassitt's group of friends, with the White Sox rookie having grown up in Curtice, Ohio, about 45 minutes from Comerica Park.
Some of those Detroit supporters were among the 100 or so friends and family members who came to watch Bassitt shut down the Tigers in a 2-0 White Sox victory Monday night, marking the first career win for the right-hander. With the Tigers (86-70) battling the Royals (85-71) for the top spot in the American League Central with six games remaining, Bassitt did not exactly produce universal happiness among those close to him following his 7 2/3 scoreless innings.
"They were hoping for a no-decision, win for them: not me," said a smiling Bassitt, after throwing 72 of his 103 pitches for strikes. "So I'll have to make fun of them a little bit."
"It was some terrific Bass is what it was," said White Sox manager Robin Ventura of Bassitt. "He was throwing strikes. I don't know if his fastball command was really there. but his offspeed stuff was great."
Bassitt (1-1) became the first White Sox pitcher to toss at least seven scoreless innings within the first five games of his Major League career since Carlos Torres on Sept. 3, 2009. Per STATS LLC, the last White Sox rookie to work at least 7 2/3 scoreless innings in his first career win was Brandon McCarthy on Aug. 30, 2005.
This particular night's success came from Bassitt pitching a little backwards in the count, throwing offspeed stuff when the Tigers were expecting fastballs. He also threw 10 strikes among his 14 changeups, which was a pitch Bassitt rarely used in the Minors.
"Honestly, we joke about it that it might be my second- or third-best pitch right now," said Bassitt of the changeup. "My curveball went away a little bit. I'm throwing a lot more changeups than I usually do. Just continue to build off it for next year."
Fellow rookie Kyle Lobstein (1-1) started for the Tigers and allowed just two runs on five hits over seven innings, striking out five. Those two runs came in the second when with two outs, Carlos Sanchez doubled to left-center and Tyler Flowers followed with his 15th homer and 50th RBI.
Flowers connected on a first-pitch changeup, propelling the White Sox (72-84) to their eighth win in 12 games.
"Something elevated out over the plate," said Flowers of the pitch leading to his sixth homer in the last 13 games. "You don't want to chase, but I know working with pitchers, that's a situation in an at-bat where you want to get ahead of the guy."
Detroit managed just six hits off Bassitt, who struck out three and did not issue a walk until Victor Martinez drew a free pass with two outs in the eighth to bring in Jake Petricka (14th save). But the Tigers did have their chances.
Miguel Cabrera's double, his 50th, and a Victor Martinez hit-by-pitch put two on with two outs in the first, only to have J.D. Martinez fly out to Moises Sierra in center. Avisail Garcia's diving catch in right on Cabrera's line drive ended the third and probably prevented Torii Hunter from scoring from first after his two-out single.
Two more singles in the fourth were wasted, when Alex Avila struck out looking and Andrew Romine grounded out to Sanchez at second. Victor Martinez was stranded in the sixth following a leadoff double.
All of this action, or non-action as it was, helped send Bassitt's family off to a late-night celebratory dinner in good spirits. Those Tigers' fans among his group only can hope Bassitt does the same sort of work Sunday against the Royals in the '14 finale.
"He mixed his pitches, got a little bit of movement," said Detroit manager Brad Ausmus of Bassitt. "He did a nice job."
"Like I said in my first interview, I'm going to take my lumps. I know that," Bassitt said. "It's just day to day and whatever happens, happens. But it's a huge learning process right now. Do well, that's great. Do bad, learn from it as much as you can and keep going."
Scott Merkin is a reporter for MLB.com. Read his blog, Merk's Works, and follow him on Twitter @scottmerkin. This story was not subject to the approval of Major League Baseball or its clubs.