Jeter turns back clock with three-RBI night
Pineda allows just one hit, fans season-high eight over 7 1/3 frames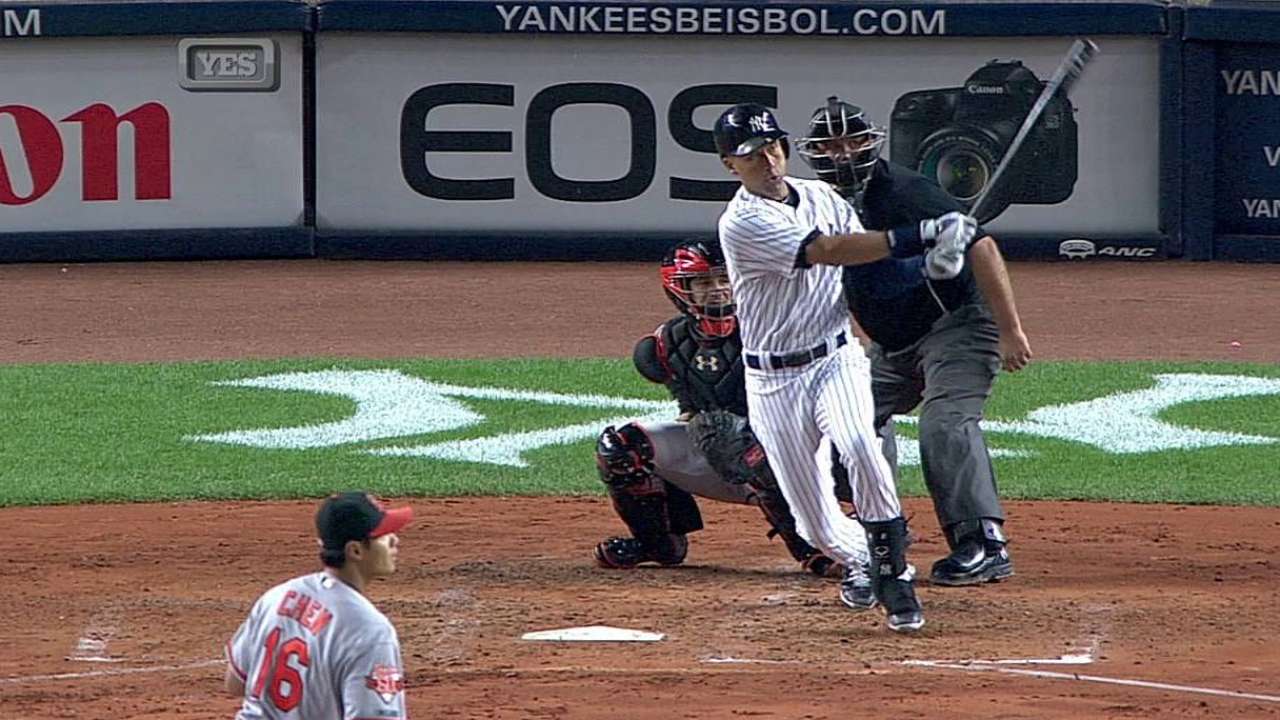 NEW YORK -- As he begins the final regular-season home series of his career, Derek Jeter is rolling the clock back to his first full year in the Majors. The mantra of that 1996 team was "we play today, we win today," and if the Yankees want to keep this show going, that's exactly what they'll need to keep doing.
Jeter enjoyed his first three-RBI game since 2012 and Michael Pineda turned in his most dominant start in pinstripes, teaming with three relievers to hold the Orioles to just one hit in a 5-0 victory on Monday at Yankee Stadium, marking the Yankees' fifth win in their last six contests.
"I see it as, we've got to win a game tomorrow. That's it," Jeter said. "I don't complicate things. The only thing we can control is our game tomorrow, so we need to come here and we need to win games. We've dug ourselves a hole, obviously. We need to win. That's the only thing we can control."
Needing help even if they are able to win all of their remaining games, the Yankees remain four games behind the Royals in the American League Wild Card chase. New York's number for elimination is any combination of three Royals victories and Yankees losses.
"I really believe we have to pretty much win out, but you never know," manager Joe Girardi said. "Strange things happen in sports. We've seen it. ... It's obviously tougher when you're chasing more than one team, but the teams we're chasing have had their struggles, too, and you never know."
Receiving standing ovations for each of his at-bats this homestand, Jeter seems to have been fueled by the positive energy. He extended his hitting streak to six games with a two-run double to left field off Baltimore starter Wei-Yin Chen in the fifth inning and also contributed a run-scoring groundout, and is now 9-for-20 (.450) on the homestand.
"I never said I didn't think I couldn't play anymore," Jeter said. "This is the time for me to call it a career after this season. Sometimes things are difficult, sometimes they come a little bit easier. Not easy, but they come a little easier at times."
Jose Pirela, the franchise-record 57th player used in a game by the Yankees this season, turned in a notable Major League debut by blasting a run-scoring triple off Chen in his first plate appearance, part of a two-hit performance for the 24-year-old prospect.
"I am so excited today," Pirela said. "When I see the lineup, I feel so excited. I try to enjoy this moment, enjoy for the rest of my life and play in the big leagues."
That was enough support for Pineda, who has looked strong in most of his eight starts since returning from the disabled list in August. He had all of his pitches working against a Baltimore squad that, even with the loss, locked up home-field advantage for their AL Division Series.
"I'm very happy for coming back and help my team," Pineda said. "It's very important for me to help my team every five days when I take the mound, and I'm very happy because I love pitching."
Pineda retired the first 13 batters he faced before J.J. Hardy singled to left field with one out in the fifth inning. Pineda then retired the next nine batters he faced before issuing a one-out walk to Christian Walker in the eighth, finishing up his performance with a season-high eight strikeouts.
"He's been pitching well for a while, he's not just pitching on us," Orioles manager Buck Showalter said. "Just another thing they've been counting on this year that they've been missing. It just gives you a reminder of how good he is."
Chen permitted four runs (two earned) over six innings, scattering six hits and playing a supporting role as Jeter recorded his first three-RBI game since Sept. 9, 2012, also against the Orioles.
Chase Headley rounded out scoring in the eighth with a one-out homer that landed on the netting covering Monument Park in center field, Headley's fifth homer in a Yankees uniform.
Girardi called upon Shawn Kelley for three outs, making two calls to the bullpen to guard the five-run lead in the ninth as Rich Hill and David Phelps also saw mound time.
"You continue to play hard and you continue to fight until you're out of games. That's all you can do," Jeter said. "I'm well aware of the situation that we're in, but the only thing we can control is the games that we're playing. It was a good win for us today and we need to come out and win tomorrow."
Bryan Hoch is a reporter for MLB.com. Follow him on Twitter @bryanhoch and read his MLBlog, Bombers Beat. This story was not subject to the approval of Major League Baseball or its clubs.