Orioles clinch home field in ALDS despite loss
Chen gives up two earned runs, but offense struggles against Pineda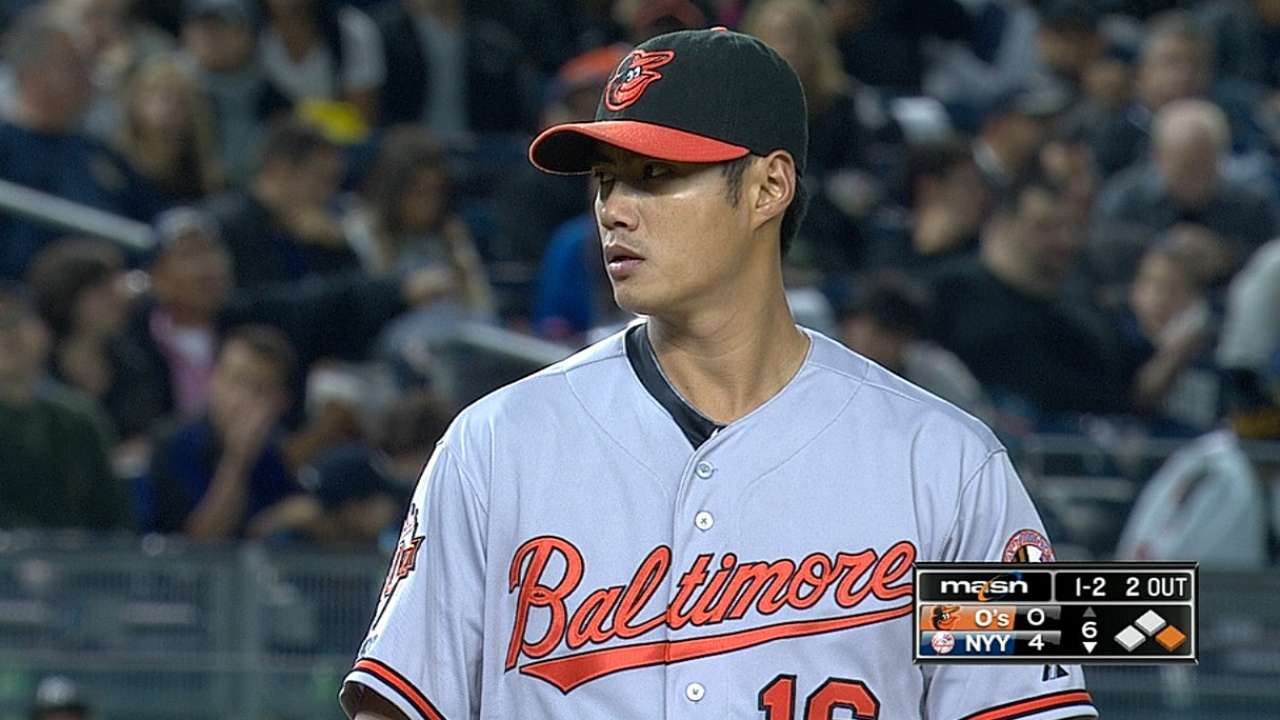 NEW YORK -- The Orioles clinched home-field advantage in their American League Division Series on Monday night, locking up the second spot with the Tigers' 2-0 loss to the White Sox.
While the O's (93-63) remain 2 1/2 games back of the Angels (96-61) for the AL's best record, the way Baltimore has played as of late makes that an increasingly difficult task. The Orioles, who clinched the AL East on Tuesday, suffered their third defeat in four games Monday, mustering up just one hit off Yankees starter Michael Pineda in the series-opening 5-0 loss in the Bronx.
While the Yankees are counting down the games until Derek Jeter's home finale, the Orioles are anxiously awaiting for the regular season to end to give way to some meaningful baseball again. Manager Buck Showalter, who has made it no secret that he's resting guys down the stretch, has said repeatedly that he doesn't think his club's intensity has changed since punching its postseason ticket.
Still, a lineup that's been shuffled through and five errors in the past four games has made it tough for Baltimore to make up ground in the final week. Showalter admitted as such following Monday's loss.
"It is [nice], and it wasn't a foregone conclusion," Showalter said of guaranteeing at least two playoff games in Baltimore. "I keep saying you are not paranoid, you are alert to things. It could happen. You never assume anything. And now there's really only one thing left out there, and that's going to be real hard to attain with as good as Anaheim is and the things we have to get accomplished with Nicky [Markakis]. Hopefully he feels good tomorrow and Steve Pearce, some of our pitching we are trying to get 100 percent. So it's good to know that part of the equation is there."
Markakis, who made his return to the lineup for the first time since Tuesday's clincher, went hitless along with every Orioles batter not named J.J. Hardy. Sidelined with right shoulder soreness from taking a pitch under his shoulder blade during Tuesday's game, Markakis, along with Pearce (right wrist soreness) and Adam Jones have enjoyed multiple rest days over the past few days in hopes of getting as healthy as possible for next Thursday.
Pineda, who retired 22 of 23 at one point, made the Orioles' bats look further depleted on Monday night. The right-hander was dominant over 7 1/3 innings, retiring the first 13 batters he faced before Hardy singled to left field in the fifth. Pineda, who struck out eight, didn't allow another baserunner until rookie Christian Walker was issued a free pass with one out in the eighth, which ended his fantastic night.
"I think we've got to tip our hat to Pineda," Hardy said when asked if the team is finding it hard to stay motivated for the final regular-season games. "He was throwing good. He's got a lot of movement on that. He's got good stuff. It's not like we're not trying to go out there."
O's starter Wei-Yin Chen went six solid innings, but watched his club fall in an early two-run hole in the third inning, which started with third baseman Ryan Flaherty's throwing error. Chen was charged with two unearned runs in the frame, including Jeter's RBI groundout.
"I think my control wasn't great out there," Chen said throughout his interpreter. "During the game, I tried to make adjustments. The results weren't perfect, but it was acceptable."
Chen allowed Jeter to double in another pair of runs in the fifth to put the O's down four, which was the last run he would allow. The plan was for Chen, who threw 95 pitches, to stay around there and pitch on regular rest on Saturday, which sets him up for the ALDS.
"We talked a lot about when he's got some depth in the changeup and the breaking ball is really breaking off the bat. He wasn't carrying that tonight," Showalter said of Chen.
"He's in a position to be where he should be when we get into the playoffs. I'm confident in him, and it gets magnified there when we don't score any runs. We get two or three runs there it gets their offense a little less, gets them on their heels, get them more aggressive early. When you are behind like that, that didn't help. The outings of starting pitchers gets magnified with every little thing when they are pitching so well [on the other side]."
Brittany Ghiroli is a reporter for MLB.com. Read her blog, Britt's Bird Watch, and follow her on Facebook and Twitter @britt_ghiroli. This story was not subject to the approval of Major League Baseball or its clubs.