Wilson gets hook in first as Angels fall to A's
Pujols' three-run homer in eighth inning is too little, too late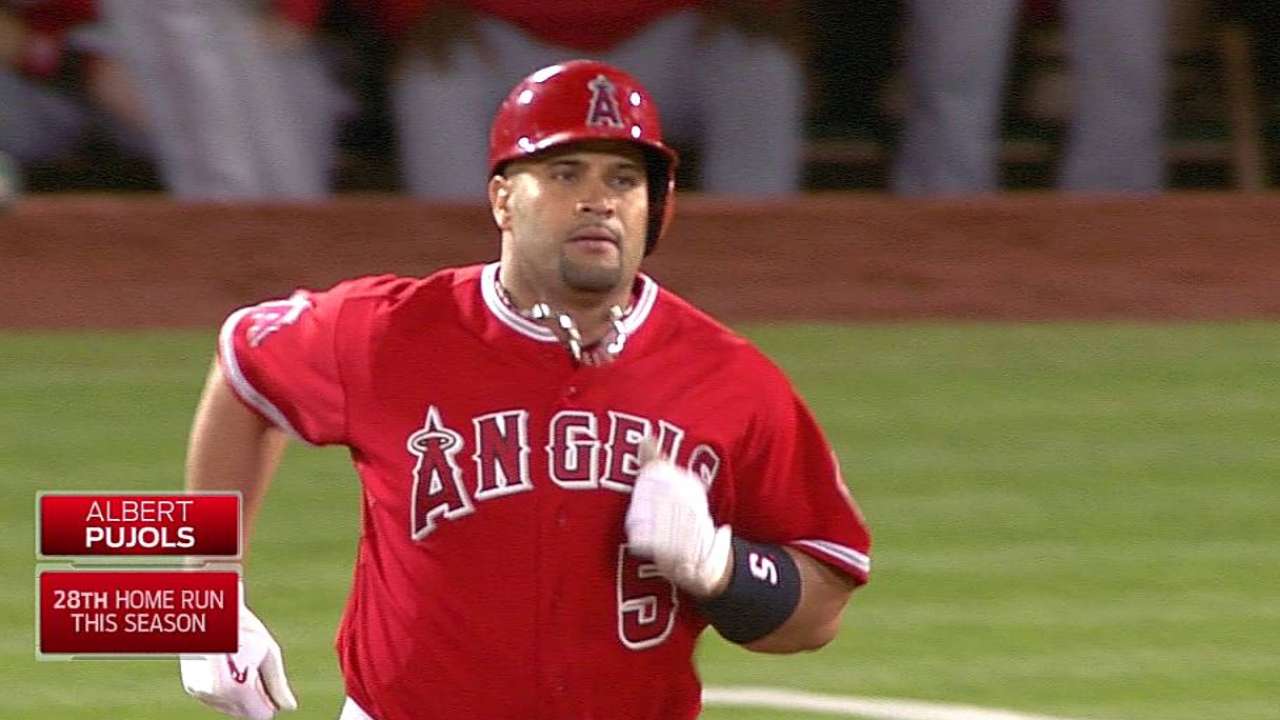 OAKLAND -- In an effort to combat a thin, injury-depleted rotation, the Angels, who suffered an 8-4 loss to the A's on Monday night, are toying with the idea of pitching their ace, Jered Weaver, on short rest in the American League Division Series.
It's too bad Weaver can't pitch every game.
That would solve everything. It would mean Matt Shoemaker doesn't have to make a faster-than-usual recovery from an oblique strain, or that Hector Santiago can pitch out of the bullpen after recording only nine outs in his last two starts, or that they don't have to impart so much faith in their No. 2 man, C.J. Wilson, whose enigmatic season continued in a series-opening loss from O.co Coliseum.
Instead, the Angels must live in their own reality, which features a four-man rotation that has three big question marks as the regular season winds down.
"There's not many options we have right now," Angels manager Mike Scioscia said after watching Wilson record two outs and give up six runs (four earned). "We need these guys, and we have confidence they'll find it."
Five days after seemingly finding it with seven scoreless innings against the Mariners, a night in which the Angels ultimately clinched the division title, Wilson suffered through the shortest non-weather-related start of his career. He walked four of the eight batters he faced, threw 23 of his 35 pitches for balls and failed to complete four innings for the sixth time since the start of June.
"It's discouraging to lose," said Wilson, his ERA now at 4.61. "We're trying to play for the best record. You really try not to attach too much to a loss, other than I pitched poorly and wasn't able to locate the catcher's mitt, at least not in the strike zone."
With one out and a runner on first base in the bottom of the first inning, Wilson issued consecutive walks to Josh Donaldson, Jonny Gomes and Derek Norris, throwing 12 of 15 pitchers for balls. After getting Jed Lowrie to pop out, Wilson issued another bases-loaded walk, to Nate Freiman, then the lefty gave up a two-run single to Geovany Soto and yielded to the Angels' bullpen, which has now accumulated 22 1/3 of the team's 35 innings over the last four games.
Scioscia didn't have much of a choice.
"Thirty-five pitches, with no sign of getting on board, is an indicator that he's most likely not going to find it," Scioscia said of turning so early to a bullpen that has been worked so hard. "Now you're just grinding a guy."
Wilson, with a Major League-worst walk rate of 4.35 per nine innings, had plenty of time to pore through video of his latest start, analyzing frame-by-frame snapshots in hopes of figuring out why he couldn't get a baseball over home plate.
"You can't really call timeout in the middle of the game and go review the tapes," Wilson said. "There's no headset to the offensive coordinator where you can call in a different viewpoint. Seeing it in slow motion, I was able to confirm what I was doing wrong."
Wilson is confident "the sharpness of my pitches is there," and said "it's just a matter of throwing the ball where I want," which has been a complex issue for the 33-year-old left-hander all season.
His offense got only an unearned run in seven innings against Jeff Samardzija, who extended his streak of consecutive innings without an earned run to 23, then cut its deficit in half on Albert Pujols' eighth-inning three-run homer, which gave him 28 on the year.
The Angels nonetheless maintained a 2 1/2-game lead on the Orioles for the best record in the AL, their magic number to lock up home-field advantage throughout the postseason now at four, but that's beside the point right now.
Most important for the Angels this week is to "keep their edge," as Scioscia said pregame. What they do matters less than how they do it, and the fact that they lost this way, with Wilson pitching so poorly five days after he pitched so brilliantly, only solidified just how unstable this rotation seems right now.
"He has terrific stuff," Scioscia said of Wilson. "At times it works and he's on top of a game, and sometimes the game's on top of him. You saw that tonight."
Alden Gonzalez is a reporter for MLB.com. Read his blog, Gonzo and "The Show", and follow him on Twitter @Alden_Gonzalez. This story was not subject to the approval of Major League Baseball or its clubs.