Torii's recent play erases any doubts in Ausmus' mind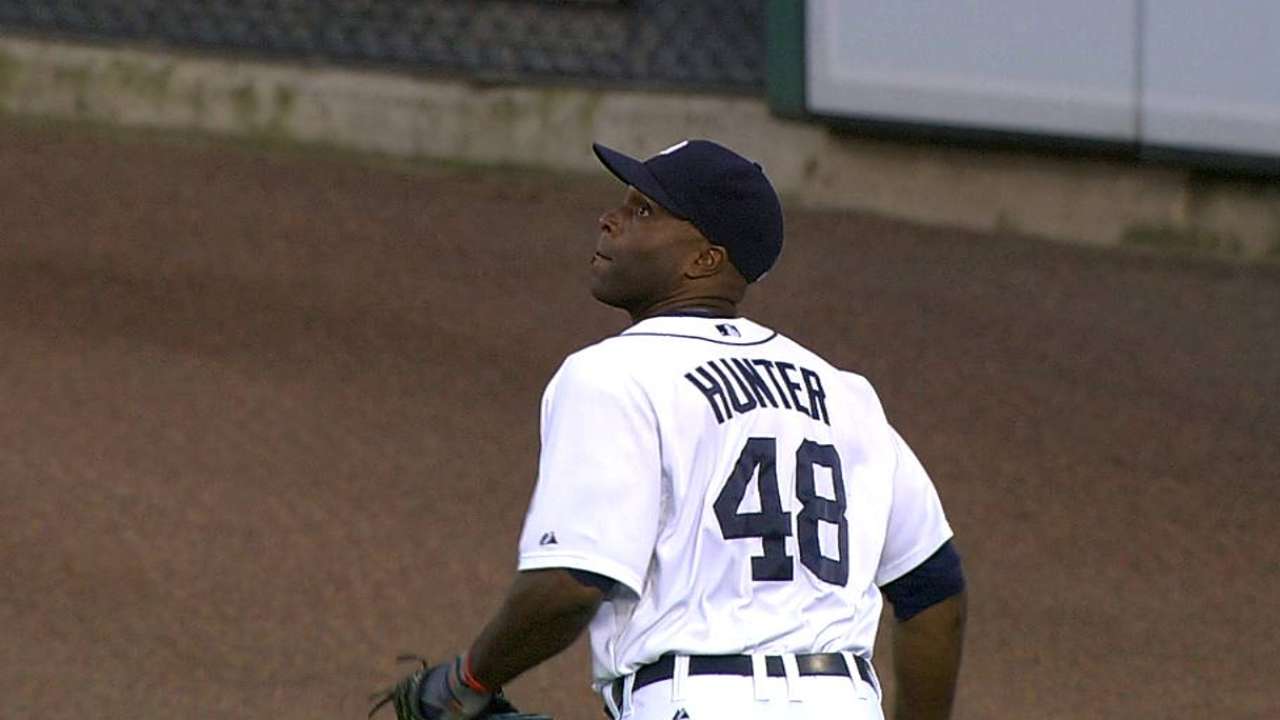 DETROIT -- Torii Hunter went to bat against Kelvin Herrera Sunday at Kansas City and turned on a 99-mph fastball, lining a double into the left-field corner. On Monday, Hunter's manager went to bat for him.
Hunter, Brad Ausmus admitted, has proven him wrong.
"Torii has been extremely impressive for any player, never mind a player his age," Ausmus said Monday. "There was a point in the middle of the season where in my mind it crept in that maybe age was catching up with Torii and he proved me wrong. He really did. He's played extremely well down the stretch."
The double was his fifth of September to go with two home runs and eight RBIs. He entered Monday batting .321 (25-for-78) with a .795 OPS for the month, and .309 with an .810 OPS since the All-Star break.
That coincides with the time that Ausmus had started to wonder whether Father Time was catching up with Hunter.
"I think after he had the leg injury he came back and he was swinging the bat well and not getting any hits," Ausmus said. "And then he started to get on a hot streak. I haven't seen any reason why this guy couldn't keep playing."
Whether he could keep playing for the Tigers is a question that is about to come up. He's in the final weeks of the two-year contract he signed shortly after the 2012 season. He joined the Tigers looking to play for a winner, and looking to keep his family close to Torii Jr., a wide receiver at Notre Dame.
He has made no secret he wants to keep playing. The Tigers, with slugging prospect Steven Moya looming as their right fielder of the future after a 35-homer season for Double-A Erie, have given no indication how they intend to go in right for next year.
Ausmus' praise, with the first leg of the Tigers' organizational end-of-season meetings coming up this week, wouldn't hurt.
"He's what, 39? He's a remarkable player, really," Ausmus said. "And his clubhouse presence is so valuable to boot. I really can't say enough good things about Torii. I played against him, I never really knew him, but he's been a huge asset for me, not only on the field, but in the clubhouse."
Jason Beck is a reporter for MLB.com. Read Beck's Blog and follow him on Twitter @beckjason. This story was not subject to the approval of Major League Baseball or its clubs.