Blue Jays handily beat Mariners in game, edge them in reviews, 2-1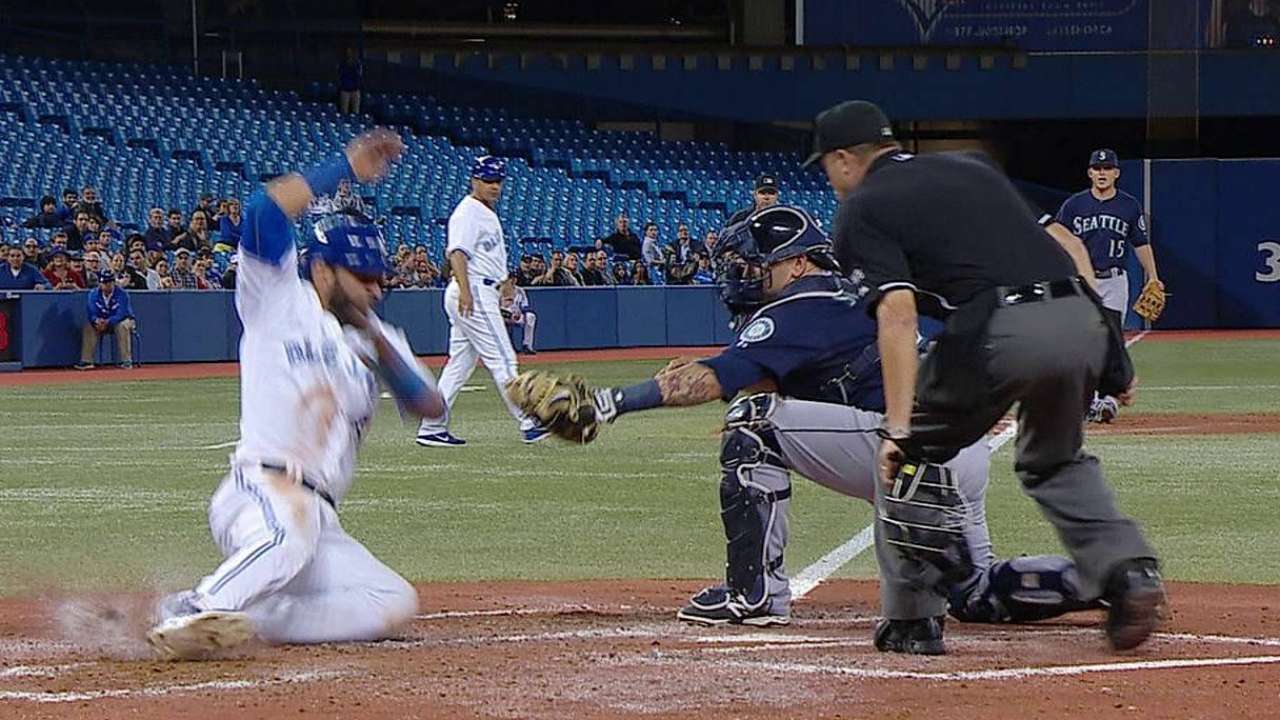 TORONTO -- The Blue Jays and Mariners saw mixed results after three reviews in the first, second and eighth innings of their series opener on Monday at Rogers Centre, a game won by the home team, 14-4.
Danny Valencia was ruled safe at third after Toronto manager John Gibbons challenged an out call in the bottom of the first inning.
With the bases loaded, Valencia cracked a fastball from Seattle starter James Paxton to the wall in left-center field, scoring three. He rounded second in an attempt to stretch it into a triple, and beat the relay with a feet-first slide, though he was initially called out by third-base umpire Doug Eddings, prompting Gibbons to make the challenge. After a 2-minute, 32-second review, the call on the field was overturned and Valencia was ruled safe with a triple.
An inning later, Gibbons came out of the dugout to question another call when Jose Bautista was thrown out at home after attempting to score from second on a Dioner Navarro single to right field.
The throw from Chris Denorfia beat Bautista, but there was some question whether catcher Jesus Sucre blocked Bautista's path to the plate when he slid into home. After a 1-minute, 45-second crew chief review, the call on the field was upheld and Bautista ruled out.
And finally in the eighth, the Blue Jays' Steve Tolleson ripped a grounder up the middle off of reliever Joe Beimel that looked destined for the outfield. But Seattle shortstop Chris Taylor made a diving stab and fired to first, where Tolleson was ruled out by umpire Jim Joyce. Gibbons again emerged from the dugout to challenge the call and, after a review, it was overturned and Tolleson ruled safe.
Jamie Ross is an associate reporter for MLB.com. This story was not subject to the approval of Major League Baseball or its clubs.