Rodriguez shares infield with his former pupils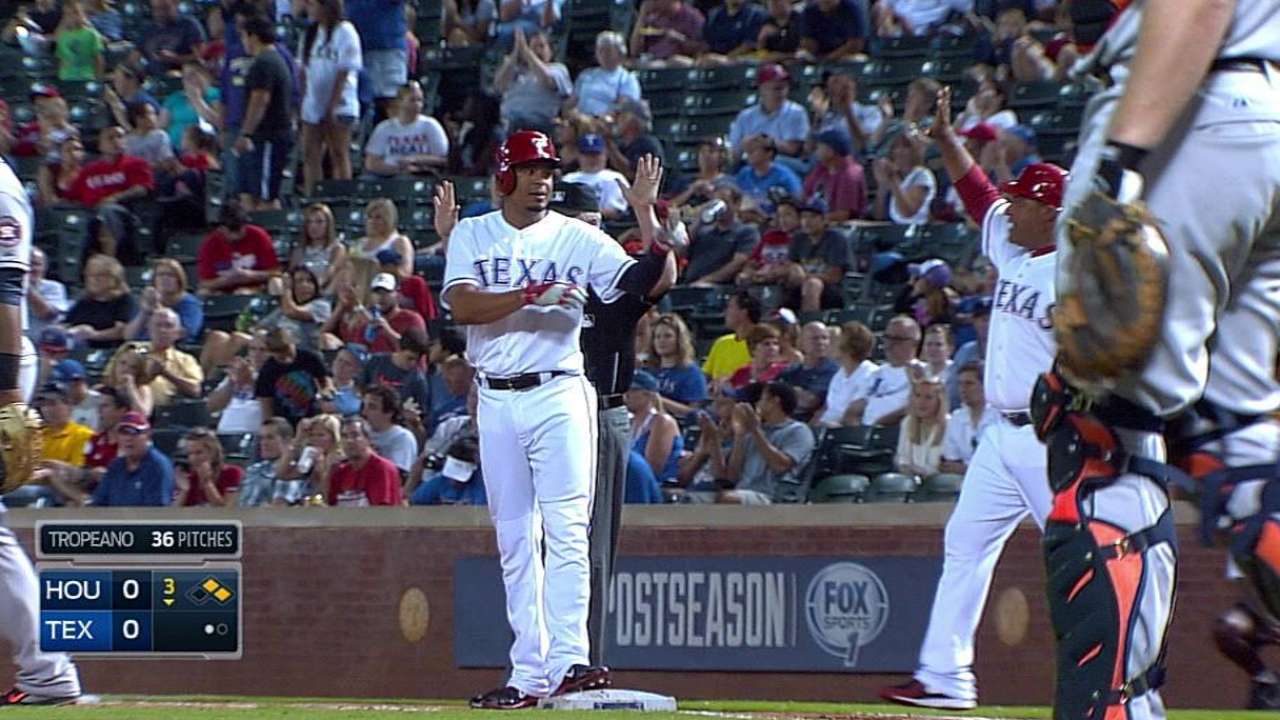 ARLINGTON -- Guilder Rodriguez, the 31-year-old career Minor Leaguer who has served as a mentor to young Rangers infielders, had the pleasure of starting on Monday and sharing the infield with two of his pupils.
Rodriguez was at third base for the 4-3 series-opening win against the Astros, while 20-year-old Rougned Odor and 25-year-old Luis Sardinas were at second and shortstop, respectively. Rodriguez, a veteran of 1,095 Minor League games, helped both young players at Double-A Frisco and Triple-A Round Rock.
"It's an exciting moment for me because I've worked with these two guys in the Minor Leagues, trying to make the big leagues, and now we have the opportunity to play together in big league games," Rodriguez said before collecting his first two MLB hits, including a go-ahead single in the seventh. "I love these two guys like my little brothers ... these guys have big futures in baseball in the big leagues, and I'm very happy today to play in the middle of the diamond with these two young guys."
Rodriguez notched his first Major League hit, a bloop single to left, in his first at-bat on Monday and went 2-for-3. He had been hitless in his first six at-bats with Texas coming into the contest.
Odor accounted for the Rangers' other three RBIs with a bases-clearing triple in the third inning. After the organization rewarded Rodriguez's tutelage with a September callup, he made his MLB debut on Sept. 9. Monday's game was the first the Rangers have played against a team out of playoff contention since August and interim manager Tim Bogar seized the chance to get Rodriguez, Sardinas and Odor in the lineup together.
"When we decided to bring [Rodriguez] up it was talked about," Bogar said, "just because he's been with Sardinas and Odor ever since they came over here and he's been kind of their mentor, and it would be really neat to have all three of them out there. So we just tried to find a spot for that to happen."
Dave Sessions is a contributor to MLB.com. This story was not subject to the approval of Major League Baseball or its clubs.