Johnson prepared to work for second-base job in camp
Fourth-ranked White Sox prospect not taking anything for granted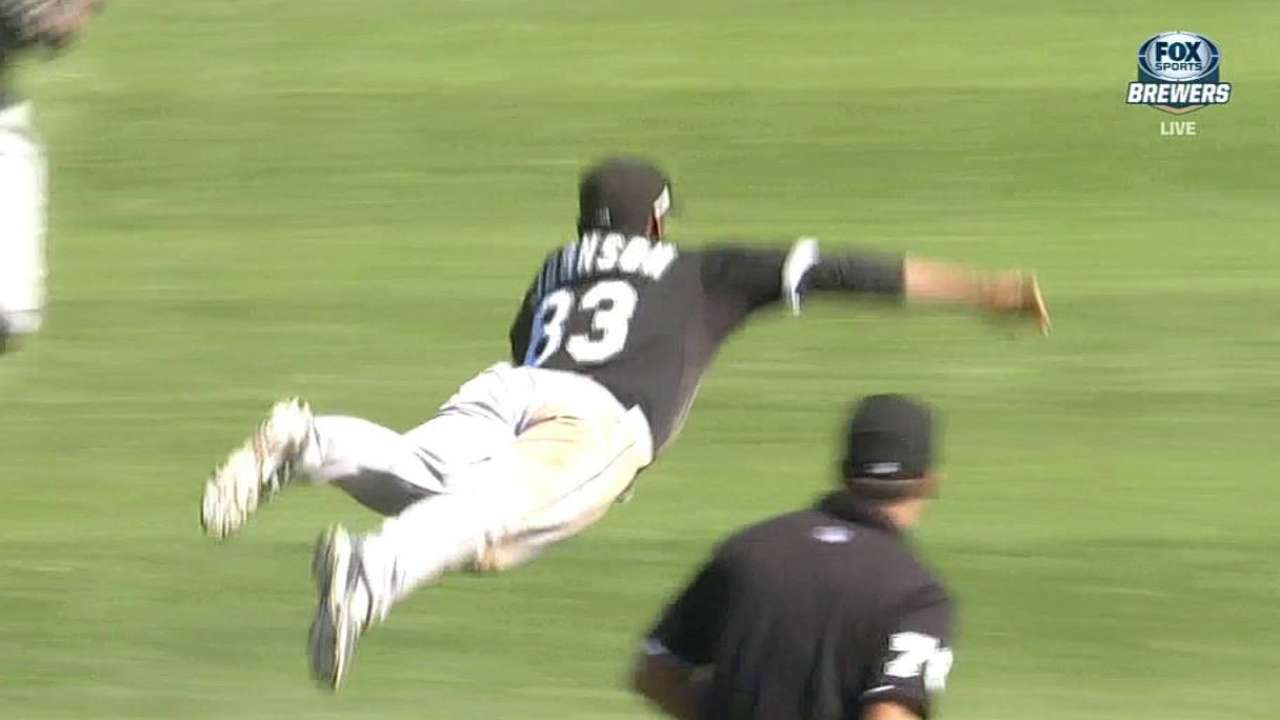 DETROIT -- There are many who believe Micah Johnson, the White Sox fourth-rated prospect per MLB.com, holds the edge for the starting second-base job in 2015 and beyond. The left-handed-hitting, fleet-footed 23-year-old would not count himself as part of that group.
Not when Johnson had his '14 season come to an early end due to a left hamstring strain, while fellow worthy candidates Carlos Sanchez and Marcus Semien play through September in the big leagues. Entering Monday, the switch-hitting Sanchez had a .253 average bolstered by solid defensive play at second, while Semien had posted a .295 average and a .340 on-base percentage with five extra-base hits and six RBIs since his September return.
"I can't go in walking around, thinking it's my job," Johnson told MLB.com during a recent phone interview. "They have been in the big leagues, and Marcus has been there for most of the season. They are the favorites.
"I'm going to Spring Training like I want the job, but play like it's not mine. This last Spring Training, I played like I was trying to make the team even though I probably had no chance."
This unplanned time off certainly hasn't reduced Johnson's confidence. He hit .294 with 22 stolen bases between stops at Triple-A Charlotte and Double-A Birmingham last season, while playing at times at less than 100 percent. That effort followed up an 83-stolen base performance from '13.
Johnson feels good during this prescribed rest period, using the down time to work toward his degree at Indiana with a full class load. He's still doing upper-body workouts until he gets the hamstring checked again Oct. 1 in Chicago.
Along with the dynamic offensive capabilities spurred by his speed, Johnson believes healthy legs can make that aspect of his game an asset defensively.
"The work I put in last offseason defensively helped them ease their mind that I can have impact games at second base," Johnson said. "Everyone can run in the outfield, but it's tougher to find a second baseman who can run. A guy who can go fast up the middle can save runs.
"I'm watching other games, I see balls go through and I know in my head it's a ball I can get to. With a runner on second base, I can stop a ball that gets through. My arm is not as strong as [Gordon)] Beckham's or other second basemen. But the faster I get to the ball, the faster I can get rid of it."
Scott Merkin is a reporter for MLB.com. Read his blog, Merk's Works, and follow him on Twitter @scottmerkin. This story was not subject to the approval of Major League Baseball or its clubs.