Twins unable to pick up struggling Nolasco in loss
Righty allows five runs on nine hits over just 4 2/3 innings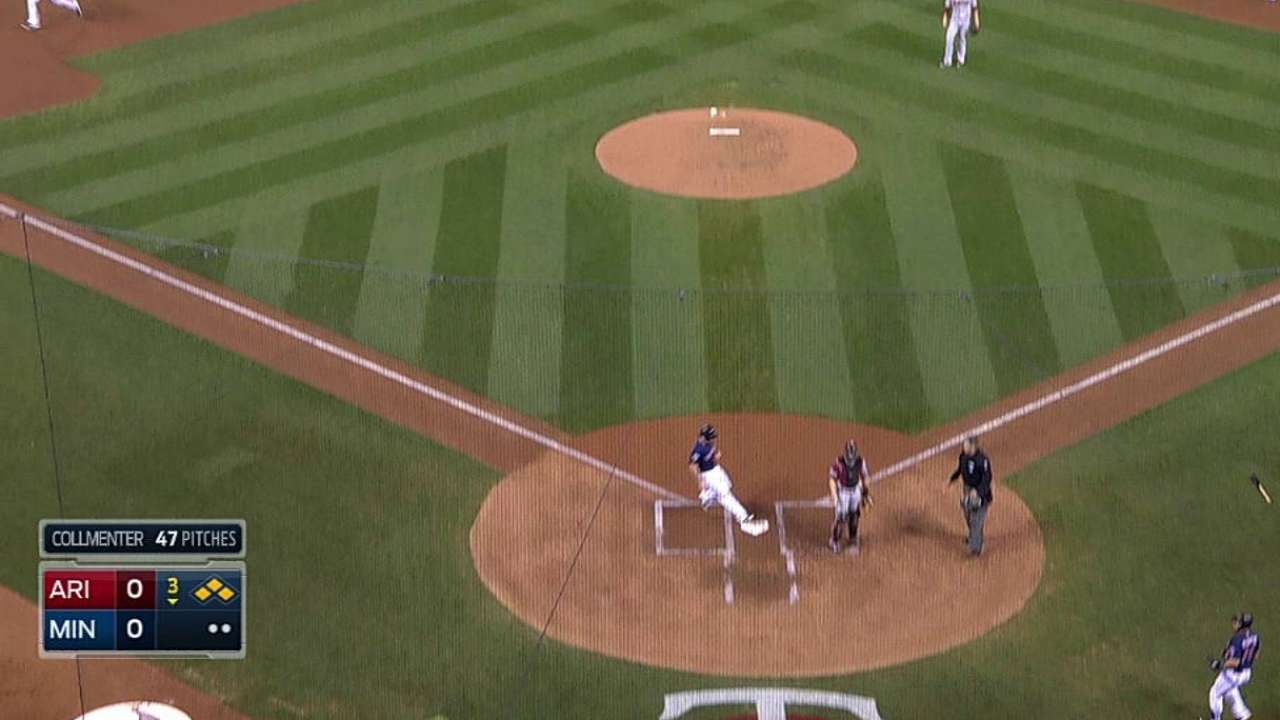 MINNEAPOLIS -- The Twins reached a dubious mark Monday night, as they reached 90 losses for a fourth straight season while also clinching last place in the American League Central for the third time in four years.
It came with Ricky Nolasco on the mound, as he didn't get through the fifth inning and turned in yet another clunker to hand the Twins a 6-2 loss to the D-backs at Target Field. It dropped the Twins to 66-90 to mark just the second time in franchise history they've lost at least 90 games in four consecutive years, as they also did it from 1997-2000.
Nolasco, who fell to 5-12 with a 5.47 ERA in the first season of a four-year, $49 million deal signed before the season, has factored heavily into the club's struggles and said even a strong start in his last outing of the year on Saturday against the Tigers won't change the way he'll look at his season.
"There's nothing I can do that's going to make me OK for the offseason," Nolasco said. "It's been a terrible year. I'm just trying to finish the year healthy. But there's nothing I can do to fix it from here on out."
Nolasco had been pitching better of late, as he had a 3.09 ERA over his last five starts, including allowing just one run over his previous two starts totaling 15 innings. He started with four scoreless frames before suffering through a five-run fifth inning. The right-hander gave up five runs on nine hits and a walk over 4 2/3 innings in his shortest outing since July 6.
"Nolasco has been a guy we've had some trouble with in the past and the guys made good adjustments in the game," D-backs manager Kirk Gibson said. "He got some curveballs up and we hit some early sliders."
Nolasco cruised early, but it all fell apart in the fifth, as Nolasco gave up three straight hits to open the inning, including an RBI double to Didi Gregorius. Ender Inciarte brought home a run with an RBI groundout before Gregorius scored on a wild pitch. After a single from A.J. Pollock, Nolasco served up a two-run blast to Mark Trumbo to give Arizona a 5-1 lead.
"He just didn't make any pitches in that inning," Twins manager Ron Gardenhire said. "Trumbo, he left one out and over the plate, and he killed that ball. He was doing all right up until that point. But he had one bad inning and just kept flipping them up there and couldn't finish off a hitter and finally the big explosion."
It helped back D-backs right-hander Josh Collmenter, who gave up two runs on five hits and a walk over 6 1/3 innings to get his 11th win. He also received an insurance run in the eighth on an RBI groundout from Chris Owings off reliever Michael Tonkin.
"He had a great changeup," Gardenhire said. "Even the home-plate umpire said his changeup was unbelievable. He has funk and keeps the ball behind his head."
The Twins opened the scoring with a run in the third on a two-out RBI single from Chris Herrmann, but didn't score again until the seventh. Kurt Suzuki led off the inning with a double before Collmenter was removed with one out. Left-hander Oliver Perez came in and walked Aaron Hicks before giving up an RBI single to pinch-hitter Josmil Pinto.
But the Twins couldn't add on after Pinto's RBI single, as they went 2-for-8 with runners in scoring position on the night en route to their third straight loss.
Rhett Bollinger is a reporter for MLB.com. Read his blog, Bollinger Beat, and follow him on Twitter @RhettBollinger. This story was not subject to the approval of Major League Baseball or its clubs.