Five-run frame backs impressive Collmenter
Right-hander spins quality start to end D-backs' six-game skid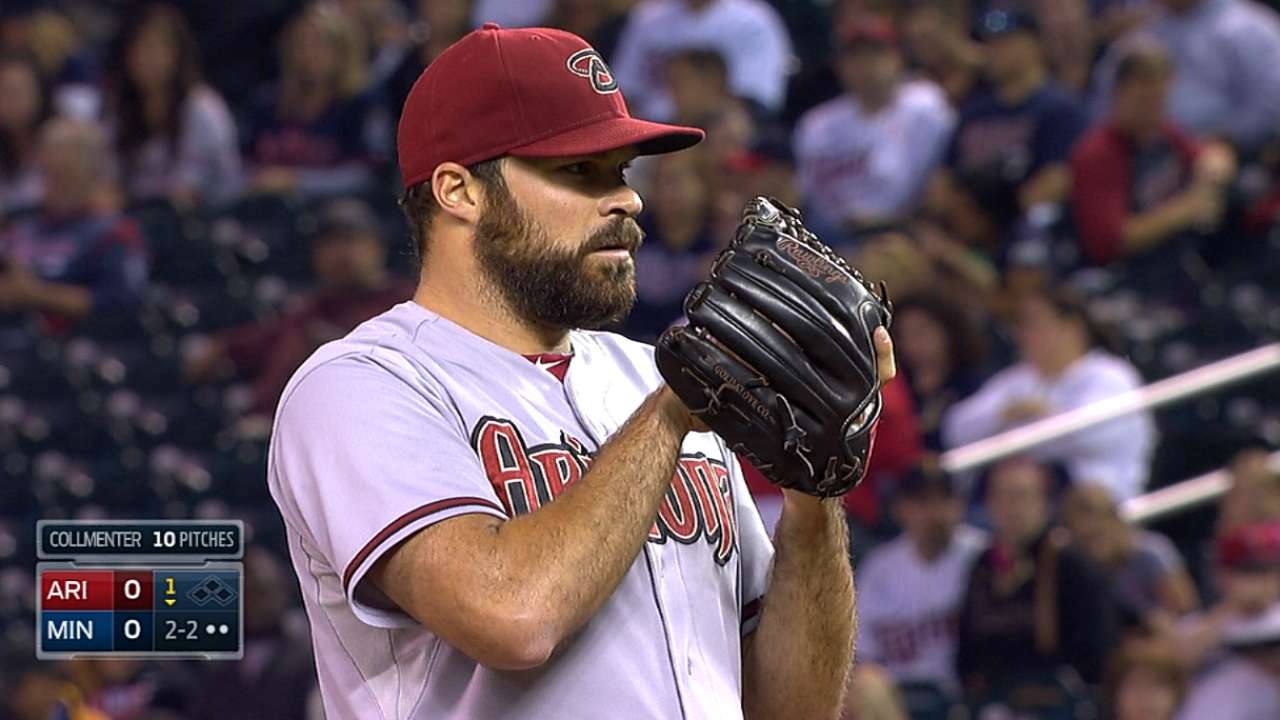 MINNEAPOLIS -- Josh Collmenter continued his strong finish to the season with another impressive start.
The D-backs right-hander allowed just one run over 6 1/3 innings as the D-backs beat the Twins, 6-2, on Monday night at Target Field.
The win snapped their six-game losing streak and removed the possibility that the D-backs (63-94) could lose 100 games this year.
After struggling in an Aug. 17 start against the Marlins, which prompted talk that he might be tired, Collmenter has made six starts and has compiled a 1.31 ERA over that span.
"I've been kind of effectively wild my last handful," Collmenter said. "I haven't necessarily been putting it everywhere I want it and my changeup has been hit or miss, but when I've needed to make pitches I've made them. I just try to go start to start and try to give the team a chance to win and just go from there. Sometimes you're going to have your best stuff and sometimes not and it's the ones in between that can make the difference."
Collmenter has an exaggerated over-the-top throwing motion that is unique in baseball. None of the Twins' hitters had seen him prior to Monday and that clearly worked to his advantage.
"He had a great changeup," Twins manager Ron Gardenhire said. "Even the home-plate umpire said his changeup was unbelievable. He has funk and keeps the ball behind his head. He has a little cutter with his fastball and changes speeds. Some of the stuff he throws makes his fastball look 95 mph and he's 85 up on the board. So very deceptive."
Collmenter's fastball does not leave the 80s, so when he's effective he can leave opposing hitters shaking their heads.
"I'm sure it's always frustrating, because it's not like I have overwhelming stuff or anything, so I'm sure that frustrates hitters a little bit too," Collmenter said. "Hitters like when they can get comfortable up there and if you're moving the ball around and making them guess what's coming or where it's going to be that gets them uncomfortable and sometimes you can get them to take not desperation swings, but almost frustrated swings just because they want to hit something."
Collmenter fell behind 1-0 in the third when Chris Herrmann's RBI single scored Chris Parmelee.
Twins starter Ricky Nolasco kept the D-backs off the board until the fifth inning when the Arizona offense came alive.
The D-backs pounded out five hits in the inning with the big blow a two-run homer to right-center by Mark Trumbo.
"Trumbo, he left one out and over the plate, and he killed that ball," Gardenhire said. "He was doing all right up until that point. But he had one bad inning and just kept flipping them up there and couldn't finish off a hitter and finally the big explosion. The big home run and there you have it."
It was Trumbo's 12th homer of the year and his fourth in his last 11 games.
"I think I've done OK," Trumbo said. "I'm working to have quality at-bats. Today, fortunately, I had one. The other ones weren't as good, but that one counted."
Collmenter ran into trouble in the seventh when he allowed a leadoff double to Kurt Suzuki.
He then allowed a deep flyout to Parmelee, and D-backs manager Kirk Gibson had seen enough, removing Collmenter after 109 pitches.
Reliever Oliver Perez would allow Collmenter's run to score, but Evan Marshall was able to get the final out of the inning with the D-backs still on top, 5-2.
Steve Gilbert is a reporter for MLB.com. Read his blog, Inside the D-backs, and follow him on Twitter @SteveGilbertMLB. This story was not subject to the approval of Major League Baseball or its clubs.