Search for new general manager next on agenda
Interim GM Hart 'not seeking job'; assistant GM Coppolella top internal candidate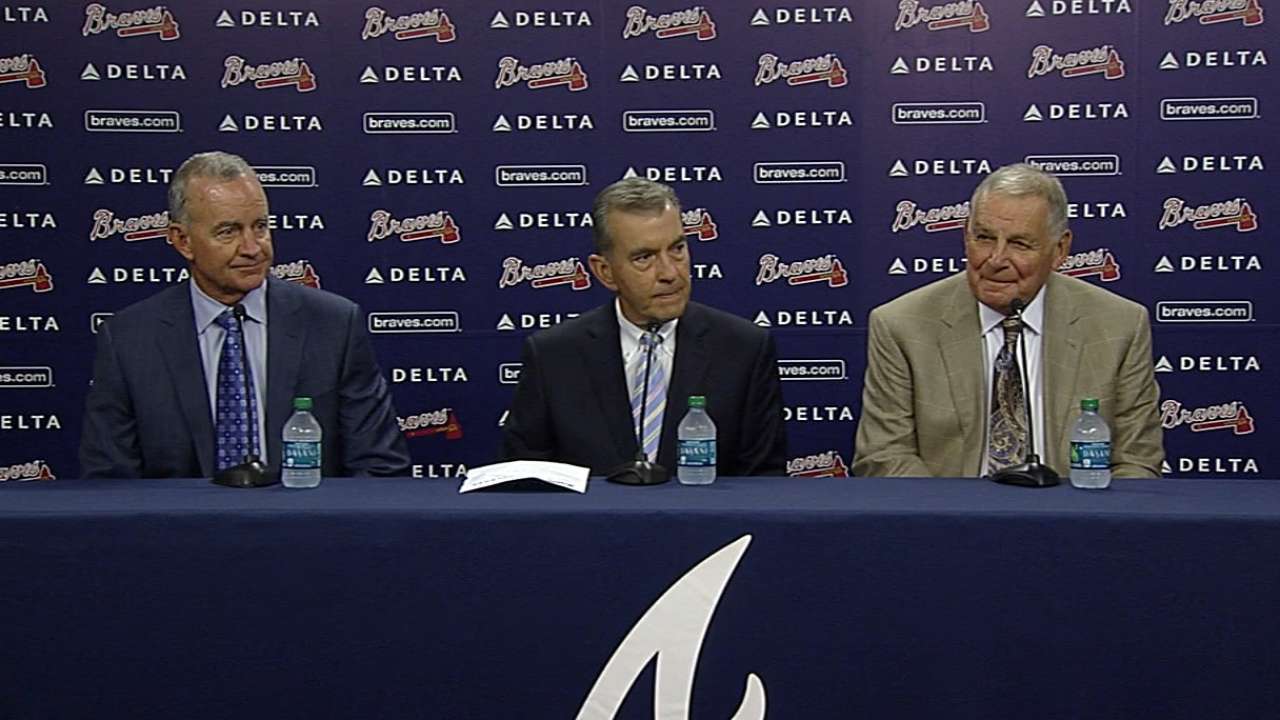 ATLANTA -- When Braves team president John Schuerholz offered his close friend John Hart a chance to serve as a senior advisor last year, he jumped at the opportunity. But Schuerholz is going to have a hard time convincing Hart to assume anything more than the role that he gained when Frank Wren was dismissed from his duties as Atlanta's general manager on Monday morning.
With Wren out of the picture, Hart will serve as the club's interim general manager. At the same time, the highly-regarded veteran executive will join Schuerholz and Hall of Fame manager Bobby Cox to form the three-man committee tasked with the responsibility to find the Braves' next general manager.
"I'm not seeking the job," Hart said. "John and I have talked a lot about my potential role. Certainly it's been discussed, but at this particular stage and what we're looking to do, we're going to talk to a lot of people -- potential GMs, going to look top to bottom at the organization. I defer to John with his age and his experience. It's not been ruled out, but it's not something I'm knocking on the door looking to jump back into the general manager's job."
This led Schuerholz to say, "He didn't say that with his answer, but I think, 'It's not a closed or opened door,' is what he meant to say."
Top candidates for Braves' general-manager opening
| | |
| --- | --- |
| Dayton Moore | The current Royals GM cut his teeth in the baseball world as he worked in Atlanta's front office from 1996-2006. He possesses the same people skills that have made Schuerholz successful. |
| John Coppolella | One of the game's brightest young minds has established himself as the top GM candidate since he joined Atlanta's front office in 2006. Along with being a skilled sabermetrician, he has the respect of countless old-school scouts. |
| Gerry Hunsicker | Possibly the most intriguing wild card in this search. Hunsicker could be the guy who is targeted to serve as an advisor and mentor to Coppolella for the next couple of years. |
Given that the 66-year-old Hart seems much more interested in maintaining an uninhibited role that allows him to continue serving as an analyst for MLB Network, the Braves will be compiling a list of candidates that will include their current assistant general manager John Coppolella, the top internal candidate.
Because he has the best understanding of the organization, Coppolella will play a key role as he works through this transition phase while leaning on the advice and guidance provided by Hart, who enjoyed long successful tenures as GM of the Indians and Rangers.
"Without giving the list away, certainly Coppy is someone that is going to be discussed," Hart said. "In a perfect world, you're looking for the next John Schuerholz. You're looking for the next young or veteran general manager. A guy that has done it before and possesses the qualities of John."
If the Braves were truly looking for the next Schuerholz, their search would be focused on Royals GM Dayton Moore, who spent a decade training under Schuerholz before assuming his current role in Kansas City.
Cox was among the coaches, managers and players who developed a strong bond with Moore during his tenure with the Braves. In fact, there has long been discussion about whether Moore would have been a better fit than Wren to succeed Schuerholz after the 2007 season. But Moore's path to Atlanta is blocked by the fact that he has two years remaining on his contract with the Royals.
"I'm confident that Dayton is committed to Kansas City and we're committed to him," team president Dan Glass said. "He's a good baseball guy, and we're in this thing together."
Another veteran scout said he expects Gerry Hunsicker to become a top target for the Braves. Hunsicker, who is currently a senior advisor for the Dodgers, was supposedly high on Schuerholz's wish list in 2007.
After guiding the Astros to four division titles and one National League pennant, Hunsicker spent seven seasons with the Rays, where he advised general manager Andrew Friedman in the same mentoring manner that he could with Coppolella, who is considered one of the game's bright young minds and a top GM candidate.
"[Coppolella] is going to step right in and be the No. 2 guy for me," Hart said. "He'll be the guy I go to, the right-hand guy. He's very bright and articulate. We aren't going to miss anything, things that maybe as I shake the cobwebs out, John is not going to let me miss anything."
If truly attempting to get back to "the Braves Way," as Schuerholz suggested during Monday's news conference, there might be a desire to at least attempt to bring Moore back to Atlanta. Another of Schuerholz's disciples, Pirates director of player personnel Tyrone Brooks, would also have an understanding of this principle.
Or the Braves could simply employ a seasoned veteran with the intention to aid Coppolella through a couple more preparatory years.
"We'll end up with a general manager," Schuerholz said. "Whether we call him a general manager or vice president of the general managership or whatever that title might be. We are going to have a general manager and a leadership team that we are very, very confident in when we're finished."
Mark Bowman is a reporter for MLB.com. This story was not subject to the approval of Major League Baseball or its clubs.