MLB.com Columnist
Bill Ladson
Harper opens up in conversation with MLB.com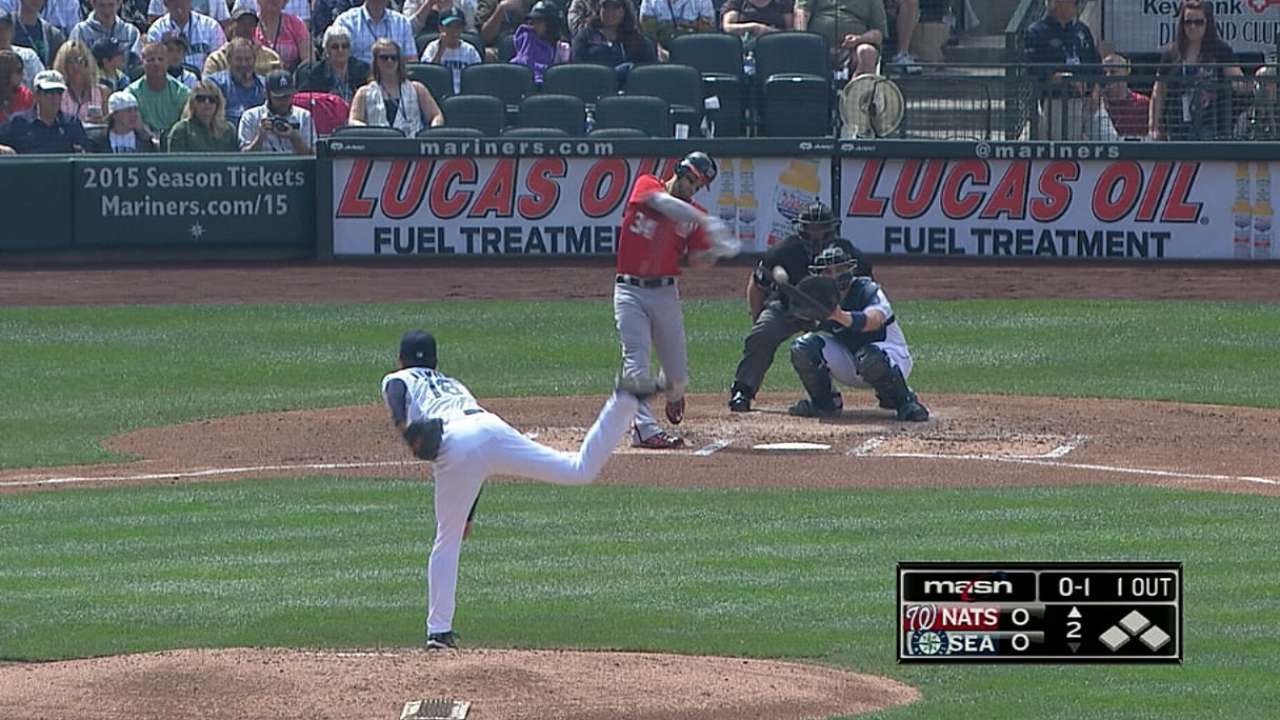 If the Nationals want to go far into the postseason, they need outfielder Bryce Harper to help carry them. Lately, his bat has been much improved. Since Aug. 1, the 21-year-old Harper is 48-for-172 (.279) with a .332 on-base percentage. MLB.com caught up with Harper recently to talk about the 2014 season.
MLB.com: You seem more relaxed now than you were back in 2012. Is that true?
Harper The first time I was called up, it was, "I have to try to be part of the team." I really tried to be one of the guys, just tried to fit in a little bit more, being that young. I was trying to fit in with older guys. We had a great team in 2012 that really helped me out. Being able to have Jayson Werth, Ryan Zimmerman, Ian Desmond and all those guys -- they opened their arms to me, let me play the game and made it a lot easier. Coming in this year, I felt like part of the group. This year has been unbelievable. We had a great team all year long. It has been a lot of fun.
MLB.com: The Nationals had a lot of injuries, and the team ended up winning the National League East.
Harper: We have such a strong group of guys. We are such a family that everyone has each other's back. We all go in playing the game, pulling that same rope every single day. If someone gets hurt, someone steps in and does his job. Anthony Rendon has been so key for us this year. He came in, and he has done an unbelievable job at third base, at second. He has been hitting in the lineup. Denard Span has to be the best center fielder in the game. No doubt about it. It's unbelievable watching him play every single night. You see some of the plays he makes, it's unbelievable. You put your hands up and you say, "Golly, he is going to get to every single baseball." You have [Adam] LaRoche, Werth, Desi, who is probably the best-hitting shortstop in the game. It's a lot of fun. I enjoy it. It's a lot of fun playing with this team.
MLB.com: It's looks like you are hitting at the right time. How much does this team need you to perform in the postseason?
Harper: I've felt better the last month and a half, I would think. I feel very good with my swing. Every day, I'm sticking to the same routine, sticking with the same process every single day. I think, definitely, this team needs me. With the lineup that we have, we are so, so deep. It's going to be a lot of fun. I'm very excited to get Ryan Zimmerman back. I think a lot of people are. I'm not the only one on this team. We have eight other guys in this lineup that swing the bat well. We have an unbelievable bullpen, great pitching staff. We are all pulling as one.
MLB.com: When you first came back from your thumb injury, you had problems against left-handed pitchers. Lately, you have been hitting lefties.
Harper: I feel great against lefties. Last year, having the knee problems that I had, it didn't allow me to stay back on the ball, get through the ball, hit the ball the other way. This year, I feel great. My first year, I thought I swung the bat well against lefties. I feel great against them again. I see the ball very well against them. I don't try to do too much against them. I try to take what they give me. I try to be as patient as I can and get some knocks.
MLB.com: You are 21 years old. We in the media sometimes forget you are young and we expect so much out of you. Do you realize that?
Harper: That's just part of the game. That's just human nature, I think. You go out there and play as best as you can. The good comes with the bad. You learn it's, "What have you done for me lately?" You are only as good as your last at-bat. I realize that. I know that. If you hit a homer, you are only as good as that last at-bat. Every single day, you get to come in with a clean slate. If you are 0-for-4 the day before, you have to flush it. It doesn't matter if you are 4-for-4 or 0-for-4, three strikeouts or two homers, you go in every single day with a clean slate.
MLB.com: You are like a lightning rod. Anything you do is always a story. That doesn't bother you?
Harper: It doesn't. It has been there for a long time. If you do something that somebody doesn't like, then you are a bad person. That's crazy. But that's how it is. You can't worry about what other people are thinking. You have to worry about what your team is doing, how you are doing and not worry about anything else. I love playing this game every single night. I love coming into hostile situations. I always have. That's just something I love doing. I love thriving on that. People boo me, they boo me. Reggie Jackson used to say, "If they are not booing you, you are not doing very well. If they are booing you, you must be somebody." I've taken that under consideration. I love Reggie. I love the way he went about it. I enjoy the old quotes of what the old players used to say. I always live with that. I look at it and I laugh. It's true. He's right.
MLB.com: Whenever you are involved with controversy, you don't let things carry over for long. Why is that?
Harper: When I'm around the baseball field, if I throw my helmet, it's something that I do. I get it out at that point, and I'm done. It's over. I'm back up on the step, cheering on my team. … Like I said, you have a new, clean slate every single day. I play for a great organization. I play for a great manager. I respect what [manager Matt Williams] did [when he removed me from a game for not hustling]. I've said that before. Denard Span is one of the best center fielders in the game. I've said that all year long.
Being able to come in here and play the game that I love, I enjoy it. I have a great team, I enjoy the team that I play with, I love my city, I love my manager, my GM, my owner, everybody. I don't have any bad things to say about anybody. Wearing that "W" on my chest is something I enjoy. I'm getting chills thinking about it.
MLB.com: What improvements would you like to make in your game?
Harper: Everything. At such a young age, you learn so much. Your whole career, you can keep learning. I want to get better every single day. If you are improving, if you are trying to get better and learning every single day, that means your team is going to win. That means your team is going to get going -- win those championships I want to win, that this organization wants to win. That's the only thing on my mind. I really want to win. I want to win so bad. I want to bring it back to D.C., bring that trophy back, have a parade, walk down the monuments with those lights and people cheering. I really want to enjoy that. But I want to get better every day also.
Bill Ladson is a reporter for MLB.com and writes an MLBlog, All Nats All the time. He also could be found on Twitter @WashingNats. This story was not subject to the approval of Major League Baseball or its clubs.