Rodriguez is Major player in Rangers' victory
Infielder's first hits, RBI back Holland's strong start in series opener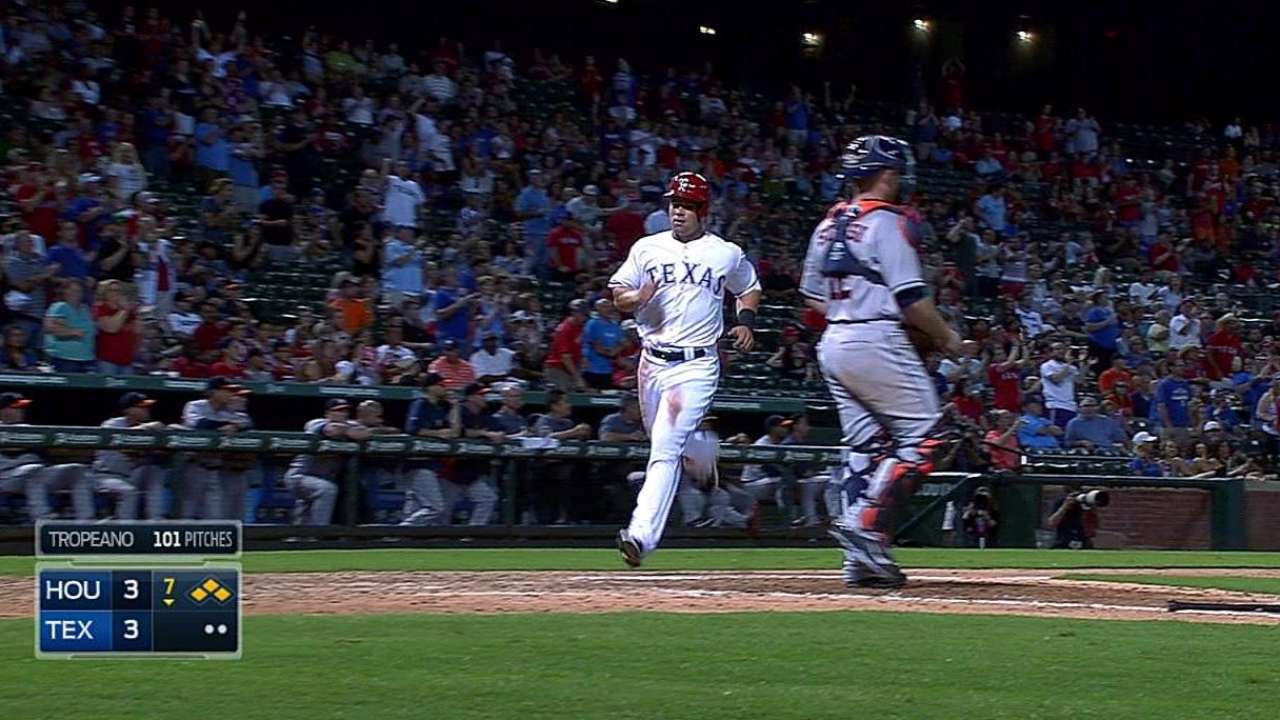 ARLINGTON - After a 13-year odyssey through the Minor Leagues, Rangers infielder Guilder Rodriguez is a lesson for any ballplayer when it comes to perseverance.
A 31-year-old career farmhand with 1,095 Minor League games under his belt, Rodriguez collected his first Major League hit, and then his first RBI -- the eventual game-winner -- in a 4-3 win over the Astros on Monday night at Globe Life Park.
Rodriguez even did it in front of his father Guillermo, who flew in from Venezuela to see his son play in the United States for the first time since 2004.
"This is one of the best moments of my life tonight," Rodriguez said. "My first big league hit, my first RBI, my father in the stands, my wife. I think this is my second best moment after seeing my two daughters born. ... It's unbelievable."
Rodriguez reached on a bloop single in his first at-bat in the third. He later made a fielding error that, for a time, looked like it might cost starter Derek Holland a chance at the victory. But Rodriguez's RBI single in the seventh brought home the go-ahead run as Holland notched his second victory in five starts.
The Rangers' other three runs came from Rougned Odor, the 20-year-old whom Rodriguez mentored while in the Minors and who is now the frontrunner to start at second base for Texas on Opening Day 2015.
Odor's three-run triple in the third inning gave the Rangers a 3-0 lead, which Holland protected until the sixth. Houston's Jonathan Villar led off that frame with a double and took third when Robbie Grossman laid down a sacrifice bunt that third baseman Rodriguez bobbled for an error. The next batter, Jose Altuve, drove in Villar with a double, and Grossman scored the unearned tying run on Chris Carter's sacrifice fly.
Rodriguez redeemed himself in the bottom of the inning. Jake Smolinski was hit by a pitch from Astros starter Nick Tropeano to start the frame and he took second on a wild pitch. With two outs, Rodriguez lined a single to left that glanced off the glove of the leaping shortstop Villar, scoring Smolinski.
"When he got his first hit it was hard not to cry looking at his dad," Rangers interim manager Tim Bogar said. "It was pretty special that he got to do it in front of his dad and then the second hit that gave us the lead was kind of storybook for us ... his teammates were pretty fired up for him."
With the win, the Rangers are no longer in danger of losing 100 games in a season for the first time since 1973 -- a fate which seemed not just possible but likely only a couple of weeks ago. After winning nine of its last 10 games, Texas can finish no worse than 63-99.
"It puts a big smile on my face just to know that there's no three digits in our loss column," Bogar said. "But we know as an organization that we're not a 100-loss team ... it's just a bump in the road for us and we'll be headed back in the right direction next year."
Holland lasted seven innings plus one batter on Monday, the fourth time in five starts this season that he has thrown at least seven innings. He allowed three runs (two earned) on seven hits and one walk.
"This was one of those nights where I didn't have my best stuff, but I went out there and pitched," Holland said. "I made sure I had to bear down when I needed to, keep them from scoring as much as possible and keep my defense on their toes. ... I never let anything get to me at all."
Since his return from offseason knee surgery on Sept. 2, Holland has thrown 34 1/3 innings in only five outings and has an ERA of only 1.31.
"He's a tough cookie out there," Astros interim manager Tom Lawless said. "He moves the ball around. He pitches in. We made adjustments during the game that helped us and got us back in the ballgame."
Dave Sessions is a contributor to MLB.com. This story was not subject to the approval of Major League Baseball or its clubs.