Tropeano gains experience in loss to Rangers
Righty yields decisive run in 7th after Altuve's 221st hit sparks rally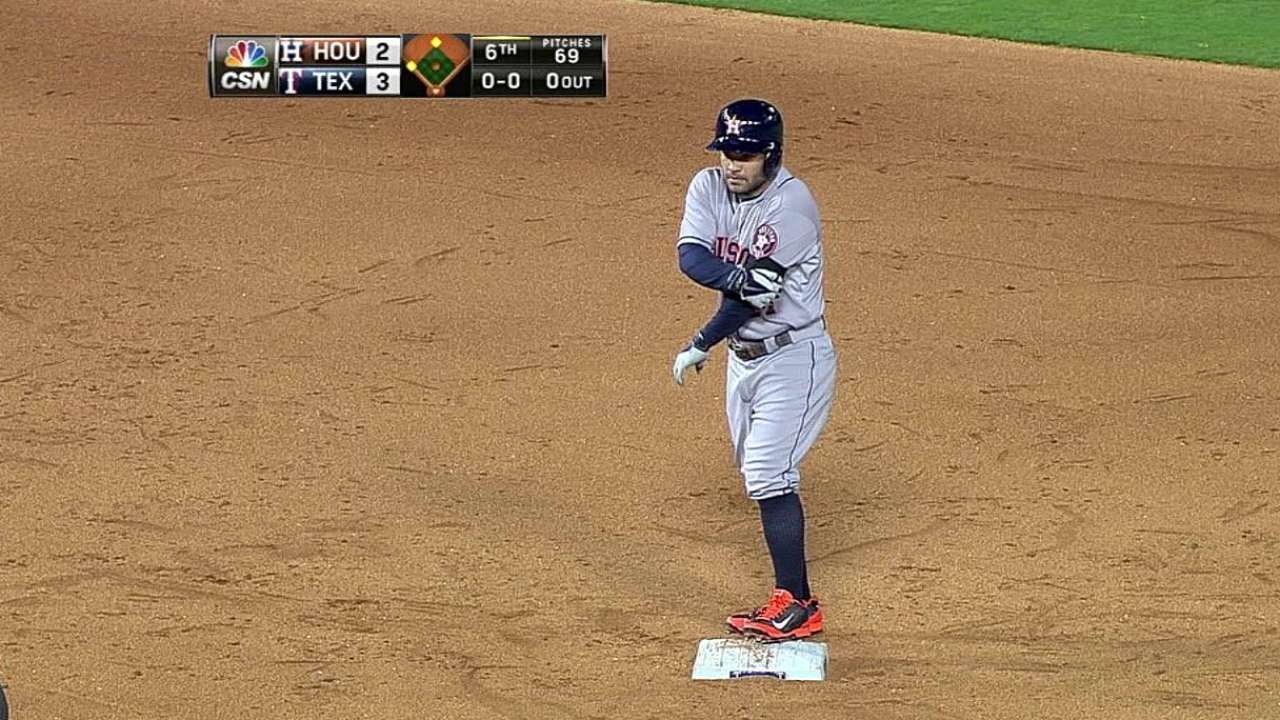 ARLINGTON -- Nick Tropeano might have gained a leg up on some of the competition he's going to be facing for the final two spots in the Astros' starting rotation next spring by getting the opportunity to make a precious few appearances as the season winds down.
Tropeano, the right-hander with the reputation as a tenacious competitor, has acquitted himself quite well through his first three starts of his Major League career, despite coming up on the wrong end of the Astros' 4-3 loss to the Rangers on Monday night at Globe Life Park.
Tropeano (1-1) threw 101 pitches in 6 2/3 innings, allowing five hits and four runs -- three on a bases-clearing triple by Rougned Odor in the third.
"He did a nice job out there," interim manager Tom Lawless said. "He made one bad pitch. He had the guy 1-2, I think he had him 1-2 and he left a ball up in the zone. Pitch that he hasn't thrown much, I think it was a splitter. The guy got good wood on it and put it somewhere where he couldn't catch it. So we just battled back and tied it up."
Tropeano surpassed 100 pitches only four times in his 20 starts at Triple-A Oklahoma City, where he won the Pacific Coast League ERA title, and threw 101 pitches for the second consecutive start on Monday. He'll likely start Sunday's season finale in New York.
"I felt like I fed off my fastball a little bit better this outing, just because the command was better," Tropeano said. "The pitch count didn't get up, didn't get into those deep counts like I did last time. Overall I felt good, and unfortunately we weren't able to come out with a W."
The game was tied at 3 in the seventh inning when Rangers third baseman Guilder Rodriguez hit a single off the glove of shortstop Jonathan Villar and into left field to score Jake Smoliski with the go-ahead run. It was the final batter Tropeano faced.
Even Lawless could appreciate the story of Rodriguez, who got his first Major League hit and RBI on Tuesday after spending 14 years in the Minor Leagues. His parents cried and hugged in the stands when he got his first hit in the third inning.
"It's a thrill," Lawless said. "I guarantee it's a thrill for him to be up here. To put all that time in the Minor Leagues and keep playing and playing and playing. A lot of guys would give up. That's one thing about baseball, you never give up. You just never know. You might get the chance, 'cause your dream as a little kid is to do what -- play Major League Baseball. And there he is."
Rangers southpaw Derek Holland, making only his fifth start of the season, allowed three runs (two earned) and seven hits in seven innings.
"I thought we did really well," Lawless said. "He's a tough cookie out there. He moves the ball around. He pitches in. We made adjustments during the game that helped us and got us back in the ball game. We made some quality swings at his quality pitches and got base hits."
Tropeano retired the first seven batters he faced before he allowed the Rangers to load the bases with one out on a pair of singles and a walk. Odor cleared the bases one out later with a triple into the left-center-field gap to put the Rangers ahead, 3-0.
"A little split just down over the plate, probably should have buried it in that count," Tropeano said. "He put a good swing on it."
Jake Marisnick singled and scored on a grounder by Matt Dominguez to cut the deficit to 3-1 in the fifth, and the Astros tied it in the sixth on an RBI double by Jose Altuve -- his Major League-best and club record 221st hit of the season -- and a sac fly by Chris Carter.
Brian McTaggart is a reporter for MLB.com and writes an MLBlog, Tag's Lines. Follow @brianmctaggart on Twitter. This story was not subject to the approval of Major League Baseball or its clubs.