Many theories, few answers for Brewers' slump
Hitters' penchant for swinging at first pitch of an at-bat among possible causes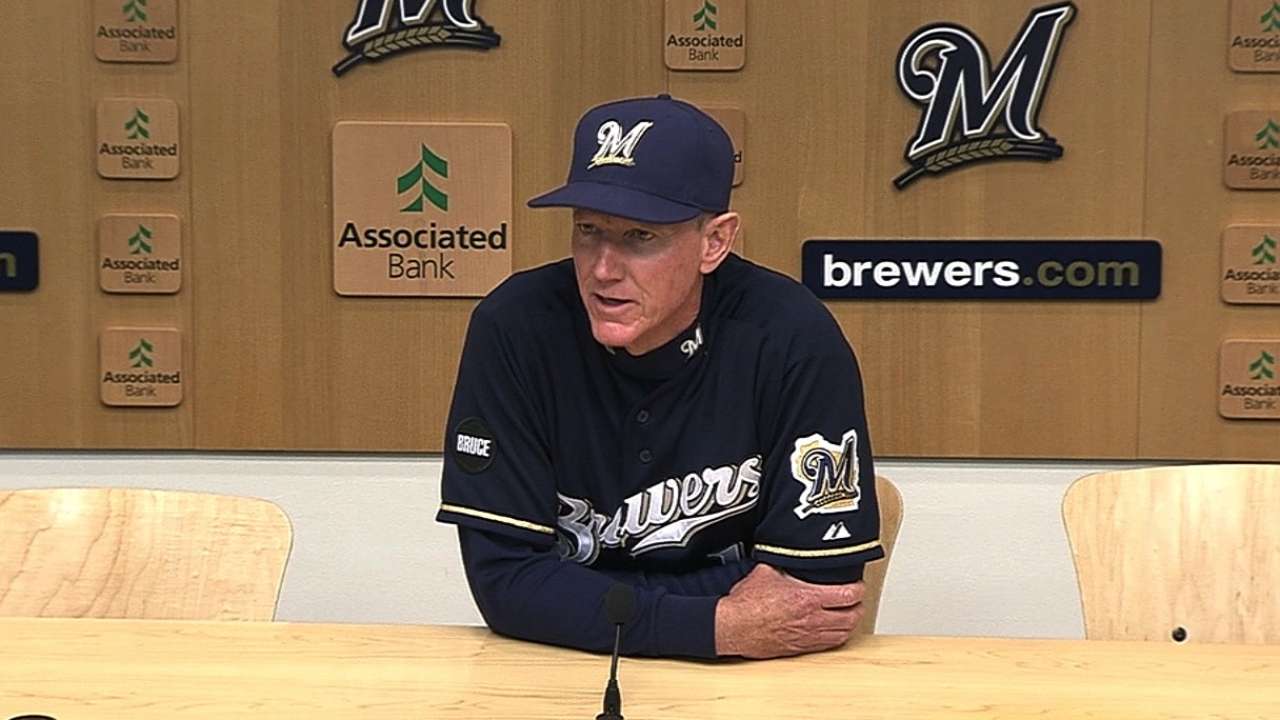 PITTSBURGH -- Before the reporter could finish a question about the Brewers' recent offensive inconsistencies, manager Ron Roenicke interrupted.
"No, we're pretty consistent, actually," Roenicke said with a smirk.
The point is well taken. On their make-or-break road trip, the Brewers have surrendered only 12 runs -- but they have scored just eight times while losing four of six games to fall to the brink of elimination. Hitting coach Johnny Narron cited the playoff-caliber opponents in St. Louis and Pittsburgh, but Milwaukee's scoring slide has gone on much longer.
On June 30, three months into the six-month Major League season, the Brewers were 18 games over .500 and 6 1/2 ahead of their closest division rival. They were the National League's second-best offense below 5,000 feet -- trailing only the high-altitude Rockies in runs per game (4.56), home runs per game (1.05) and on-base plus slugging percentage (.739). The Rockies and Brewers were the only NL teams hitting better than a homer per game.
Brewers' offense by half (NL rank)
| Through 6/30 | Category | Since 7/1 |
| --- | --- | --- |
| 4.56 (2nd) | Runs per game | 3.47 (14th) |
| 1.05 (2nd) | Home runs per game | 0.81 (6th) |
| .261 (2nd) | Batting average | .241 (13th) |
| .739 (2nd) | On-base pct. plus slugging pct. | .675 (9th) |
| 3.66 (15th) | Pitches per plate appearance | 3.62 (15th) |
But from July 1 through Sunday, when the Brewers were shut out by Pirates starter Vance Worley and closer-for-a-day Tony Watson, Milwaukee was 14th of 15 NL teams with 3.47 runs per game, ninth with a .675 OPS and sixth with .81 home runs per game.
Since the start of July, no Brewer with at least 100 at-bats is batting at least .300. The Pirates have four such players. The Brewers' .283 batting average on balls in play during second half suggests a degree of bad luck, but it does not account for the completeness of Milwaukee's offensive outage.
"I really wish I knew why, because obviously we would be doing it a lot different," said catcher Jonathan Lucroy, who batted .334 through June 30 and has hit .268 since. "You can't really put your finger on it. I guess this late in the season, all of the scouting reports are out and all the numbers are there, as far as what guys are most consistent at, what they're best at, what they're worst at. I guess we're being exploited to the fullest extent of our weaknesses. That's the only thing I can think of."
The larger question already under consideration by general manager Doug Melvin and the baseball men under him is this: Is it a matter that must be addressed before the Brewers take the field for 2015, or is inconsistency simply the price Milwaukee pays for having so many free swingers who, when they're hot, are among the most dangerous players at their positions?
Roenicke suggested the former.
"I'm sure it will be talked about," Roenicke said. "The personnel that I write down on this lineup, I think, should be pretty good offensively. I don't know why lately it hasn't been. Maybe we need to figure out, especially with the young guys, 'How do we go about creating more runs?' Do we need to be more patient? I've talked about the first-pitch swinging a lot, and I know that's who we are. It's not something that I like; it's just the personnel we have. Maybe we can be better at that."
All season, the Brewers have been baseball's freest swingers. It was a major storyline during their 20-7 start, when center fielder Carlos Gomez described the team's approach to The New York Times as, "It has to be, like, wayyy a ball for us to not swing."
That trait has remained steady. Through June 30, the Brewers saw the fewest pitches per plate appearance in the Major Leagues (3.66). Since July 1, Milwaukee is still last in that category, at 3.62. The Rockies and Brewers were the only teams in baseball as of Monday to swing at more than half of their opponents' pitches, and they also were first and second in swinging at pitches outside the strike zone.
But the trouble with blaming the Brewers' inconsistencies on the fact that they "don't take enough pitches" is embodied in Oakland, where the A's have endured a similar second-half collapse. During each half, the A's have ranked in the top 50 percent of Major League teams in patience at the plate, but they fell from an MLB-best 5.15 runs per game in the first half to 3.84 runs per game since.
"If you want to go look at batting averages on first pitches, it's pretty high," said Melvin. "You can take a lot of pitches, and it doesn't guarantee you're going to hit. Yeah, you'd like to be better, but I don't think that's the answer."
On the first pitch, the Brewers are eighth in the Majors with a .355 batting average and fifth with a .964 OPS. Only Jose Altuve of the Astros has more one-pitch at-bats this season than Gomez (148 to 118). Gomez leads Milwaukee with a .424 batting average in first-pitch outcomes. After 0-1, he hits .270.
Melvin, who is an unabashed believer in ballpark effects and the significance of hitting for power -- he points to the runaway Orioles as an example -- is more concerned that the Brewers are hitting home runs at a much lower rate than earlier this season, and especially compared to past seasons. The team's pace is for 151 home runs, which would be its lowest total since 2004.
Melvin cited personnel as one factor; Prince Fielder left via free agency following the 2011 season, and Corey Hart wasn't healthy in 2013 before following Fielder out. Rickie Weeks would have a higher homer total this season, but he's been replaced by Scooter Gennett as the everyday second baseman. Ryan Braun and Gomez have seen their power affected in the second half by nagging physical issues, and Mark Reynolds by a prolonged hitting slump.
But the in-season drop is more difficult to explain. Typically, the ball flies better in the second half at Miller Park.
"I don't know why the change," Roenicke said. "We were always this [modest on-base percentage] team, but because of the drop in home runs, we're not scoring as much."
Melvin is in the process of seeking opinions from his baseball-operations staff, which runs the gamut from old-school scouts to new-school analytical experts. There are reasons to believe 2015 could see the return of a potent Brewers offense. Braun has a year of shouldering boos under his belt, and he could be better if he is able to get healthy and stop chasing pitches in an effort to make things happen. Gennett and left fielder Khris Davis are viewed as professional hitters who could improve their discipline. First base, again, will be open, offering Melvin an opportunity to fill the position with additional consistency.
"You just have to keep pushing," Narron said. "You have to keep trying to make things happen. You have to do the little things. You just have to stay confident. When the pressure's on, you just have to push past that pressure."
Adam McCalvy is a reporter for MLB.com. Read his blog, Brew Beat, and follow him on Twitter at @AdamMcCalvy. This story was not subject to the approval of Major League Baseball or its clubs.