Mariners move Young out of rotation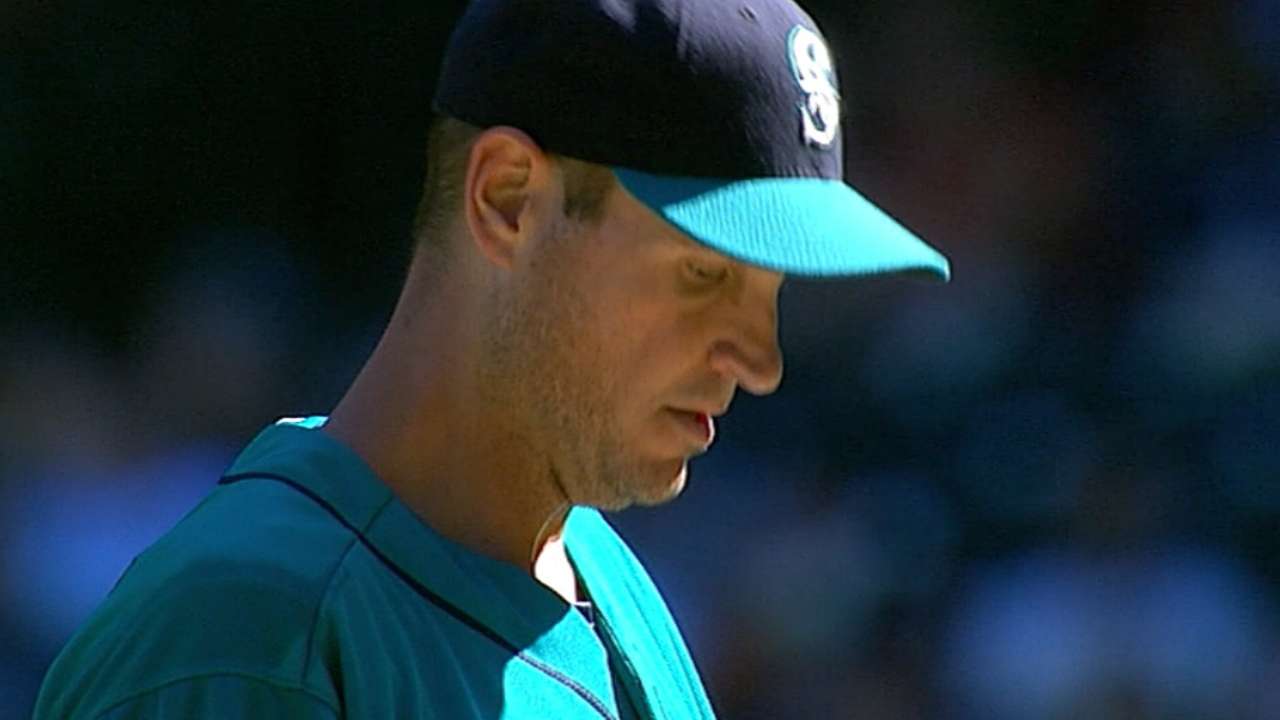 TORONTO -- After giving up four home runs in his last start, Mariners veteran Chris Young will not be in the rotation for his next scheduled outing on Thursday, manager Lloyd McClendon said Monday.
McClendon hasn't named a starter yet for the series finale against the Blue Jays, only saying Young is moving to the bullpen after some late-season struggles that the manager believes are a sign of fatigue. The 35-year-old right-hander is 12-9 with a 3.65 ERA in 30 outings, and he remains a strong candidate for the American League Comeback Player of the Year Award after not pitching in the Majors last year due to shoulder problems.
But Young is 0-3 with an 8.36 ERA in his last five starts, and he surrendered seven runs and four long balls in three-plus innings in Seattle's 10-1 loss in Houston on Saturday. With the team in a push for an AL Wild Card berth, McClendon decided a change was needed.
"Chris has done a tremendous job for us this year," McClendon said. "To think he's won as many games as he's won and gone out there as many times as he's gone out there, coming off the type of surgery that he had, I think it's just tremendous. I'm not sure we'd be in the position we're in now if not for him."
Young continues saying he feels fine physically, but the 6-foot-10 veteran has thrown 165 innings, which is by far the most he's thrown in a year since his last fully healthy season in 2007, when he was a National League All-Star with the Padres.
"I think he's probably out of gas from the starting standpoint," McClendon said. "Having said that, eight to 10 days from now, who knows?"
Young acknowledges he had some fatigue several weeks ago, which is why McClendon pushed back several starts to give him extra rest. But he said he felt better recently when he allowed just two runs in 11 innings to the A's and Rangers before his poor showing against the Astros.
"I went through a little period of dead arm, and I think mechanically I got a little out of sync at that point," Young said. "I felt better two starts ago against Oakland and pitched very well, and then the other night in Houston, I had a great week of throwing going into it and one of my best bullpens of the year. It's just sometimes it's unpredictable. I think it's somewhat coincidental.
"I think there's an element of fatigue to it, but I also think if I had that start in June, we don't talk about it as much. It gets magnified because of the situation we're in. If we were 15 games out, the way the club has been the last few years, it's probably a non-issue. The timing of it was poor, and that's on me. Nobody is more disappointed than I am about it. But Lloyd has to do what's right for the club, and if that's what is best, I'll support him and be ready to help out however I can."
Young said he's not yet ready to step back and look at the big picture of what he's accomplished this year, signing with the Mariners just days before the start of the regular season after being released by the Nationals. In his mind, his work is not finished.
"I told them I'd be ready whenever and however they needed me," Young said.
The Mariners' rotation has suddenly developed some cracks after posting the best ERA in the league all season. Rookie left-hander Roenis Elias was shut down for the season on Monday after an MRI on his throwing elbow showed a strained flexor bundle.
Veteran Hisashi Iwakuma has also struggled of late, with a 9.12 ERA over his past six starts. Rookie Taijuan Walker moved into the rotation to take Elias' spot, so the only apparent options for Thursday are Erasmo Ramirez or a bullpen effort led by Tom Wilhelmsen, who made one spot start prior to the All-Star break.
Young noted that other teams are dealing with the same situation as pitchers get fatigued at the end of the six-month season.
"If you look across the league, there are a lot of pitchers going through it," he said. "This isn't unique to me. I still feel healthy. I still feel strong. The execution of my pitches wasn't great the other night, but I still felt good. I can't argue with their reasons. They have to give the team the best chance to win. But I still believe in myself and will be ready."
Greg Johns is a reporter for MLB.com. Follow him on Twitter @GregJohnsMLB as well as his Mariners Musings blog. This story was not subject to the approval of Major League Baseball or its clubs.