Grateful Jeter participates in fan Q&A
Yankees captain describes 'overwhelming experience' before final homestand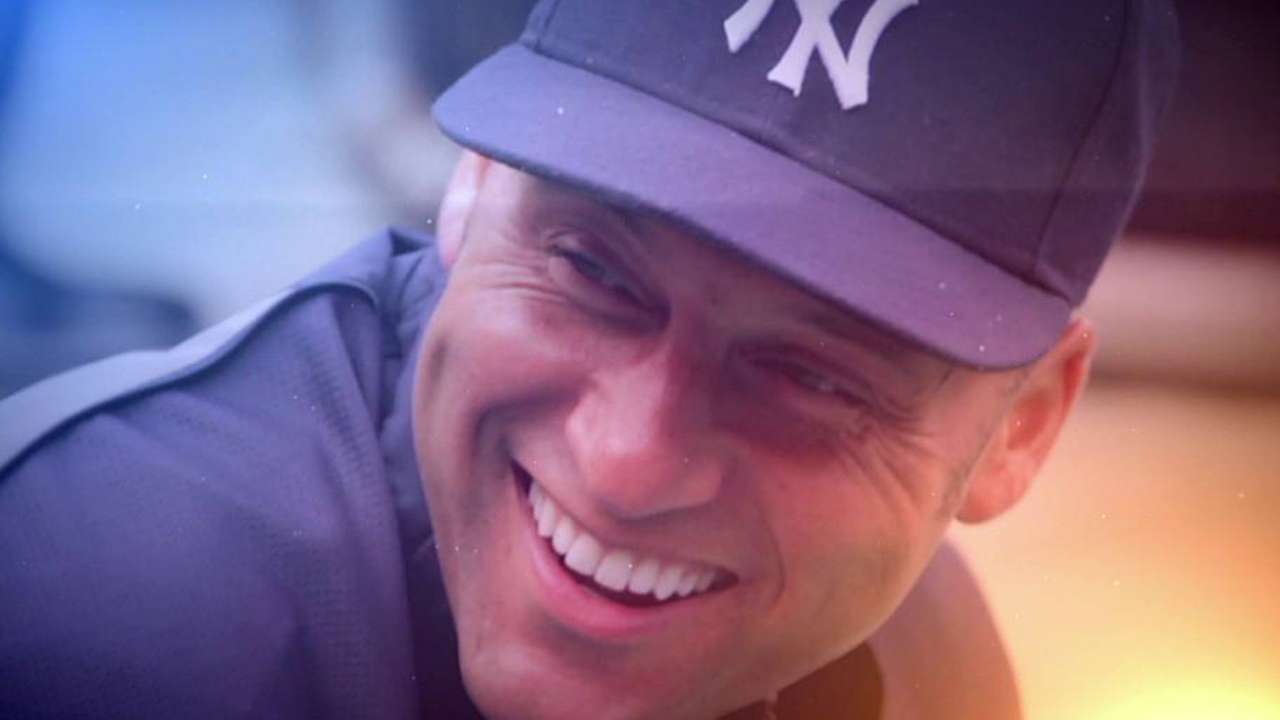 NEW YORK -- As Derek Jeter's final season nears its end, fans are taking any opportunity they can to say goodbye. They packed the Hudson Theatre at the Millennium Hotel on Monday, to hear Jeter participate in a Q&A session hosted by Brandon Steiner and Steiner Sports.
Jeter was asked to be reflective about the end of his career and to look forward to the future, when he will find himself with newfound free time, but he still struggled to do either with games remaining in his career, including one later that night against the Orioles.
"The one thing you admire about him, it's always been about the team and not about him," said Bucky Dent, the former Yankees shortstop who was in attendance. "And I think as he approaches these last few games, it's still I think ... he's going to be all for his team and trying to win and get them in the playoffs."
The crowd had lined up down the street in anticipation of the event to hear from Jeter for one of the final times as an active player, and they showered him with numerous ovations during the 45-minute session. Jeter said he could have never imagined any of the adoration he has received when he announced prior to the season that this would be his last.
"It's all been an overwhelming experience for me," Jeter said.
Jeter has been a big part of the success of Steiner Sports through their near 18-year partnership -- on display at the entrance of the theater were some of the Jeter-related items to be auctioned off. Steiner called this event a "little sentimental" for himself personally.
Steiner asked most of the questions to Jeter, but took some fan-submitted questions from Facebook and from a few members of the audience. Some former Yankees -- including Dent, Jeter's former hitting coach Chris Chambliss and Hideki Matsui, one of Jeter's former teammates -- also had spots in the crowd to enjoy the event.
"It's history for a great player," Dent said. "Guys winding down his career for a great all-time Yankee, and I'm glad to be a part of it."
One of the few definite answers Jeter could give was when he immediately shot down the possibility of returning for next season. After the event, he was headed to Yankee Stadium to prepare for the start of a four-game series with the Orioles, the final home series of his career.
Jamal Collier is an associate reporter for MLB.com. This story was not subject to the approval of Major League Baseball or its clubs.