Francona: I told you Kluber wasn't fatigued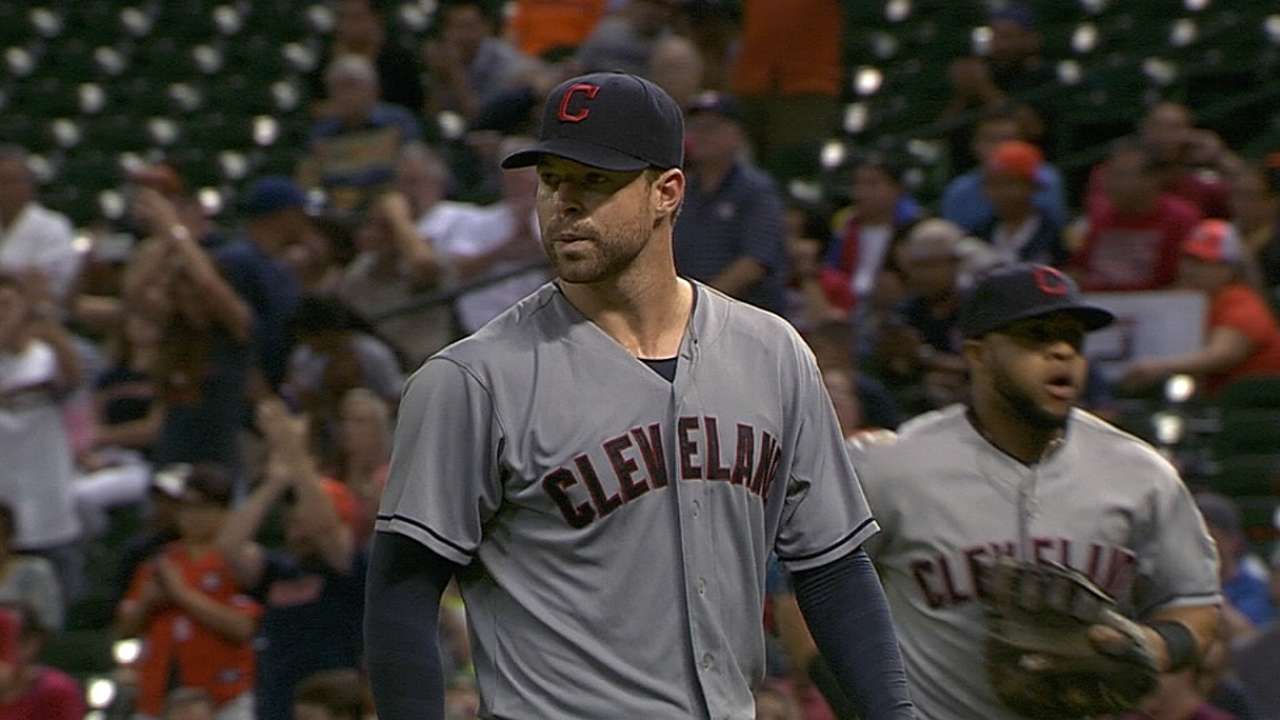 CLEVELAND -- At the start of September, right-hander Corey Kluber did not like answering questions about possibly fighting fatigue. Indians manager Terry Francona was not too thrilled with having to address that issue, either.
With one week left on the regular-season slate, Kluber had done more than enough to end such speculation, while also increasing his chances of challenging for the American League Cy Young Award. After the way Kluber has pitched in his past four starts for Cleveland, Francona had a message for anyone who questioned the starter's stamina.
"I'm going to fall back on, 'I told you so,'" Francona said on Monday. "He wasn't tired, and everybody wanted to jump on and nag at Klubes, and I think he was aggravated by it. He's worked too hard."
On Sunday in Minnesota, Kluber matched a career high by striking out 14 batters in his eight-inning gem against the Twins. The right-hander has struck out 14 in consecutive starts, becoming the first pitcher (and just the ninth in the past 100 seasons) to have at least that many punchouts in back-to-back outings since Randy Johnson achieved the feat in 2004.
Kluber has been nothing short of spectacular in his four starts since giving up five runs in only 2 2/3 innings against the Tigers on Sept. 1. Since that outing, the right-hander has gone 4-0 with a 1.39 ERA and 43 strikeouts against three walks in 32 1/3 innings. For his work in his past two starts (2-0, 1.80 ERA), Kluber was named the AL's Player of the Week.
Through 33 starts this season, Kluber has gone 17-9 with a 2.53 ERA and an AL-leading 258 strikeouts in 227 2/3 innings.
"He had just gotten a little across his body for a couple starts there," said Francona, referring to the three-start stretch from Aug. 21-Sept. 1 in which Kluber went 0-3 with a 6.19 ERA. "He and [pitching coach Mickey Callaway] got together and kind of got him back on line. It's amazing how crisp he is. He commands his pitches so well that, man, he's just really good.
"Then, you take the intangibles and put it with his stuff, and that's turning him into one of the better pitchers in the game. That's very exciting."
Jordan Bastian is a reporter for MLB.com. Read his blog, Major League Bastian, and follow him on Twitter @MLBastian. This story was not subject to the approval of Major League Baseball or its clubs.