Yost not afraid to use rookie Finnegan in key spot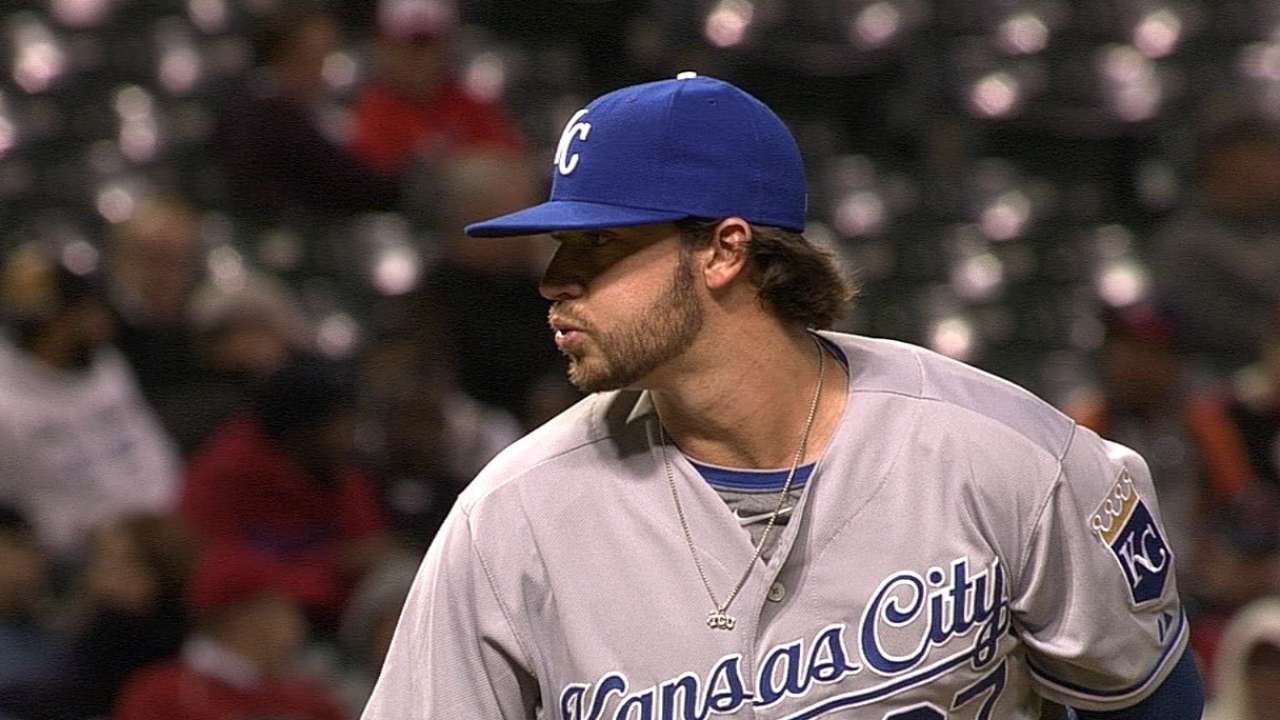 CLEVELAND -- Royals starter Danny Duffy, just back from an injury, was finished after six shutout innings. There was a 2-0 lead over the Indians on Monday night, and the seventh inning usually belongs to reliever Kelvin Herrera.
But wait. Herrera had been worked hard of late.
"I wasn't going to use Kelvin. Three innings in the last two days," said manager Ned Yost.
So what's a manager to do? Why, call in rookie left-hander Brandon Finnegan, with all of 4 1/3 innings on his Major League resume.
"I wanted to keep their left-handers on the bench," Yost explained. "Bottom of the order, there'd probably be pinch-hitters in that situation. I felt like Finnegan had enough to get those right-handers out, and then come around to the top of that order which was predominantly left-handed or switch-hitters. I felt like he could get the job done and keep the dangerous guys -- [David] Murphy and [Jason] Kipnis on the bench at that point."
So what happened? Finnegan pitched a scoreless seventh, pitching past a two-out double by Michael Bourn. Was the kid, drafted just this past June, nervous about this big moment in a pennant race?
"No. Runs are going to happen, hits are going to happen," Finnegan said. "There's nothing to get nervous about. You've just got to go out there and throw strikes. There's a lot of guys behind me to back me up, so there's nothing to be nervous about."
Runs, though, have not yet happened for the product of Texas Christian University. He still has a 0.00 ERA in five games, surrendering just three hits and no walks with eight strikeouts in 5 1/3 innings.
"Finney is handling everything that he's got going on right now like he's been here for a long time, and I'm really proud of him for coming up and doing what he did," Duffy said.
"Lord knows when I was 21, I was all over the place," Duffy added. "He's beyond his years and I'm really happy that we have him and I know all the boys in here are, too."
Finnegan, talking about the Royals cutting the Tigers' lead to one game, sounded like an old veteran.
"We've still got to keep grinding, no matter what they do," he said. "We've got to keep coming out here and playing our best baseball and keep winning. At the end of the season, six or seven days, we'll see where we're at."
Dick Kaegel is a reporter for MLB.com. This story was not subject to the approval of Major League Baseball or its clubs.