Tribe's playoff pursuit stalls in loss to Royals
After suspended-game win, Indians lose ground to KC in WC race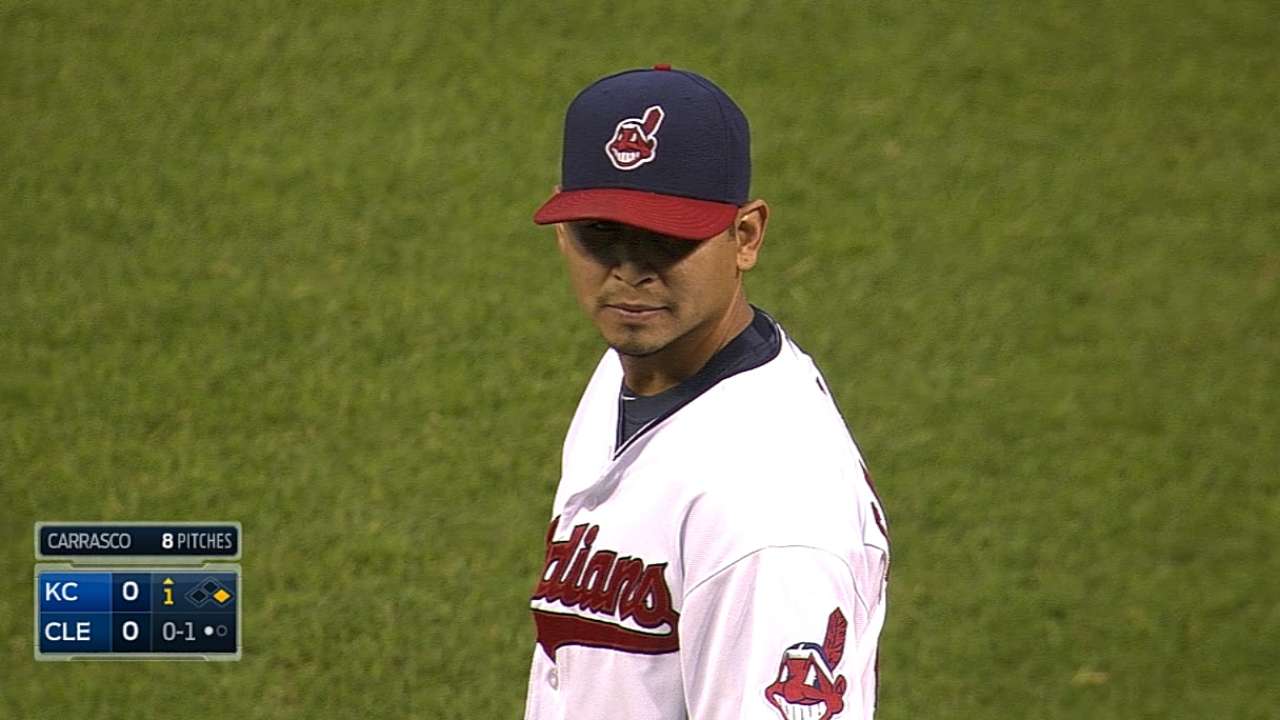 CLEVELAND -- The Indians are all too familiar with missed opportunities. Many of the players inside Cleveland's current clubhouse can still feel the sting of the stranded runners and absent runs in last fall's American League Wild Card Game.
On Monday night, while staring down a clear chance to gain ground in this season's Wild Card chase, the Tribe came up short again. The Indians' bats went quiet in Royals lefty Danny Duffy's return to the mound, spoiling a solid start from Carlos Carrasco and sending Cleveland on its way to a deflating 2-0 loss at Progressive Field.
There is no escaping the reality of the Indians' situation.
"There's not a lot of season left," Indians manager Terry Francona said. "Every time you lose a game, you're disappointed. We'll show up tomorrow and keep it simple. We'll just show up tomorrow and try to win."
The Indians (82-75) enjoyed a promising start to the evening by finishing off a 4-3, 10-inning win over Kansas City in the completion of the teams' suspended game from Aug. 31. Following the second game, Cleveland was right where it began the day: 3 1/2 games behind Kansas City in the hunt for the AL's second Wild Card spot.
The difference now is that the Indians only have five games left on the regular-season schedule, and they are not only trying to run down the Royals. The A's currently have a hold on one of the two AL WIld Card spots, while the Mariners and Yankees are positioned on either side of the Tribe in the standings, too.
"Any loss from here on out is going to make it more difficult," Indians infielder Mike Aviles said. "We really need help from other teams. We need Seattle to lose, we need the Royals to lose, Tigers to lose. The bottom line is we have to take care of what we can, which means winning some games."
The lone silver lining to Monday's events was the fact that Cleveland secured its second straight winning season for the first time since 2000-01. That positive step meant little in the aftermath of a defeat that was tough to swallow.
"We can summarize when it's time," Francona said. "Right now, we have to try to find a way to win."
Duffy, who had not pitched since Sept. 6 due to soreness in his throwing shoulder, rejoined the rotation and shut down Cleveland's offense for six innings. The Indians loaded the bases with no outs in the first inning, but then Carlos Santana (infield flyout), Yan Gomes (strikeout) and Aviles (flyout) went down in order with no runs pushed across.
"It was upsetting," Aviles said of the first inning. "We've got a guy bases loaded who hasn't pitched in awhile. We've got him on the ropes, and if we can get some runs early, rattle his cage. We were able to let him settle in, and he was able to go [six] innings on a limited pitch count."
That set an unfortunate tone for the night for the Tribe, which finished 1-for-7 with runners in scoring position, with nine runners stranded and one more caught stealing. Against Duffy, the Indians produced six hits and drew a pair of walks, but he ended with five strikeouts in his 96-pitch effort.
For the Indians, Carrasco added another strong start to his string of impressive performances since rejoining Cleveland's rotation in early August.
The big right-hander limited Kansas City to two runs, which both scored on singles that skipped off the glove of a Tribe defender. Eric Hosmer's RBI single in the first struck first baseman Chris Gimenez's glove before bouncing down the right-field line. In the fifth, shortstop Jose Ramirez could not corral a sharply hit grounder off the bat of Alcides Escobar, allowing Omar Infante to score.
"We should've made those plays right there. That cost me two runs," Carrasco said. "I thought they had a pretty good chance of making them, but sometimes we don't make those plays. That can cost us."
Carrasco finished with 7 1/3 innings, scattering seven hits and piling up nine strikeouts against just one walk. In his nine starts since moving back to the Tribe's starting staff, all Carrasco has done is post a 1.32 ERA with a 0.80 WHIP and a .183 opponents' batting average. In 61 1/3 innings during that span, the right-hander has amassed 68 strikeouts and only eight walks.
Carrasco has given Cleveland a formidable second starter behind rotation leader Corey Kluber, helping the Indians remain in the playoff race deep into September this season and providing hope for the staff's foundation for next season. In what has been a troubling theme in the second half this season, though, a lack of run support hindered stellar starting pitching.
"He's been unbelievable," Aviles said of Carrasco. "Everybody's been pitching so great. It's kind of like they have their own little competition amongst each other. Now, we need to get the offense going and get things on the right page. Then maybe we can do some fun stuff here."
Jordan Bastian is a reporter for MLB.com. Read his blog, Major League Bastian, and follow him on Twitter @MLBastian. This story was not subject to the approval of Major League Baseball or its clubs.