Tribe holds off Royals to complete suspended game
Cleveland picks up much-needed ground in postseason pursuit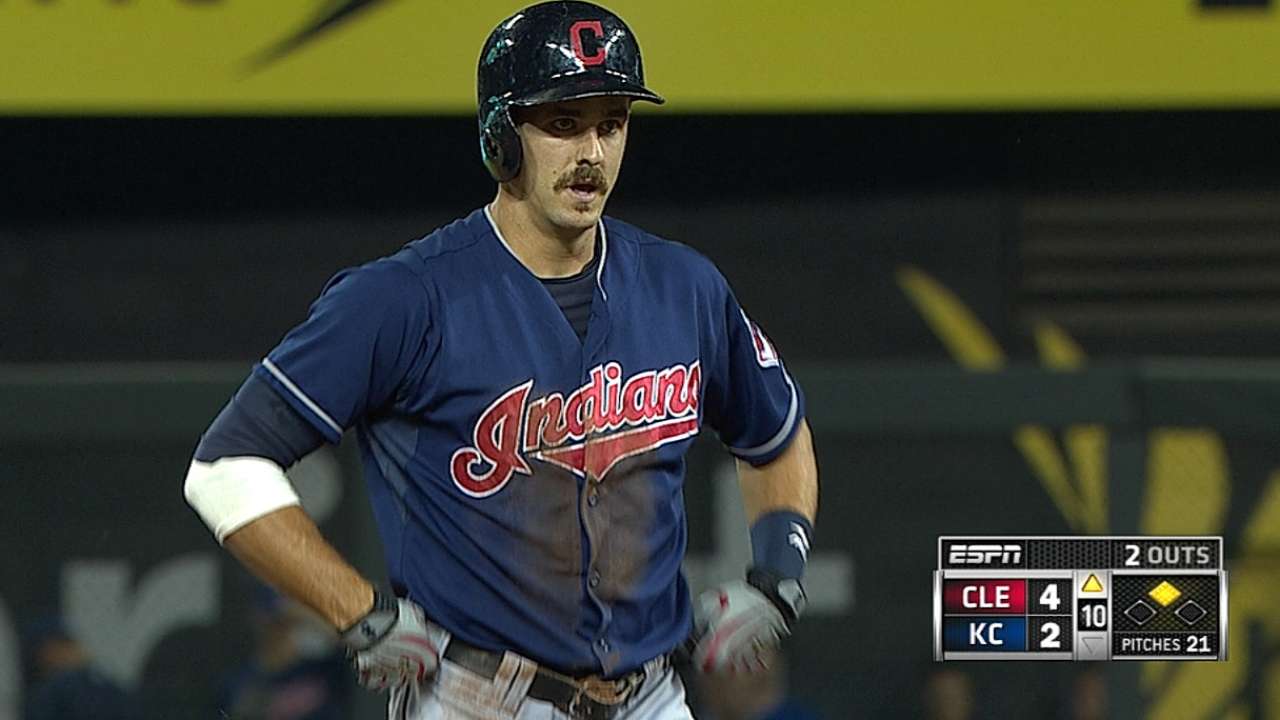 Editor's note: This was the completion of a suspended game that began on Aug. 31. As a result, the records listed in the box score reflect results through games of that day. However, as of the completion of the game, the Royals' record was 84-71 and the Indians' record was 82-74 heading into their game scheduled for 7 p.m. ET on Sept. 22.
CLEVELAND -- It took the Indians more than three weeks to record three critical outs against the Royals.
On Monday, Cleveland completed a suspended game with Kansas City, picking up an important 4-3, 10-inning victory over its American League Central rivals before beginning a key late-season series at Progressive Field. With a week left on the regular-season slate, the Royals are one of the teams that the Indians are frantically trying to chase down in the league's Wild Card race.
"When I got up this morning, I was nervous," Indians manager Terry Francona said. "I'd rather be nervous than packing. The guys have worked so hard to have this time left where you wake up and it's, 'Let's go.' I think our guys are embracing it. We've actually been in this situation for a while now, and I think our guys are doing a really good job with it."
While the win technically will be listed for Aug. 31, when Cleveland's game in Kansas City was suspended due to a rain storm in the final game of a three-game set at Kauffman Stadium, it gave the Indians six wins in their past seven games in the current time period. The victory also sliced the Tribe's deficit behind the Royals to 2 1/2 games in the race for the second Wild Card spot with the regularly scheduled Monday contest yet to be played.
Francona said over the weekend that he had been "consumed" with planning how to handle the resumption of the late-August game against the Royals.
Three weeks ago, Lonnie Chisenhall delivered a two-run double of Kansas City's Greg Holland to push the Indians to a 4-2 lead in the top of the 10th inning. That effectively erased the damage done by Alex Gordon's game-tying solo homer off Cleveland closer Cody Allen in the bottom of the ninth. Due to pitching in that game, neither Allen nor setup man Bryan Shaw were available for Monday's continuation.
Also unavailable for the Indians were left-hander T.J. House (the starting pitcher on Aug. 31) and infielder Mike Aviles, who was pulled for Chisenhall's pinch-hit appearance in the 10th. Second baseman Jason Kipnis, who has been dealing with a right hamstring issue lately, was replaced on defense by Justin Sellers for the final inning in Cleveland.
On Aug. 31, Indians rookie lefty Kyle Crockett was announced as the pitcher for the home half of the 10th inning. Rather than sticking with the lefty to face left-handed hitting Mike Moustakas, Francona dipped into his bullpen again and called upon veteran right-hander Scott Atchison.
Under odd circumstances, the Royals did what they could to rally.
Moustakas led off with a base hit to right field and pinch-runner Terrance Gore promptly stole second base. With two outs, Kansas City's Nori Aoki sent a pitch from Atchison to left field for a single, scoring Gore and cutting Cleveland's lead to one run. Jarrod Dyson then entered as a pinch-runner and swiped second to set things up for Omar Infante.
Atchison then induced a game-ending popout from Infante, collecting a save and sealing a win that was three weeks in the making.
The series in Cleveland will surely play a role in determining which two of the A's, Royals, Mariners, Indians or Yankees will wind up in the Wild Card Game. A year ago, the Tribe rattled off 10 straight wins to clinch a spot in the one-game playoff on the final day of the regular season.
"It's about as exciting as it can get," Francona said. "Last year, the regular-season ending was good, and then we lost in the playoff game. That was very hurtful. Now, we're trying to [get there] again."
Jordan Bastian is a reporter for MLB.com. Read his blog, Major League Bastian, and follow him on Twitter @MLBastian. This story was not subject to the approval of Major League Baseball or its clubs.