Indians to manage Kipnis' hamstring injury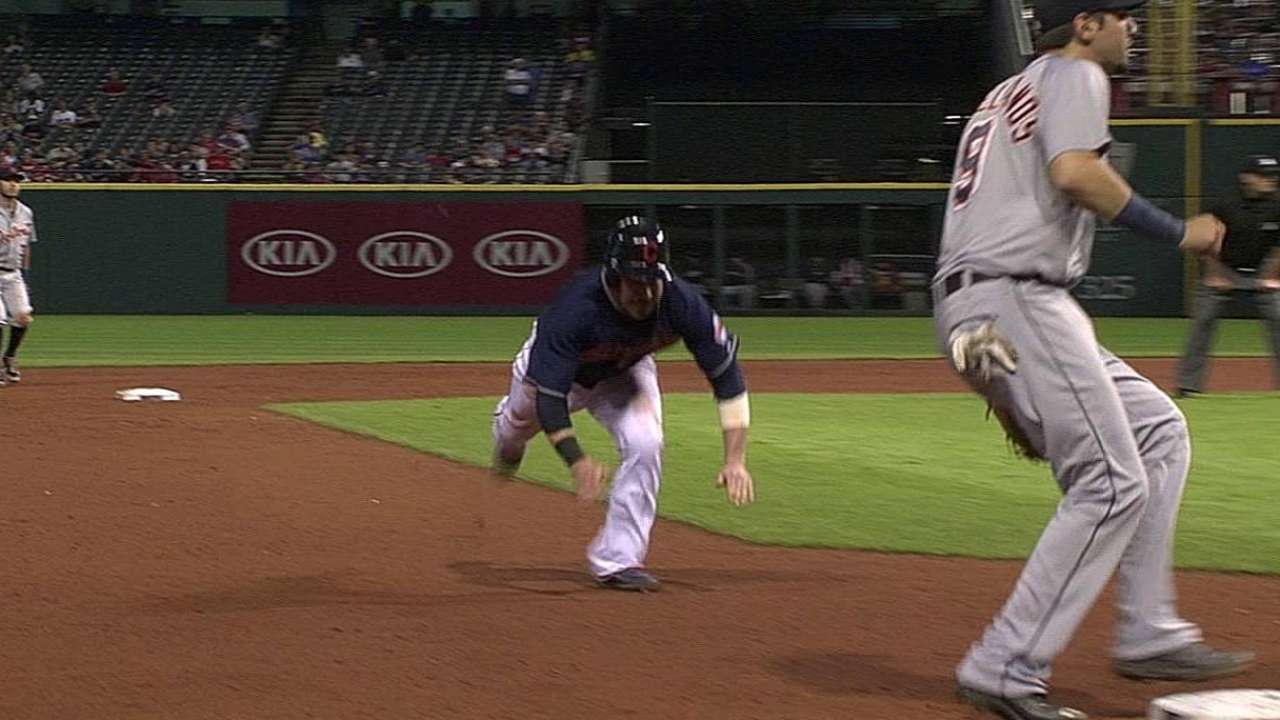 CLEVELAND -- Jason Kipnis has felt improvement with his ailing right hamstring in recent days, but the Indians are not ready to send the second baseman back to the field.
On Monday, Cleveland manager Terry Francona pulled Kipnis from the lineup for the conclusion of the Aug. 31 suspended game with the Royals, opting instead to send utility man Justin Sellers in for defense. Kipnis also was out of the starting lineup for the Tribe's regularly scheduled game, with Kansas City lefty Danny Duffy scheduled to start.
"Kip is OK," Francona said prior to Monday's games. "We're trying to monitor Kip and kind of get the most out of what he can do this last week."
Kipnis missed Wednesday's game in Houston with the hamstring issue and was forced to exit Thursday's game against the Astros with the same problem. After resting on Friday and Saturday, Kipnis returned to the Tribe's lineup as the designated hitter on Sunday and went 2-for-5 with a double in a 7-2 win over the Twins.
Prior to Sunday's game, Kipnis hit .200 (12-for-60) in 17 games this month. Francona noted over the weekend that the second baseman has been fighting the hamstring injury for at least the past week.
"He came through [Sunday] OK," Francona said. "He tried not to push it too much, which is by design. He certainly feels it, but he actually swung the bat pretty good."
Through 126 games this season, the 27-year-old Kipnis has hit just .243 with six home runs and 41 RBIs for the Indians, while dealing with multiple health issues. The second baseman -- named to his first American League All-Star team last season -- missed most of May with an oblique injury, which has likely contributed some to the offensive inconsistencies throughout the year.
Quote to note
"He's a good rookie. He doesn't talk much. He's polite, respectful and he competes. He's good."
-- Francona, on lefty Kyle Crockett
Smoke signals
• The Indians set a franchise record on Sunday by reaching a Major League-leading 1,391 strikeouts by the pitching staff, surpassing the club's 2013 single-season record (1,379). Heading into Monday's game, Cleveland was also riding a Major League-record six-game streak with at least 12 strikeouts by its pitchers.
• All-Star outfielder Michael Brantley entered Monday three RBIs and seven hits shy of reaching 100 RBIs and 200 hits on the season. If he reaches those plateaus, he would join Jacoby Ellsbury (2011) as the only Major League hitters in the past 20 years to have at least 20 stolen bases, 40 doubles, 100 RBIs and 200 hits in one year.
• Within his past two starts, right-hander Corey Kluber had a stretch of 13 consecutive innings with at least two strikeouts in each frame. That marked the longest multi-strikeout-inning streak in the Majors since May 8-13, 2001, when Randy Johnson accomplished the feat for the D-backs.
Jordan Bastian is a reporter for MLB.com. Read his blog, Major League Bastian, and follow him on Twitter @MLBastian. This story was not subject to the approval of Major League Baseball or its clubs.