Royals get 'split' with Tribe, close on Tigers in Central
Duffy strong in return as KC moves one game back in division race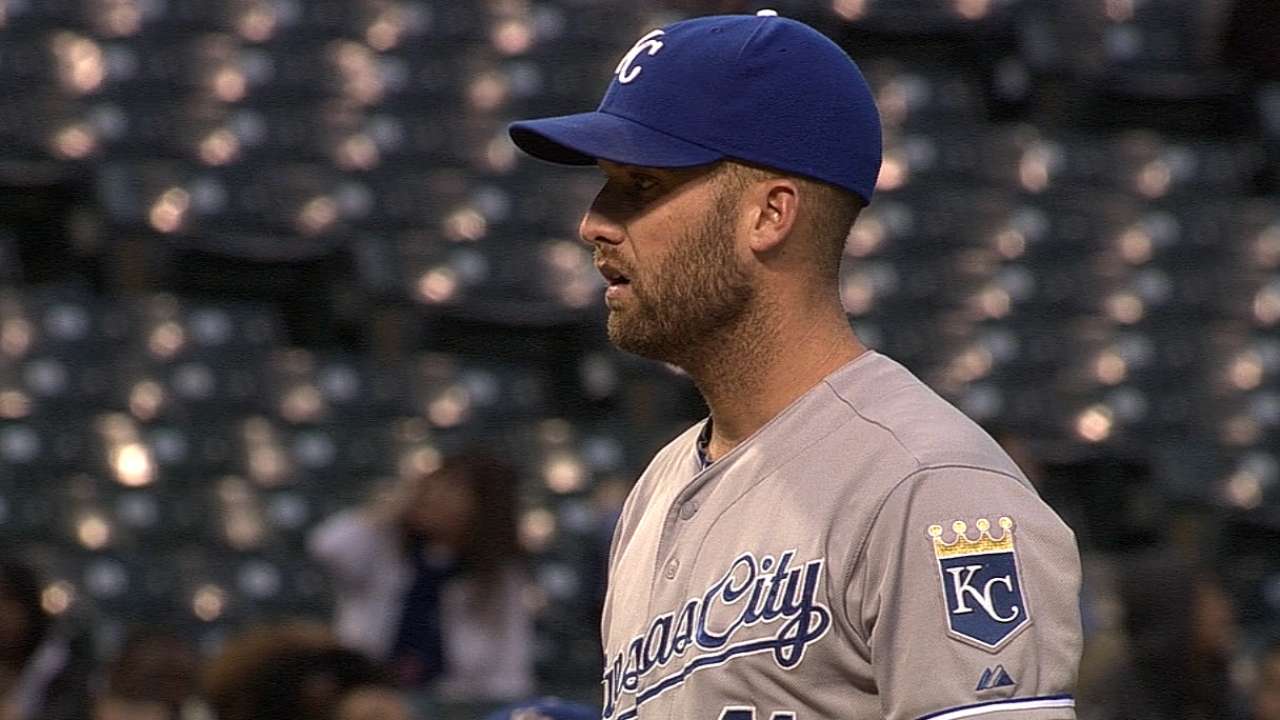 CLEVELAND -- Danny Duffy pitched six shutout innings in his return to the Kansas City rotation and the Royals added a clutch 2-0 victory over Cleveland to their postseason push on Monday night.

However, there was a loss added to the Royals' ledger as well. The evening began with the Royals taking a 4-3 loss in the 10th inning of a suspended game that began Aug. 31 in Kansas City and was completed at Progressive Field.
Even so, the victory in the regularly scheduled game had a big effect.
"You couple that with Detroit's loss and Seattle's loss and it was a good day for us," said Royals manager Ned Yost.
Indeed, the Royals climbed to within one game of first-place Detroit in the American League Central. The Tigers lost to the White Sox, 2-0. The team pursuing the Royals for the second AL Wild Card spot, the Mariners, also lost.
Strangely enough, it was Duffy who made the start for the Royals in that suspended game three weeks earlier, and now he also was pitching in Monday night's game. On paper at least, he was starting two games played on the same day.
Duffy, coming back from a shoulder problem smack dab in the final days of a pennant race in September, was determined to remain calm.
"I tried to make sure I treated it like any other start, and I realized how lucky I am to be out there in any month in the big leagues," he said. "It's every kid's dream, and I'm very lucky."
Duffy was in very hot water from the first turn of the tap. In the Indians' first inning, Michael Bourn walked, Jose Ramirez singled to left and Michael Brantley singled off Duffy's glove. The Brantley hit looked like a double-play ball to shortstop Alcides Escobar until Duffy intervened.
"That's just something that I always do," Duffy said. "I can't keep my glove off the balls up the middle. It's just something that's a reaction thing."
Just like that, it was bases loaded with nobody out. But Duffy escaped with three harmless outs.
"It wasn't anything I came off the mound fist-pumping about," Duffy said. "It's just something that we shouldn't have been in in the first place."
There were two more baserunners in the second inning and the pitches were piling up for him -- 44 in only two innings.
"He was a little rusty with his command but his stuff was phenomenal. He could power through it," Yost said.
Great stuff? Let's hear Duffy on that.
"It was probably the worst stuff I've had all year," he said.
Whatever. The thing was that Duffy decided to start pitching exclusively from the stretch position in the second inning, and that made a great difference.
"People might mistake the first couple of innings as being anxious or nervous or too pumped up, but I was really calm out there," Duffy said. "I just could not find my delivery out of the windup. We opted to go with the stretch after the first pitch of the second inning, and that's how we rode it out."
Meantime, the Royals nicked Carlos Carrasco for a run in the first inning on Nori Aoki's single -- his 17th hit in his last nine games -- plus his stolen base and Eric Hosmer's single lined off the first baseman's glove to score Aoki.
Omar Infante led off the fifth inning with a double to left and scored on Escobar's single for a 2-0 lead.
That's all the Royals needed because rookie Brandon Finnegan along with veterans Wade Davis and Greg Holland each pitched a scoreless inning -- the seventh, eighth and ninth, respectively. Holland picked up his 44th save.
"Unfortunately we couldn't get anything going," said the Indians' Mike Aviles, an ex-Royal. "Duffy was coming back from two weeks of not pitching. He was tough, throwing strikes, got out of a big jam early and settled in. Then everyone knows how good their bullpen is. They were able to keep us in check all night."
The Indians, hoping to hang on in the Wild Card race, are now 3 1/2 games behind the Royals.
"I'm really pumped, because this is a momentum shifter for our guys," Duffy said. "Everything that we went out and did tonight was a big thing for us. It was all really big. Everything from here on out is really huge."
Dick Kaegel is a reporter for MLB.com. This story was not subject to the approval of Major League Baseball or its clubs.