Mets complete three-year extension with Alderson
GM confirms Collins will continue as manager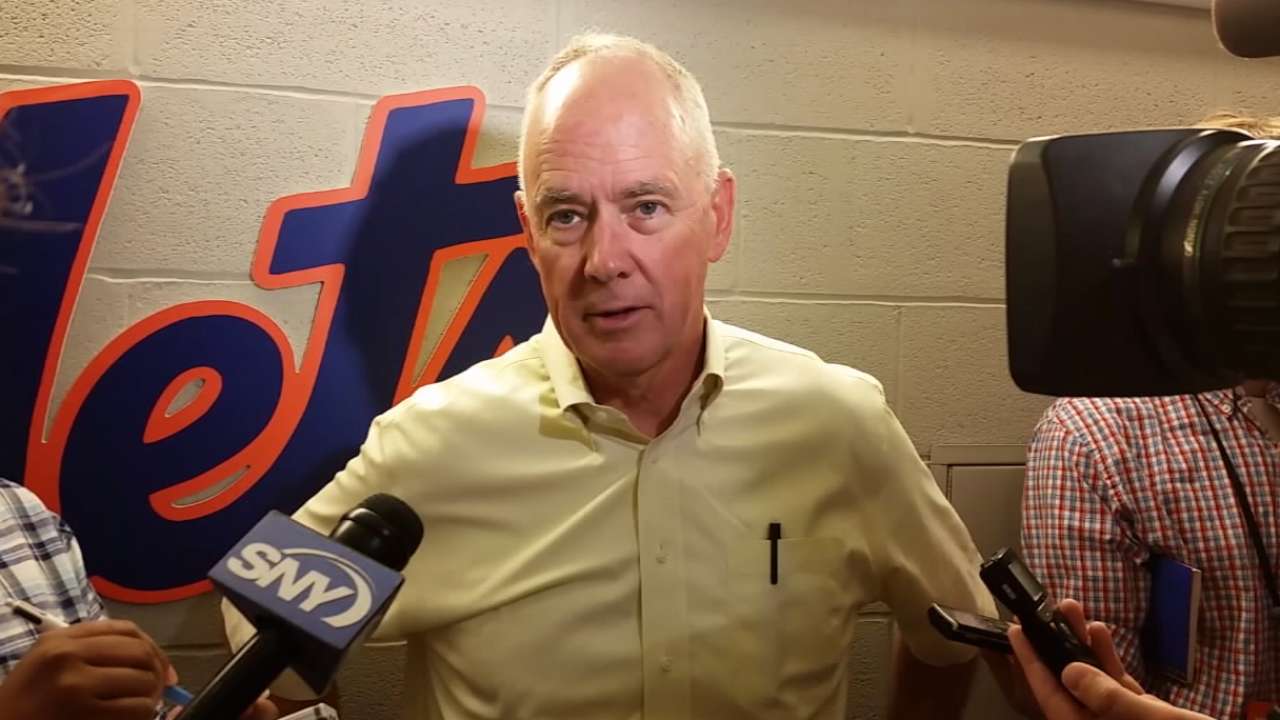 WASHINGTON -- Three years and 11 months ago, reeling from the effects of two straight losing seasons, the Mets embarked upon a general manager search that they hoped would alter the franchise's direction. Sandy Alderson came to the team with a storied resume and a no-nonsense approach, immediately setting to work revamping the front office and cutting fat from the roster.
Winning results have yet to arrive for the Mets, but ownership has been pleased enough with the process to continue down Alderson's path. The team on Tuesday announced a contract extension for Alderson through 2017, also confirming that manager Terry Collins -- who, unlike the GM, was already under guaranteed contract for next season -- will return in 2015.
"We're very happy with the process that's in place, the development of our players and the overall direction we're taking to get to the next level," COO Jeff Wilpon said. "We want Sandy to continue to explore all the ways to improve the team. He does have payroll flexibility, whether through free agency or trades. And we're looking forward to 2015, as well as Sandy's leadership and guidance, in getting us to the postseason."
Since coming aboard after the 2010 season, Alderson and Collins have guided the Mets to a 301-341 record. Frugality has dominated the era; best known for his work planting the seeds of the "Moneyball" A's in the 1980s and '90s, Alderson reduced the Mets' payroll from more than $140 million in 2011 to less than $85 million this season.
His most significant moves to date have been signing third baseman David Wright to an eight-year, $138 million extension, signing outfielder Curtis Granderson to a four-year, $60 million free-agent deal, and trading Carlos Beltran, R.A. Dickey, Ike Davis and Marlon Byrd for prospect packages including Zack Wheeler, Travis d'Arnaud, Noah Syndergaard and Vic Black.
"Obviously we're not at the point that we'd like to be in terms of our won-lost record and the overall success of the team," Alderson said, citing the club's Draft strategy and development of young players as high points of his tenure. "I think the overall direction of the team is pretty good. But we need to translate the progress that we've seen in the organization and across the franchise into more wins. I don't think we're that far away. I really don't believe that this is going to take a giant leap to get to a playoff-competitive level, and I hope I'm right about that."
The Mets are on pace this season to win 79 games, which would be their highest total since before Alderson came aboard. Though the four-year contract he signed prior to 2011 was set to expire after this season, most around Flushing never doubted he would return to finish the rebuilding process that he started.
The team did not technically need to address Collins' return, as he is under a guaranteed contract for next season, but did so anyway upon announcing Alderson's extension. The GM added that he does not expect any major changes to his front-office staff, and that he and Collins will address their coaching staff after the season.
"I'm excited -- I mean very, very excited," Collins said. "These jobs are special. This is a special place. I've said it many times: We're very, very close."
While Alderson's future was technically uncertain until this week, he has spent much of September openly discussing his plans for the 2015 Mets. In particular, Alderson hopes to keep the club's starting pitching and bullpen core intact, while upgrading the lineup. Left field and shortstop are the roster's most vulnerable areas, with Alderson recently beginning to champion Wilmer Flores' case for the latter position. The Mets are likely to dip into free agency to address their outfield.
More than ever, the 2015 Mets will be a reflection of Alderson. In addition to pieces such as Granderson, Wheeler and d'Arnaud, all of whom Alderson acquired, the Mets could see production out of the first significant wave of Alderson's Draft picks: most notably, outfielder Brandon Nimmo and shortstop Matt Reynolds.
Still, marks of Omar Minaya's previous GM regime remain embedded in the organization. Pitchers Matt Harvey, Jacob deGrom, Jon Niese and Dillon Gee were all Minaya draftees, as were infielders Flores, Lucas Duda and Daniel Murphy, outfielder Juan Lagares, and relievers Jenrry Mejia, Jeurys Familia and Josh Edgin. Most, if not all, of those names figure to play significant roles in 2015.
"We've gotten ourselves to a point where I think we're going to be a very good team next year," said Wright, by far the longest-tenured Met. "We finally have gone through some of these rougher years, [and] the expectations that we have on ourselves moving into next year should be pretty high. And I think that a lot of that optimism going into next year is because of Sandy, because of what Terry's done with these younger players these last few years. Overall, I'm very optimistic and I'm excited about what the very-near future holds."
Anthony DiComo is a reporter for MLB.com. Follow him on Twitter @AnthonyDicomo. This story was not subject to the approval of Major League Baseball or its clubs.