Solving bullpen puzzle Reds' offseason priority
After disappointing results in 2014, club may seek more cost-effective options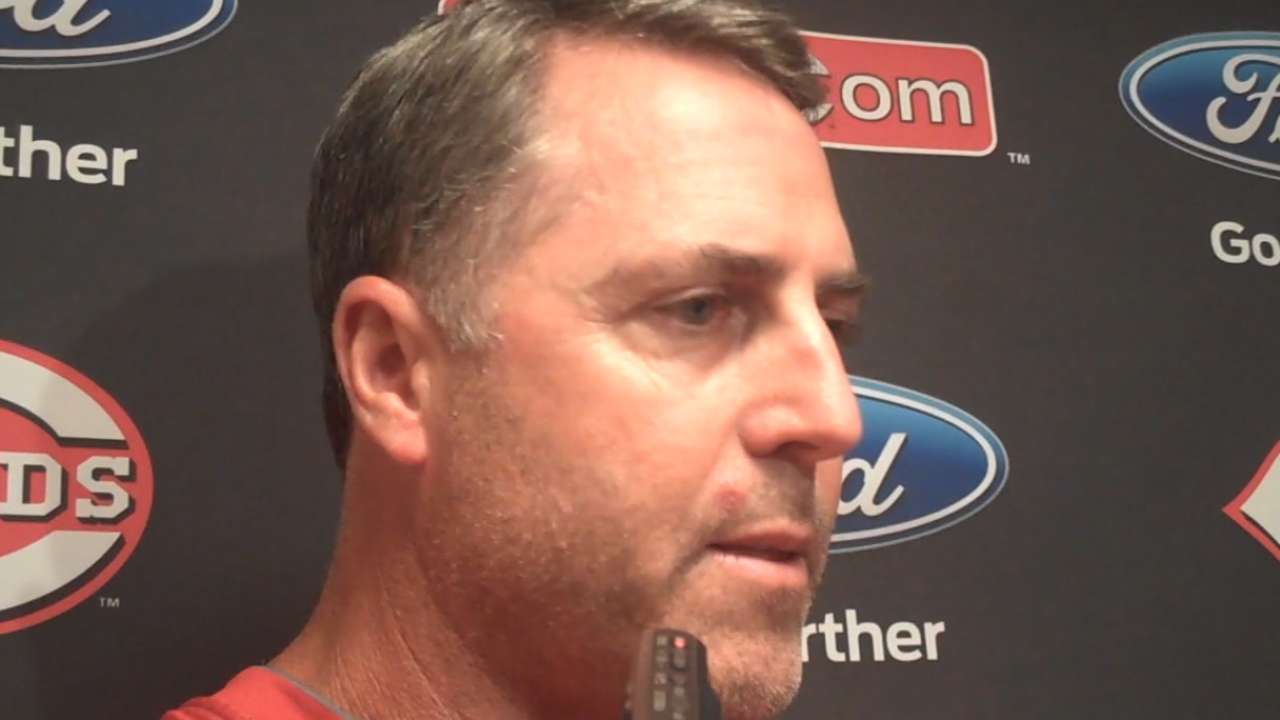 ST. LOUIS -- When Reds players disperse for the offseason after Sunday's season finale, the front office, coaches and manager Bryan Price will quickly begin to evaluate the things that went wrong and try to figure out how to get it right again.
The bullpen most certainly will be one area near the top of the list. Trying to bridge the gap from the starting pitchers in the middle innings to closer Aroldis Chapman in the ninth proved to be one of Cincinnati's biggest weaknesses.
"We've had a long, consistent look at our pitching," Price said. "I think it was a down year for handful of guys in our bullpen, as far as stuff and command. There is no doubt I leaned on the starters a lot more than we have in years past, because I believe that's how you win -- with starting pitching and good late, back-end bullpen stuff.
"We have to find a way to make it a strength again."
Here's a look at just some of the ugly numbers:
• The Reds bullpen's 4.13 ERA ranks 14th out of 15 National League teams.
• In the second half, Cincinnati relievers have gone 0-16 with a 4.56 ERA
• J.J. Hoover is 1-10 with a 5.19 ERA in 51 appearances. His string of 10 consecutive losing decisions is the longest in club history for a reliever. Hoover's loss total is tied for a club record for a reliever. He has allowed 13 home runs. In 2013, Hoover rebounded from a bad opening to the season to post a 2.82 ERA, eventually leading the staff with 69 appearances.
• After strong 2011 and '12 seasons, Logan Ondrusek has a 5.49 ERA in what has been his second subpar campaign in as many years.
• Lefty Manny Parra has a 4.66 ERA after emerging last season as one of the club's most dependable relievers.
"Relief pitching, I think, is the most temperamental of any of the positions in baseball," Price said.
The bullpen started the season with adversity. Chapman was struck in the head by a line drive during Spring Training and needed surgery to repair fractures above his left eye. He did not return until May 11. Setup men Jonathan Broxton and Sean Marshall started the year on the disabled list. A Spring Training injury to starter Mat Latos forced Price to move dependable long and middle reliever Alfredo Simon into the rotation.
Chapman came back and still had one of his best seasons, as did Broxton before he was traded to the Brewers on Aug. 31. Getting to those relievers without the opponent adding on runs was the problem.
How can the Reds fix their bullpen? It won't necessarily require spending lots of money. This was already an expensive group to begin with.
The combined salaries of the seven Cincinnati relievers heading into the 2014 season was $22.57 million. By comparison, the Mariners own the Major Leagues' best bullpen ERA and spent only $10.65 million on their top seven relievers. Only closer Fernando Rodney -- at $7 million -- had a seven-figure salary.
As a small-market team with a payroll greater than $100 million and some big obligations in other areas, the Reds should scour the less expensive options on the free-agent market in January and stockpile low-cost relief help. They can see what works and what doesn't, and the club will have lower risk. If a guy doesn't perform, the team can be less afraid to cut the cord and not lose much money.
Cincinnati will get some payroll relief without Broxton's hefty $9 million salary for 2015. But the club will still owe Marshall $6.5 million because he has pitched 31 games the last two seasons. Parra is signed for $3.5 million next season, and LeCure is due to earn $1.8 million. Chapman and Ondrusek are eligible for arbitration.
One area of intrigue could be Chapman, who might bring a decent return if he's traded. It would allow the Reds to address other holes -- namely their biggest offseason need, offense. If Cincinnati keeps Chapman, the club will have one of the game's best closers, who showed himself to be more durable and more effective with secondary pitches that complement his 100-mph fastball.
There are some in-house options who will certainly get a shot to make the roster next Spring Training and won't be expensive. Lefty Tony Cingrani has had durability issues as a starter, but he's a former college closer with a mid-90s fastball. Cingrani could slide into the bullpen if he's not selected to start next year.
Right-hander Jumbo Diaz, a 30-year-old rookie who shed 69 pounds last offseason, was often impressive and could be a late-innings option. Pedro Villarreal, who was moved off the 40-man roster last year as a starter, pitched himself back on the roster this year as a reliever, and he has often looked good in September. And there is the arbitration-eligible Simon, who could always return to a bullpen role if he's not back in the rotation.
While their spots might seem tenuous at best, pitchers like Hoover and Ondrusek shouldn't be written off, Price indicated.
"You can't take one season and say, 'This guy doesn't have Major League value on a winning team for the Reds simply because he struggled in the second half of 2014 or basically had a down year,'" Price said. "We have to evaluate this stuff and the probability of these pitchers returning to form."
Mark Sheldon is a reporter for MLB.com. Read his blog, Mark My Word, and follow him on Twitter @m_sheldon. This story was not subject to the approval of Major League Baseball or its clubs.