Royals won't stand in Moore's way
Club 'can't imagine' general manager would be interested in Braves' GM vacancy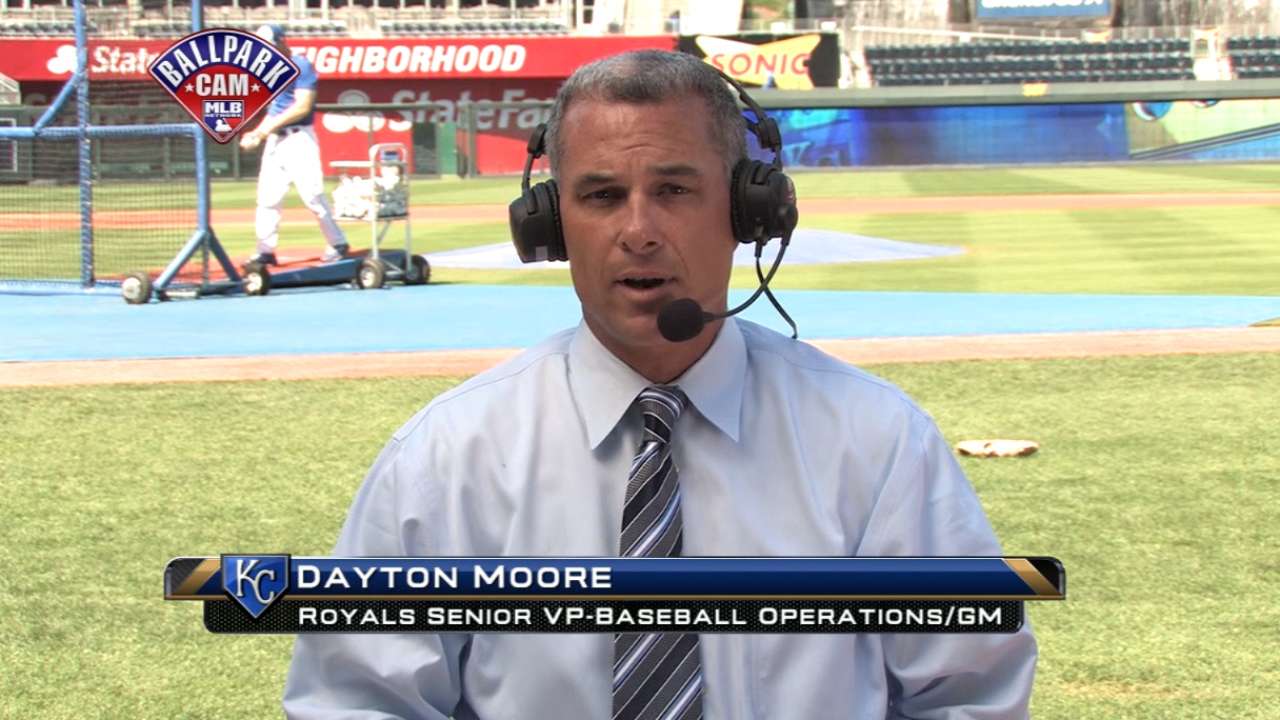 CLEVELAND -- Royals chairman and owner David Glass said on Monday that he doubts that general manager Dayton Moore would want to take the currently vacant Braves general manager job, but that he wouldn't stand in Moore's way if Moore wanted to leave Kansas City.
Speculation about Moore began almost immediately after the Braves dismissed Frank Wren as their GM on Monday. Moore, whom Kansas City hired away from Atlanta in 2006, is under contract with the Royals through 2016. Moore declined to comment when asked about the Braves' vacancy.
"I can't imagine that Dayton would want to go anywhere else," Glass told MLB.com. "[Royals president] Dan [Glass] and I have always had the philosophy that if someone wanted to do something else than what we had, we wouldn't stand in their way. Why would anyone want to keep anyone that wouldn't want to be there?
"I'm confident that Dayton is committed to Kansas City, and we're committed to him. He's a good baseball guy, and we're in this thing together."
Former Indians and Rangers GM John Hart was named the Braves' interim GM, but he indicated he would not leave his job as an MLB Network analyst to take on the Atlanta job on a full-time basis.
Hart will join Braves president John Schuerholz and Hall of Fame manager Bobby Cox as part of a transition team that will search for a new GM. Schuerholz is a former Royals GM who moved to the Braves in 1990 and helped steer them to 14 consecutive division championships.
Just after the Royals' 2013 season, in which they made a run at an American League Wild Card berth, David and Dan Glass signed Moore to a contract extension through 2016. Moore's previous contract ran through this year.
"He's a great baseball man, but he's also a very great person," David Glass said of Moore.
Moore was hired on May 30, 2006, to succeed Allard Baird as the Royals' GM. He had worked with the Braves since 1994, serving in his last year there as assistant GM of baseball operations. Moore originally joined Atlanta as an area scouting supervisor and worked his way up the front-office ladder, playing an important role in the team's 14 consecutive division titles.
Under the Glasses' ownership, Moore strived to rebuild Kansas City's Minor League system to provide more homegrown players that can help the club. In that, he succeeded; the Royals' system was recognized as the best in baseball in 2011 by several media organizations.
When the Royals won 86 games last season, it was their highest total since 1989. This season, the club's battle for its first postseason berth since 1985's World Series-winning team has brought more national attention to the Kansas City franchise and Moore.
Moore is from Wichita, Kan., and grew up rooting for the Royals. When he took Kansas City's GM job, he remembered that at age 19, he parked alongside Interstate 70 above what was then known as Royals Stadium to watch the climactic Game 7 of the 1985 World Series against the Cardinals.
Dick Kaegel is a reporter for MLB.com. This story was not subject to the approval of Major League Baseball or its clubs.