Mets farmhands take right mindset into 2015
No. 2 prospect Plawecki undaunted by catcher surplus; Matz in rotation mix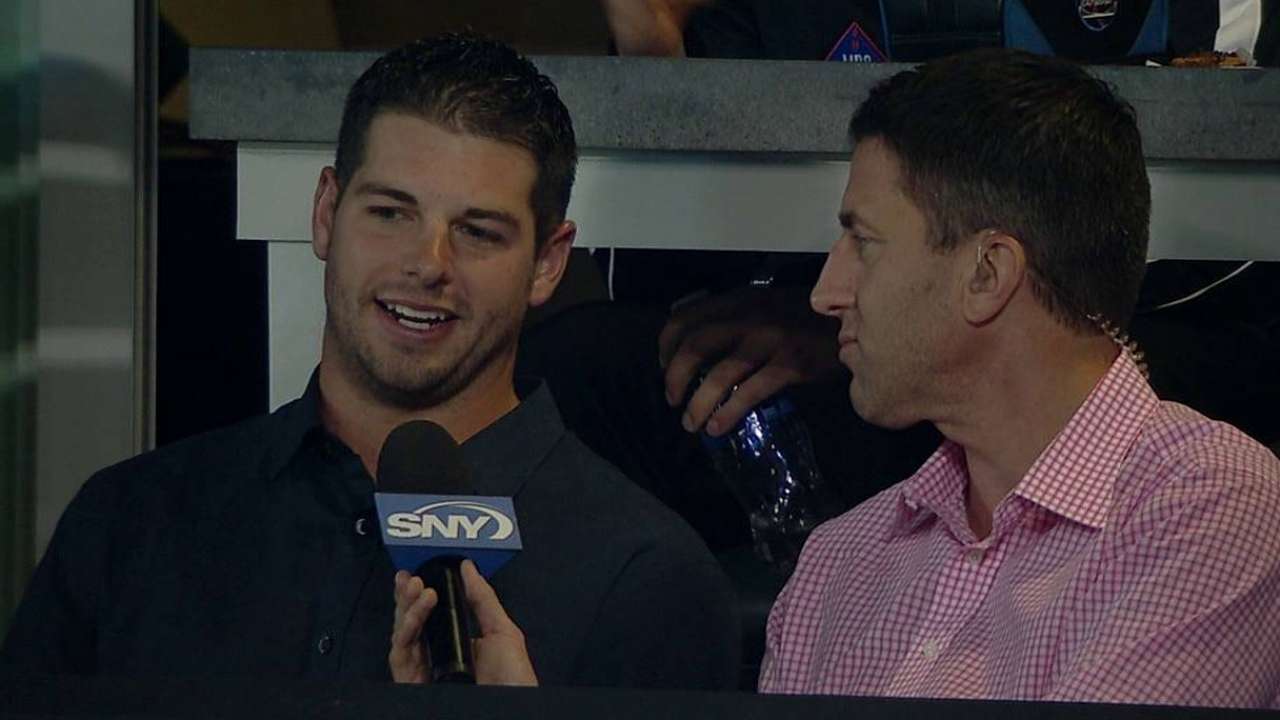 NEW YORK -- Many jewels of the Mets' farm system have already arrived in Flushing. Matt Harvey and Zack Wheeler are Major Leaguers. Travis d'Arnaud is, too. Wilmer Flores is trying to stick at this level, having proven all he can in the Minors. New York's bullpen is stocked with young arms.
But a few intriguing chips remain in the upper levels of the farm, ready to contribute as soon as next season. Several of them made their way to Citi Field last week, taking time to discuss their personal situations heading into the offseason:
Steven Matz, LHP (No. 9 prospect)
The lefty took a big step toward making good on a childhood dream this season. The Long Island native, who grew up a Mets fan, posted a 2.24 ERA and a 1.19 WHIP in 24 starts with Class A Advanced St. Lucie and Double-A Binghamton, then carried a no-hit bid through seven innings in the Eastern League championship game.
General manager Sandy Alderson considers Matz a part of the organization's Major League starting-rotation depth for 2015.
"You don't see a left-hander sitting 93-94 [mph] consistently with the assortment of pitches that he has," Alderson said. "He's very definitely on the short list at this point."
Added Matz: "I'm pretty encouraged. It's pretty awesome to be in the mix."
"Definitely, my curveball has come a long way from last year," Matz said. "I feel a lot more confident throwing it early in the count and putting hitters away with it when I'm ahead in the count. It's almost like I can have two gears with it now, whereas last year, I was just flipping it in there and hoping for the best."
Brandon Nimmo, OF (No. 3)
Nimmo's process of breaking down his body and building it back up again began last year in mid-October, when the outfield prospect began a diet and exercise regimen to shed a significant chunk of his roughly 208 pounds. A month later, Nimmo reported to the IMG Academy in Bradenton, Fla., where trainers taught him to put the weight back on the right way.
Working alongside established stars such Pittsburgh's Andrew McCutchen and Chicago's Starlin Castro, Nimmo spent five to six hours a day training to improve his body control, flexibility, vision and nutrition. Combined with plenty of baseball activities, that work allowed Nimmo to bulk back up to a leaner, fitter 208 pounds by the start of Spring Training.
"It was great for me," said Nimmo, whose breakout 2014 season included a .278/.394/.426 line over two levels, as well as a stark decrease in his strikeout rate. "I think that's been the translation into this season and the [increased] power numbers that you guys saw. But it's also just me maturing. I'm 21 years old. I still have more growing to do. I still have more fill-out and more strength to get."
The 13th overall pick in the 2011 First-Year Player Draft, Nimmo should reach Triple-A Las Vegas at some point next summer.
Kevin Plawecki, C (No. 2)
If both players develop the way the organization expects them to, the Mets are going to have a big question to answer -- d'Arnaud or Plawecki?
The latter catcher batted .283/.345/.421 in 43 games with Las Vegas this season. That came after Plawecki had a slash line of .326/.378/.487 with Binghamton.
"It's my second full season of pro ball, and I just finished in Triple-A," Plawecki said, "so there's not really much to complain about."
Alderson suggested Plawecki might be in the Majors already if not for the Mets' 40-man roster crunch. Alas, Plawecki is satisfied to wait his turn -- and could envision himself and d'Arnaud playing together someday.
"Well, there are two catchers in the big leagues," Plawecki said with a smile, before getting more serious. "It is what it is. It's never a bad thing to have two catchers in an organization, and a lot of that is out of my control. All I can do is play hard every day and work hard on the things I need to work on and stay consistent with that. Whenever my time comes, I'll be ready for it."
Matt Reynolds, SS (No. 20)
For the Mets, no position on the diamond remains more unsettled than shortstop, where Alderson has more than a few options for 2015. The GM could stick with Flores, gambling on the 23-year-old's high-upside bat. He could spring for one of the top free agents available, choosing from a group that includes J.J. Hardy, Jed Lowrie and Asdrubal Cabrera. The Mets could even make a trade.
Or Alderson could look to Reynolds, who rocketed up prospect charts by batting .343 with a .405 on-base percentage in 126 games split between Binghamton and Las Vegas.
Yet despite his success, Reynolds insists he paid little attention to what Flores, Ruben Tejada and the organization's other shortstops spent this summer doing.
"Honestly, no," Reynolds said when asked if he kept close tabs on the situation. "I just worry about myself and the team that I'm on. When that time comes and I get called up, I'll start worrying about that team. But during the season, I wasn't looking ahead or behind. I was just focused on the present."
Anthony DiComo is a reporter for MLB.com. Follow him on Twitter @AnthonyDicomo. Tim Healey is an associate reporter for MLB.com. This story was not subject to the approval of Major League Baseball or its clubs.