Marlins make most of challenging campaign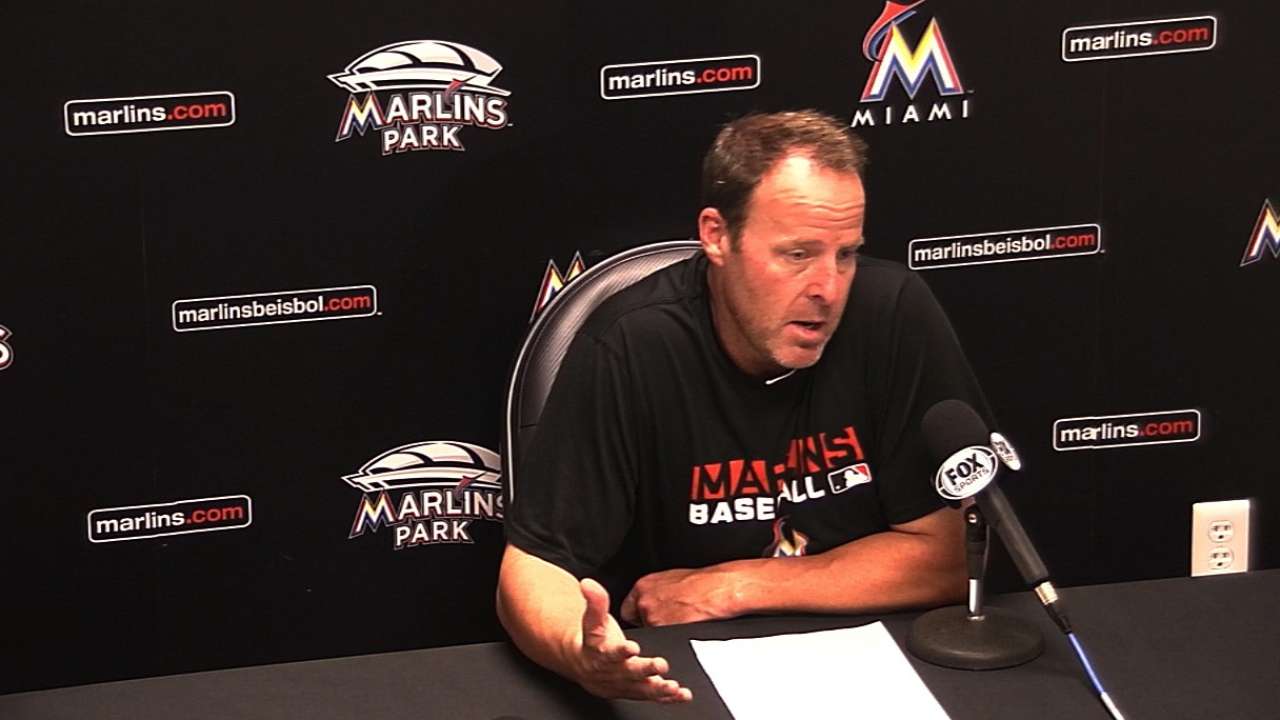 MIAMI -- A season filled with so much hope and optimism ultimately turned into a campaign that left the Marlins wondering what might have been if not for two crushing injuries.
Watching their ace, Jose Fernandez, a potential National League Cy Young Award candidate, go down in May crippled the rotation early. Still, the resilient squad kept things interesting until its NL MVP Award front-runner, Giancarlo Stanton, was struck in the face with a fastball. Now, with seven games to go, Miami is limping to the finish line instead sprinting toward the playoffs.
"It's a big blow," Marlins president of baseball operations Michael Hill said. "Without question, it's a big blow when you don't have your top pitcher or your top hitter to finish a season."
Fernandez and Stanton aren't just two gifted players. They are two franchise-caliber players. When healthy, they're probably top-five finishers for the Cy Young and MVP awards.
Even without their two young superstars, the Marlins created a culture emphasizing that they could compete no matter the obstacles that stood in their way. In many ways they did.
They remained mathematically alive in the NL Wild Card race until Saturday, or with nine games remaining. They had a real chance to finish above .500 for the first time since 2009. But attrition to the roster finally caught up, and the team is 74-81 after being swept in a four-game set with the Nationals over the weekend.
"We've tried to build the deepest roster we possibly could and create a mindset in that clubhouse of no excuses, and next man up and next man up to do their job," Hill said. "In this game, you can't make assumptions. You can't speculate. Things happen. No matter what happens, you're going to be playing 162 games in a regular season. That opponent you're facing, they're not going to do you any favors."
Miami's resolve will be tested even more in the final seven games, because center fielder Marcell Ozuna is now out with a high right ankle sprain suffered in Sunday's 2-1 loss to Washington.
But the crucial blows were Stanton and Fernandez.
The way the season played out, the Marlins felt they could weather being without one of their stars. Surviving without both was just too much.
Stanton, who sustained multiple facial fractures after being hit by the pitch on Sept. 11 at Milwaukee, played in 145 games. He likely will be the Marlins' first NL home run champion. Stanton has 37, but will have to see if anyone makes a late push (the Cubs' Anthony Rizzo is second with 31). The two-time All-Star also knocked in 105 runs, and his slash line ended up at .288/.395/.555.
According to Fangraphs.com, Stanton's WAR is 6.0, and Fernandez had a WAR of 1.6.
Fernandez underwent Tommy John surgery in mid-May, after just eight starts, in which he went 4-2 with a 2.44 ERA with 70 strikeouts in 51 2/3 innings.
The Marlins are optimistic that Stanton will be his old self at the start of Spring Training. Fernandez, who will begin his throwing program on Oct. 1, should be back around the All-Star break.
"It's two instances where injuries happen," Hill said. "You deal with it. You know players have come back from those injuries. We're confident that both will be back better than ever, with the resolve to help this club win a championship."
A positive the club is taking out of the trying season is that it is continuing to build stronger overall organizational depth.
Fernandez's absence helped lead to the organization acquiring right-hander Jarred Cosart from the Astros in July. In that deal, Enrique Hernandez was obtained. He's now getting playing time in center field and right field with Ozuna and Stanton both out.
"When injuries happen, it's always an opportunity for someone to step up and fill in and do their part to help the club," Hill said. "I think we all recognize in this sport you don't do it alone. It takes not just a 25-man roster. It takes a 40-man roster. It takes a strong Minor League system to win a championship. Things happen, and you have to deal with it."
Joe Frisaro is a reporter for MLB.com. He writes a blog, called The Fish Pond. Follow him on Twitter @JoeFrisaro. This story was not subject to the approval of Major League Baseball or its clubs.