Wren dismissed by Braves; Hart named interim GM
Three-man transition team, including Schuerholz and Cox, will conduct replacement search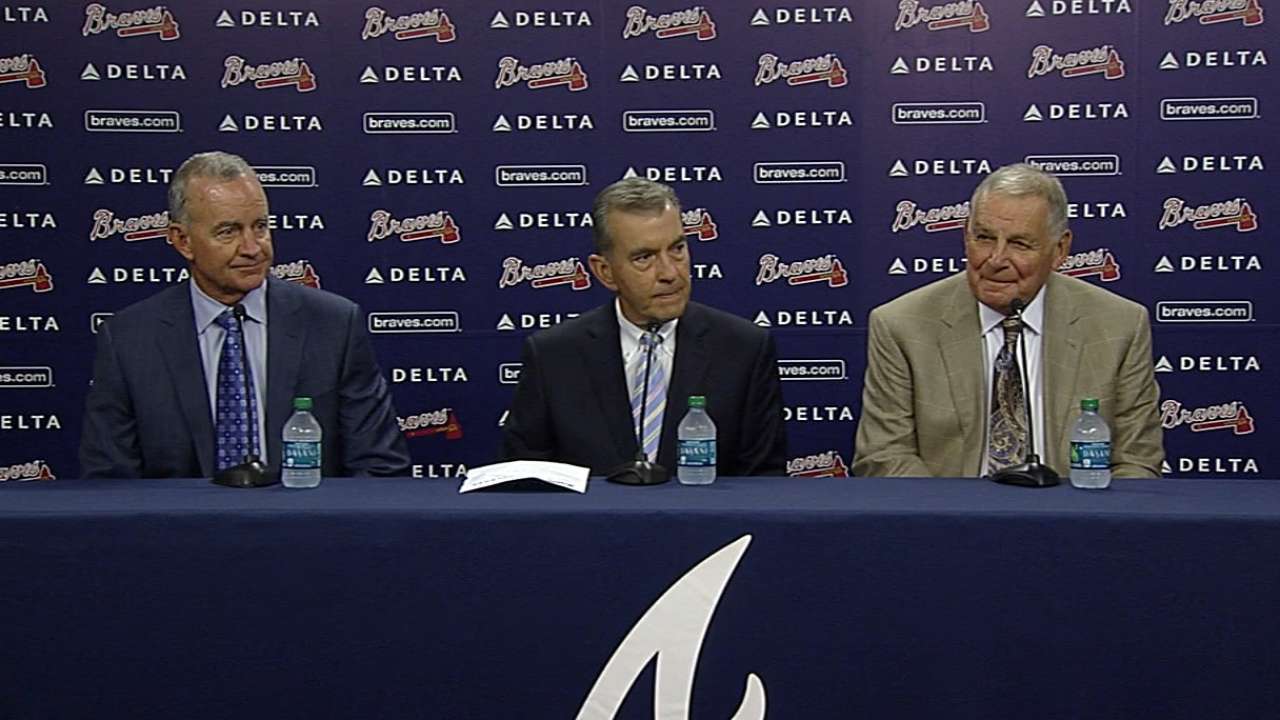 ATLANTA -- Nearing the end of their most disappointing season in more than two decades, the Braves relieved general manager Frank Wren of his duties on Monday morning.
The Braves also parted ways with executive vice president/assistant general manager Bruce Manno. Longtime baseball executive John Hart was named interim general manager.
Though this year's struggles influenced the decision to part ways with Wren and Manno, team president John Schuerholz made it clear that he saw a need to alter the culture of the organization as early as this summer, when the Braves were still leading the National League East.
"I would say it was cumulative; I can't tell you exactly what period of time," Schuerholz said. "But as we began to examine things in our farm system and our scouting department and on our Major League club, it was a cumulative thing. I can't give you the exact date."
During Atlanta's eight-game losing streak in early August, there were some rumblings that the Braves might part ways with Wren. But instead of making a move that could have been viewed as a spark or a disturbance in the midst of the season, the Braves opted to wait until Monday, the day after they were mathematically eliminated from the playoff picture.
"It was time for the organization's well-being," Schuerholz said. "It was time, having been eliminated from any postseason possibility, rather than continue to wait, that it would give us an opportunity to form our committee and start this transition a week sooner than perhaps, and we thought it was the right day."
Despite the fact that the Braves have experienced late-season collapses in two of Fredi Gonzalez's four seasons as their manager, Gonzalez is safe for now. Schuerholz said that Gonzalez's status could be influenced by the decision the club makes in regard to hiring a new GM.
Gonzalez can be comforted by the fact that he has received a vote of confidence from his mentor, Hall of Fame manager Bobby Cox, who seems prepared to assume a more significant role with the organization. There was a disconnect between Wren and Cox when they were the GM/manager duo from 2008-10, and Cox has been relatively quiet within the organization since his retirement.
Cox, Schuerholz and Hart will serve as the committee that searches for the club's GM. This was the first time since Cox replaced Russ Nixon on the bench midway through the 1990 season that the Braves have dismissed either a GM or manager. The last GM to be dismissed was John Mullen, also in 1990.
"I'm just glad to be a part of it, and I'm going to do anything I can with my ideas to help John Schuerholz and John Hart come to some conclusion about the team," Cox said.
The club would like to make a decision on a replacement for Wren before the General Managers Meetings, which are held in early November.
Though Schuerholz would seemingly like Hart to become the GM on a full-time basis, Hart will handle the role for the next few weeks and serve as a mentor to assistant GM John Coppolella, who will now assume a more significant role within the front office. Coppolella, hired by Schuerholz in 2006, is considered one of baseball's best young minds and a future GM candidate.
Hart's hesitance about becoming a full-time GM again is rooted in the fact that he enjoys his current responsibilities, namely working as an MLB Network analyst.
"Our conversations, although we have had very little to this point, are going to be about building this back the right way," Hart said. "We have plenty of time to take a look at what works, what we like -- and there are a lot of things to like here and there are a lot of things that are working."
There had been reason to wonder about Wren's job security since November, when Hart was hired by Atlanta to serve as a special advisor to the baseball operations department.
Wren accepted the unenviable responsibility of succeeding Schuerholz as the Braves' GM after the 2007 season. He guided the club through a couple of rebuilding years and then constructed the roster that took Cox back to the playoffs in 2010, his final season as manager.
The Yankees and Cardinals stand as the only clubs that have won more games than the Braves since the start of the 2009 season. But as the past few years have progressed, players, coaches, scouts and front-office employees have complained about the lack of harmony with the front office. That certainly caught the attention of Schuerholz, who established himself as a potential Hall of Famer when he was Atlanta's GM from 1991-2007, during which time the Braves won 14 consecutive division titles, five National League pennants and a World Series.
Just before Hart was hired by Schuerholz, Atlanta lost Dave Wallace, who jumped at the chance to become Baltimore's pitching coach after waging numerous battles with Manno during his time as the club's Minor League pitching coordinator. Around the same time, pitching coach Roger McDowell was set to join the Phillies before Schuerholz made sure McDowell received the salary that persuaded him to stay.
"We're not apologizing for who our organization is or what status we're in, but we felt a change in direction was best for the organization and continuing the great legacy that we've created," Schuerholz said. "We don't feel like we're a weakened organization. We feel that we're still strong and we needed to make some changes, and we've done that."
While Wren had some success with trades, his free-agent signings tarnished his tenure with the Braves. When he needed to reconstruct the starting rotation before the 2009 season, he signed veteran Derek Lowe to a four-year, $60 million contract and orchestrated both the scouting and signing of Japanese right-hander Kenshin Kawakami, who signed a three-year, $23 million deal and proceeded to go 8-22 with a 4.32 ERA over 50 appearances, 41 of them starts.
Kawakami spent the final year of his deal with Double-A Mississippi. Lowe was traded to the Indians at the conclusion of the 2011 season, and Atlanta ended up eating $10 million of the remaining $15 million owed to him.
Earlier this season, the Braves released second baseman Dan Uggla and consequently had to eat the $19 million still owed to him on his five-year, $62 million contract he signed after being acquired from the Marlins after the 2010 season. And Atlanta is staring at the possibility of eventually having to do something similar with outfielder B.J. Upton, who has been a significant disappointment since signing a franchise-record five-year, $75.25 million deal before the 2013 season.
So seven years after hiring Wren as his successor, Schuerholz had to flip the page again with the hope that he can recreate the Braves organization more like it was when he and Cox were making what was considered the blueprint for all other franchises.
"Baseball is an evolving game," Schuerholz said. "The challenges of our game are evolving form year to year and season to season and over time. I don't think I whiffed seven years ago at all. I think [Wren] deserved the opportunity then and we made the right choice, and I think we're making the correct choice now."
Mark Bowman is a reporter for MLB.com. This story was not subject to the approval of Major League Baseball or its clubs.