Humbled Guerrieri prepared to fulfill potential
Tommy John recovery nearly complete, Rays prospect focusing on maturity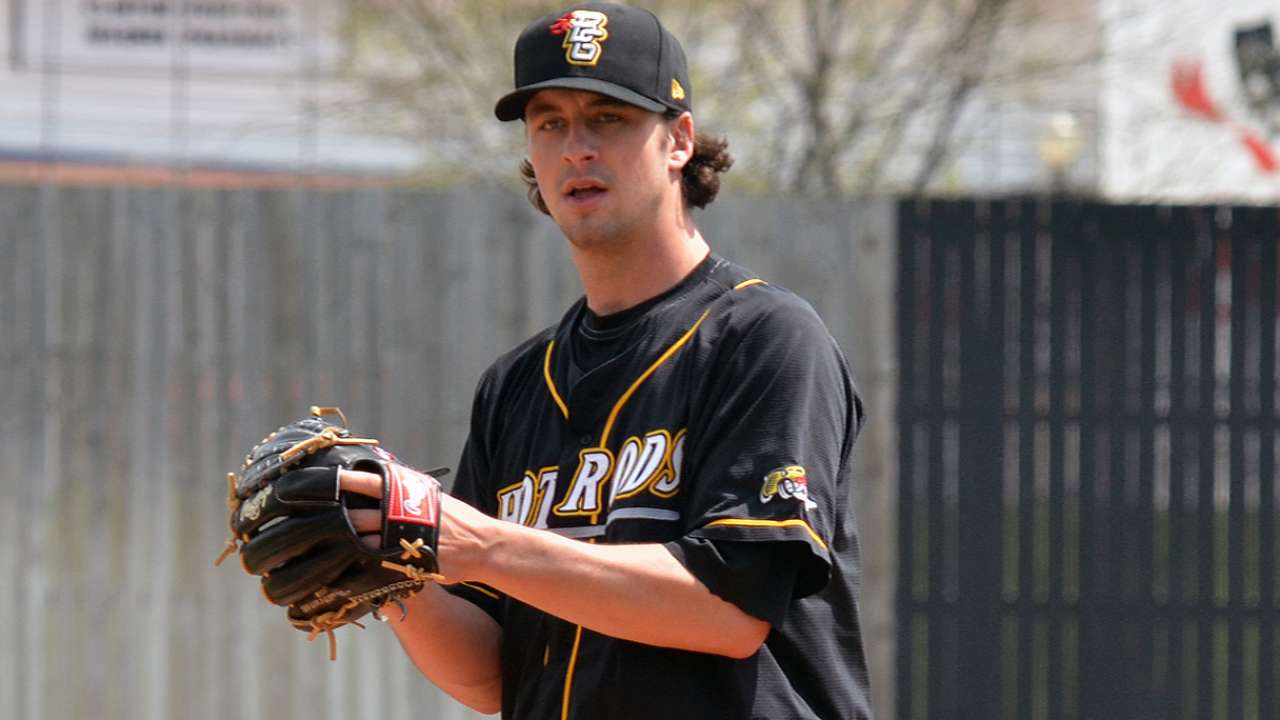 PORT CHARLOTTE, Fla. -- A step backward isn't always bad. For a pitcher with special talents who needed to mature, it might actually be a blessing.
Heading into the 2013 season, Taylor Guerrieri appeared to be on the fast track in the Rays' organization. The right-hander had three quality pitches, including a true "yellow hammer," or a curve that drops off the table.
A curveball is almost old school these days, given the propensity of pitchers who opt for the easier-to-learn slider. Guerrieri's curve came to him the old fashioned way: He played catch with his father in the yard.
"It was kind of self taught," Guerrieri said. "My dad and I would always play catch, and I would kind of spin some curveballs using this funky grip."
Guerrieri couldn't find a baseball to demonstrate his grip to a visitor, so he showed how he stacks one finger on top of another to grip the pitch.
"I've had that same curveball since I was about 13 years old," said Guerrieri, flashing a lazy grin.
Guerrieri was selected by Tampa Bay out of Spring Valley (S.C.) High School with the 24th overall pick in the 2011 First-Year Player Draft. In his first full season in the organization, Guerrieri went 1-2 with a 1.04 ERA across 12 starts for Class A Short-Season Hudson Valley. Guerrieri struck out 45 and walked just five in 52 innings.
"When he was pitching for Hudson Valley [in 2012], you saw superior stuff and 'Major Leagues' written all over him," Rays farm director Mitch Lukevics said. "He has plus-plus stuff. Plus-plus fastball, curveball and changeup. And he showed that that year in Hudson Valley."
Guerrieri had a different look the following year at Class A Bowling Green.
"He wasn't the same at Bowling Green," Lukevics said. "You wondered if something was going on. You ask him, and he tells you he feels all right."
Something seemingly had to be wrong, and something was.
"My elbow was kind of bothering me," Guerrieri said. "There were a lot of times when I was afraid to throw the curveball because I was scared the elbow was going to go. So I was fastball-changeup. And when I did throw my curveball, I hit [10] guys with it. It wasn't much of an out pitch. I kind of just put it in my back pocket. Finally, it just went."
Guerrieri's right elbow needed Tommy John surgery -- not exactly the kind of news a 20-year-old pitcher wants to hear, particularly one who chose to play professionally rather than go the college route.
"It's difficult [to face]," Guerrieri said. "Surgery is definitely not anything a young athlete wants to go through. You'd love to have just a clean slate of health."
Tommy John surgery is perceived almost as a way station before pitchers head back to the mound stronger than before. That perception lives for everybody except those having the surgery.
"A lot of people will say they've perfected it, but everybody handles it differently," Guerrieri said. "I know some guys in the system who have had it and had no setbacks. Another 50 percent of the guys have had it and it's an 18-month process instead of 12. It's completely different for different guys."
Guerrieri ranks No. 3 on Tampa Bay's Top 20 Prospects list, so there were obvious concerns about the risk involved with his surgery, and other concerns followed when he was handed a 50-game suspension for violating the Minor League Drug Prevention and Treatment Program. Guerrieri already had somewhat of a bad boy reputation, which many speculated was the reason the Rays were able to draft someone with his talent so late in the first round. The suspension only added to the idea that Guerrieri needed to clean up his act.
"One of the things with these young high school kids -- for the most part, they have a lot of growing up to do," Lukevics said. "When Taylor got here, he had a lot of growing up to do."
Guerrieri understands the reputation he's earned, and he knows his only option is to wear it.
"I'm just really trying to stay positive throughout this whole process," Guerrieri said. "I'm always going to be that guy now. I put myself in that situation, and I'm just going to try and move past it."
Lukevics did not make excuses for Guerrieri's mistakes, but he did allow that "kids make mistakes."
"We continue to try and educate our players prior, during and after," Lukevics said. "And what takes place, we tell them, 'You made a mistake, young man. Make good on it. You have your whole life ahead of you, a whole career ahead of you. Is this what you really want in life? If so, make good on the task at hand and move forward.'"
Guerrieri now appears to be doing just that. He has served his suspension and is in the final stages of his elbow rehab. The right-hander should be ready to go by Spring Training, and when Guerrieri takes the mound again, he will move forward with a fresh perspective and a greater appreciation for what he does for a living.
"I want to stay healthy," Guerrieri said. "I never want to go through this process again. And I've made great strides in my work ethic, my personality, too. Being injured will definitely humble you. All around, I would say it's a good thing that it happened."
Bill Chastain is a reporter for MLB.com. This story was not subject to the approval of Major League Baseball or its clubs.