MLB.com Columnist
Phil Rogers
Tenacious Dodgers getting it done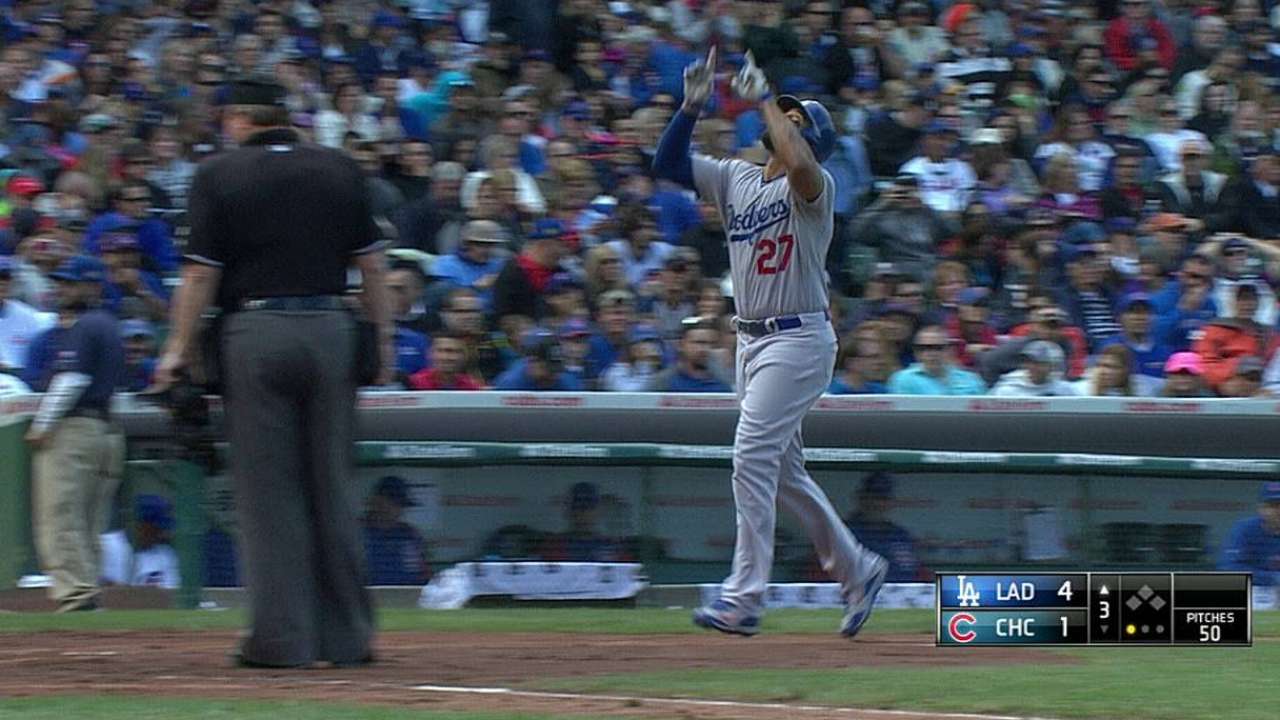 CHICAGO -- Let's hear it for the Dodgers. They're doing one of the toughest things in sports -- winning when you're supposed to win.
They've wrapped up a playoff spot for the second year in a row under Don Mattingly, and they head home positioned to nail down an National League West title, possibly as early as Tuesday. They haven't started celebrating and, in reality, may not feel like there's reason to party until they've won a couple of postseason series.
But like the Nationals and maybe the Cardinals, they're a team that could roll through the NL Division Series and the NL Championship Series without anyone considering them a surprise. That's an accomplishment in itself.
Sure, the Dodgers have become the biggest spenders in baseball. But you can't win just by writing checks. Just ask the Yankees, Red Sox and Phillies. In fact, only five of the 12 teams that had the biggest payrolls on Opening Day are in line for the playoffs.
You've got to do a lot of other things right, and the Dodgers have done those things, both before the Mark Walter/Magic Johnson Guggenheim Partners group bought the team in 2012 and certainly in the 28 months since, with Stan Kasten -- an architect of the Braves and Nationals -- directing the operation.
The new ownership group inherited a sleeping giant and immediately awakened it with the mega-trade that brought Adrian Gonzalez (currently leading MLB with 112 RBIs) and others from Boston and by winning auctions for Zack Greinke, Hyun-Jin Ryu and Yasiel Puig. It was blessed with Clayton Kershaw but rewarded him, and their fans, by signing him to a $215 million contract that runs through 2020.
It updated Dodger Stadium in the proverbial blink of an eye and created its own TV network (although it hasn't yet resolved the impasse that is making it unavailable to many fans). Through it all, it stepped lightly and maintained organizational continuity by retaining general manager Ned Colletti and Mattingly, and maintained the organization's historical focus on scouting and player development. Just last week, Walter and his partners purchased the Oklahoma City RedHawks, who will become L.A.'s Triple-A affiliate.
Maybe Colletti should have traded for David Price, but to do so would have cost him one or two of his top prospects, and the Dodgers are holding onto shortstop Corey Seager, outfielder Joc Pederson and little lefty Julio Urias. That's smart, if not immediately rewarding. It's also smart to value icons like Tommy Lasorda, Vin Scully and Jaime Jarrin, and the Dodgers' new owners have done that, too.
Oh, one last thing. They got Sandy Koufax involved -- good for the team and great for fans of all 30 teams. Well, maybe 29, given the anti-Dodger leanings in San Francisco.
Speaking of the Giants, they stand 4 1/2 games back in the NL West entering the three-game series at Dodger Stadium starting Monday night. The Dodgers showed a bit of vulnerability in losing 16-2 and 10-4 in back-to-back games at Colorado, but they rebounded to win three of four from the Cubs. They finished their last trip of the season 6-4 and ended the road portion of the regular season 49-32, the best in the Majors.
"You can see why they're such a good club," Cubs manager Rick Renteria said. "They have quite an offensive group over there, and they have pitching, too."
The Dodgers are rarely dull. They broke out their styling-and-profiling side early in Sunday's 8-5 victory en route to two first-inning runs.
Puig, who singled, ran through third-base coach Lorenzo Bundy's stop sign when Gonzalez doubled into right field with one out. He scored easily, as Matt Szczur's throw was off line, and after flopping across home plate, he shot Bundy a quick glance, like he was saying, "What are you thinking?"
Hanley Ramirez crushed a Jacob Turner curveball for a double that banged high off the left-field wall with two outs. He thought the ball was heading into the seats before a 14-mph wind knocked it down, and as a result, he carried his bat almost all the way to the first-base bag.
One thing you can't question is that the Dodgers have started stinging the ball. Led by Kemp and Gonzalez, they are the highest-scoring team in the NL this month, averaging 6.2 runs in going 12-7. Kemp was a force throughout the four-game series at Wrigley Field, going 7-for-17 with two home runs and eight RBIs. He lost two other homers to the wind on Thursday.
After a so-so first half, Kemp has raised his batting average to .286 with 23 home runs and 84 RBIs.
"He's been great," Mattingly said. "Like a lot of our guys, it seems like they're stepping up, just like you talk about. Getting into this last month, you want your guys to step up. He's certainly been one of those guys."
But hardly the only one.
"Hanley all of a sudden is swinging better," Mattingly said. "Yasiel is swinging better. Dee [Gordon] is getting his hits. Adrian [Gonzalez] has been the same as all year long. Carl [Crawford] is on fire. [Juan] Uribe [is], we're all swinging good right now."
Mattingly's pitching staff has been tested all season by injuries, the current concern being the wait for Ryu to return from a strained shoulder. He threw on the side Sunday, and the hope is that he can make a post-clinching start next weekend so he can evaluated in game action. However, the team's anxiety level is lessened considerably by the knowledge that Kershaw and Greinke could pitch more than half of the staff's innings in October, as Randy Johnson and Curt Schilling did for the 2001 Diamondbacks.
Greinke starts on Tuesday against the Giants, followed by Kershaw on Wednesday. That could be the start of a stretch in which they combine to start seven of 10 games, if they wind up playing a five-game NLDS, with Kershaw starting Game 4 on three days' rest, as he did in 2013. That number could grow to 15 in 24 through the World Series.
The hay's not in the barn, but Scully is warning up his vocal cords to call a little more history. It's a good time to be a Dodger.
Phil Rogers is a columnist for MLB.com. This story was not subject to the approval of Major League Baseball or its clubs.