MLB.com Columnist
Richard Justice
Royals caught up in moment, eye division title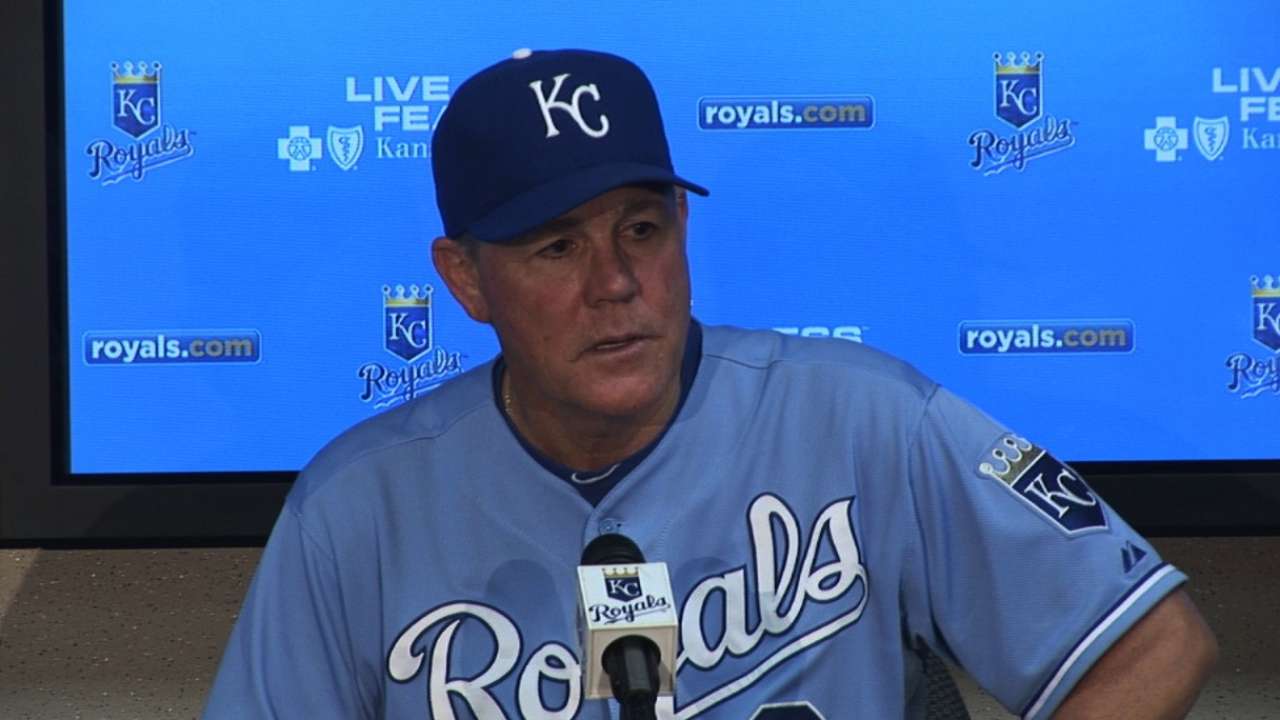 If you're ever asked what's so special about September baseball, you can tell 'em to go watch the little game the Royals and Tigers played Sunday afternoon.
It was exhausting and tense, a season's worth of hard work seemingly on the line. It delivered in every way. Later, when someone asked about his players getting caught up in the moment, Royals manager Ned Yost had a quick answer.
"I want 'em caught up in the moment," Yost said. "You gotta be caught up in the moment. This is great fun."
There you go.
Perfect.
Kansas City had lost the first two games of this series to fall 2 1/2 games behind Detroit with nine to play. Another loss would have put the Royals in a deep hole in the American League Central as a strange final week of the regular season begins.
The Royals are positioned to get one of the two AL Wild Card berths, but they've got their sights set on a division championship. That strange week begins Monday with the completion of a suspended game in which they trail the Indians, 4-2, in the bottom of the 10th inning.
Then it's back to regularly scheduled action. That's seven road games -- three more against the Indians and three against the White Sox.
Meanwhile, the Tigers are finishing at home with three against the White Sox and four against the Twins. If you're inclined to draw conclusions from the schedule, don't. When there's so much at stake, outcomes can be unpredictable.
That's what players and managers constantly remind themselves to focus on the game in front of them. The Royals won that game Sunday afternoon, beating the Tigers, 5-2, in front of another big, noisy crowd (37,212) at Kauffman Stadium.
"Today's game showed that we're not going away," Yost said. "They had that feeling this morning. They knew this was going to be a big game. They had a lot of confidence in themselves when they hit the field. We just go attack it a game at a time. There's nobody in this room that knows what's going to happen."
All it took was 5 1/3 gritty innings by Royals starter Jeremy Guthrie and 3 2/3 shutout innings from three Kansas City relievers. Guthrie threw 81 pitches, but in terms of stress, it probably felt like 125. It was the biggest game of the season for his team.
And it came against one of baseball's best offensive teams. Guthrie got the Tigers in order just once, that in the first inning. Detroit scored one run in the third inning and another in the fourth. But it left runners in scoring position in the second, fourth, sixth and seventh innings.
Guthrie surely attempted to control only the things he could control, and he succeeded in doing that. But he also knew that a 29-year playoff drought was in play and that years of work by general manager Dayton Moore went toward this moment.
It was the final scheduled regular-season game at Kauffman Stadium, and it had all the tension and emotion and all the expectations of a postseason game.
"We've been thinking about [this] since we got drafted," first baseman Eric Hosmer told Royals television announcer Joel Goldberg after the game.
Yost began the day by penciling Billy Butler onto his lineup card at designated hitter. Butler is one of the franchise rocks, one of the people that has helped rebuild baseball in Kansas City.
But these last few weeks have been terrible for Butler. He began the day in a 2-for-32 slump and had found himself riding the bench at times down the stretch.
Smart move by the skipper. Butler drove in the first run of the game in the first inning with a single and got another scoring rally started in the bottom of the seventh with a single.
"We're having a lot of fun, and you guys are a big part of it," Butler told Goldberg after the game, drawing cheers from the crowd. "We plan on being back here next week."
This is September baseball at its best. The three games drew better than 110,000.
At the moment, the Royals have baseball's best defense and one of its best bullpens. Their starting rotation has been solid all season.
All the Royals need is a teensy bit of offense, and on Sunday afternoon, they got enough to win their 84th game. Now, with four teams bunched together fighting for three available AL playoff berths, and with the Yankees and Indians still in the mix, every inning counts.
Welcome to the final week.
"You want to be able to enjoy it," Yost said. "You want to go out and play for these times. It boosts everything you do. It boosts your confidence. It boosts your morale. It boosts your focus."
Richard Justice is a columnist for MLB.com. Read his blog, Justice4U. This story was not subject to the approval of Major League Baseball or its clubs.